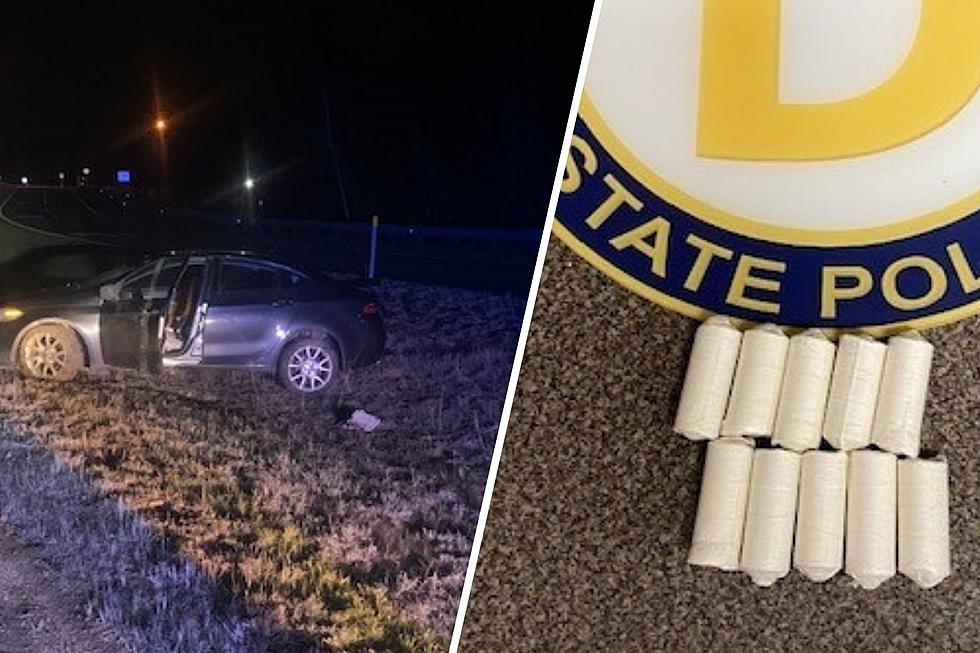 100 Bags of Suspected Fentanyl Found in Car After 115 MPH Chase
Car involved in a high speed chase on I-93 in Concord, 100 grams of suspected fentanyl (NH State Police)
State Police recovered a large amount of suspected fentanyl following a high speed chase on Route 93 in Concord early Thursday morning.
The driver of a Dodge sedan speeding north on Route 93 above the speed limit around 12:20 a.m. refused to stop for a trooper, and sped up as it passed the interchange with Route 89 in Bow, according to State Police.
The pursuit continued north to Exit 16 for Route 132 where stop sticks put out by troopers deflated one of the tires, causing the driver to lose control and go into the grassy area between the highway and off-ramp.  The driver of the car ran off towards Merrill Park and eluded capture when the State Police K9 unit was unable to locate him.
The driver does not pose a threat to the public, according to police, who said they have a "person of interest" in custody but did not disclose their identity or connection to the driver.
100 grams of what is believed to be fentanyl in plastic bags was found in the car. According to the FDA, just two grams of the white powdery drug can be lethal. It is often mixed in with other illicit drugs to increase the potency of the drug, sold as powders and nasal sprays, and increasingly pressed into pills made to look like legitimate prescription opioids.
State Police asked any witnesses to the incident to call them at 603-223-6915.
Contact reporter Dan Alexander at Dan.Alexander@townsquaremedia.com or via Twitter @DanAlexanderNH
Trending Stories for Seacoast Current (April 4-10, 2022)
More From Seacoast Current