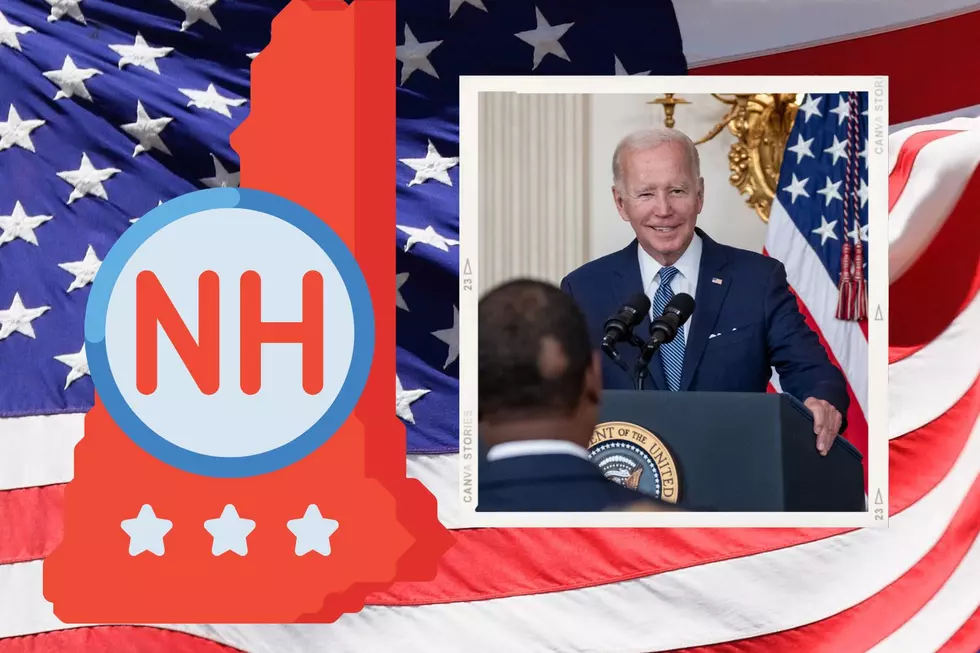 Biden Proposes Removing New Hampshire as First in the Nation Primary in '24
President Joe Biden (White House)
New Hampshire Democrats are blasting a proposal by President Joe Biden for the state to lose its "first in the nation" status for the 2024 presidential primary, and instead share a date with Nevada.
NBC News and other media outlets say the White House has proposed that South Carolina hold the first primary, followed by New Hampshire and Nevada on the same day with Georgia and Michigan. The president's proposal would scrap the Iowa caucus.
SNHU Civic Scholar and founder of NH Political Capital Dean Spiliotes said the Democratic National Committee's rules committee doesn't meet until Friday and Saturday, so there is no official decision yet.
"What you are seeing is the Biden administration's preferred schedule, which will certainly carry a lot of weight with the committee," Spiliotes said.
Disappointment From the Granite State
The proposal drew immediate anger from New Hampshire Democratic Party chairman Raymond Buckley, who vowed along with the rest of the congressional delegation that the state's primary will be first no matter what the DNC decides.
"This news is obviously disappointing, but we will be holding our primary first. We have survived past attempts over the decades, and we will survive this. Our first in the nation primary has been an integral part of our state's history for over 100 years, and is enshrined in state law," Buckley said in a statement. "We look forward to welcoming candidates to New Hampshire in 2024 and beyond. We will continue to do what we in New Hampshire do well - provide a level playing field for all candidates and ensure they are stronger and ready for the fights ahead."
Sen. Jeanne Shaheen called the proposal "tremendously disappointing" that Biden doesn't understand the unique position New Hampshire has in the primary process.
"In New Hampshire, it doesn't matter how much money you have, where you come from or who knows your name. In our primary, everyone has a fair shot. It's tremendously disappointing that the President failed to understand the unique role that New Hampshire plays in our candidate selection process as the first primary state," Shaheen said. "It's a shame the White House's short-sighted decision risks splintering attention from candidates, denying voters crucial opportunities to connect with candidates and hear their visions and policy priorities."
Sen. Maggie Hassan said that New Hampshire's small size presents candidates with an equal chance to compete.
"This ensures that candidates are battle-tested and ready to compete for our nation's highest office. We will always hold the First in the Nation Primary, and this status is independent of the President's proposal or any political organization. I look forward to welcoming Democratic and Republican candidates to New Hampshire, just like we always have," Hassan said.
Rep. Chris Pappas called the decision "deeply disappointing", and reiterated that New Hampshire will still hold a primary first regardless of the DNC.
"The face-to-face conversations in living rooms, small businesses, and town halls across our state make better candidates, and I look forward to welcoming Democratic and Republican candidates to campaign in our state ahead of the First-In-The-Nation Primary in 2024," Pappas said in his statement.
Gov. Chris Sununu joined Democrats in criticizing Biden's recommendation and laid blame at the president's feet.
"This was Joe Biden's decision, and once again, he blew it," Sununu said in a statement. "For over 100 years, we have set the model for the rest of the country with consistently high voter turnout and accurate election results. It's a terrible disservice by Democrats to try and strip Granite Staters of the First in the Nation status that they have worked hard and earned time and time again."
In a letter released by the Democratic National Committee, Biden expressed concern about the diversity of the vote. He did not mention any particular state in the letter.
"Too often over the past fifty years, candidates have dropped out or had their candidacies marginalized by the press and pundits because of poor performances in small states early in the process before voters of color cast a vote. As I said then, 99.9% of Black voters had not had the chance to vote at that point, and 99.8% of Latino voters had not had the opportunity. That is unacceptable in 2024 and it must change," Biden wrote in his letter.
Contact reporter Dan Alexander at Dan.Alexander@townsquaremedia.com or via Twitter @DanAlexanderNH
12 of the Most Magical Winter Wonderland Towns Are in New England
More From Seacoast Current