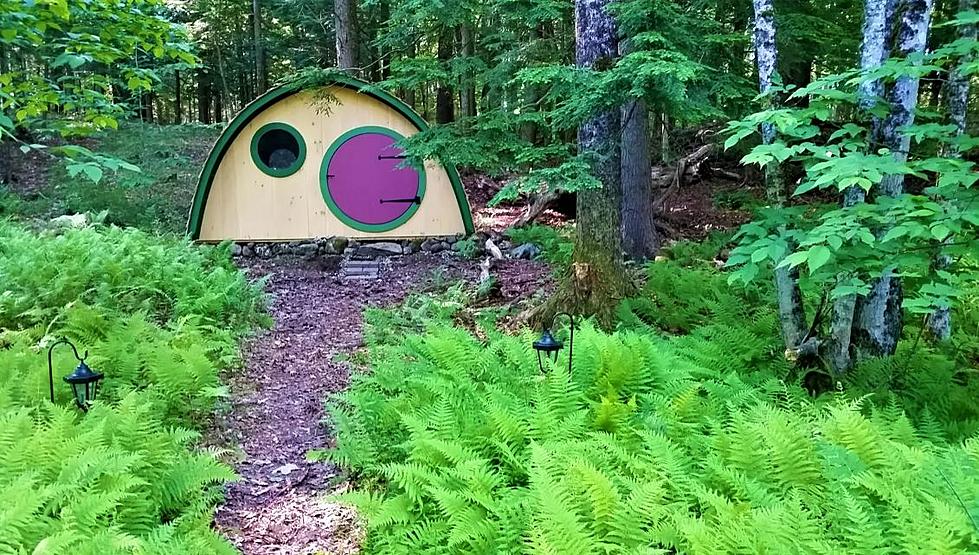 Check Out This Awarded Hobbit Home You Can Stay at in Maine
Holly M/HIPCAMP
Editor's note: This article was written by a Townsquare Media Northern New England contributor and may contain the individual's views, opinions or personal experiences.
If you are planning on camping in or around southern Maine this year, make a reservation at this "Hipcamp Best of 2022: Maine Finalist," Hobbit Home.
Located near Bradbury Mountain State Park, this outrageously cool structure can be found through the Hobbit Home Hipcamp page. Hipcamp is a company similar to Airbnb or VRBO; however, the main target audience for Hipcamp is those looking for cool camping experiences rather than luxurious city nights.
This tiny Hobbit Home is not heated nor furnished, but who cares? You are camping, anyway.
From the outside, the home looks like something out of "Lord of the Rings." The circular door with the large hinges are a really unique feature.
You are able to gauge the size of the tiny home from the back. It is small, but certainly bigger and more stable than a six-person family tent. The site says that it can comfortably fit up to four people.
According to one review, "The host, Holly was very welcoming, but also gave us plenty of privacy," said Annamarie S. "We loved the Hobbit House! The 3 of us fit very comfortably, with plenty of space for our bags."
The inside is unfurnished. Don't make a reservation here thinking you are getting into a tiny home. This is a structure with cute decorations and activities nearby, that gives visitors the chance to disconnect in an enchanted forest. A queen-sized air mattress is available on request, according to the Hipcamp page.
Here's the view if you were taking a midday nap with the breeze flowing in. I really cannot get enough of this entrance. I want to just go in and out of this door.
The campsite itself is very cute. A picnic table is on site as well as a fire circle, outhouse, and solar showers (a short three-minute walk away). It really has everything you need for an average of $95 per night.
It is on a farm, so don't be surprised to run into chickens or pigs. Another review touched on the animals, "What a great spot! The farm makes for a great experience (awesome animals), the Hobbit house is great (unique, very clean, & bigger than expected), and the hosts genuinely want to provide an amazing experience," said Jay P.
The Hobbit Home is super cool looking inside and out. I was impressed by the home, and even more impressed with the reviews and add-ons. Many reviewers referenced the host providing eggs, breakfast sausage, fresh flowers on-site, and more.
Seems to me like this place is very deserving of the Best of 2022: Main Finalist accolade.
Thanks to Zillow, You Can See Just How Gorgeous this Saco Condo Truly Is
A look inside the condo I lost out to from an all-cash offer.
11 Cool Maine Towns You Need To Visit In 2022
Maine is a state that has so much to offer. So this year, visit somewhere new!
More From Seacoast Current