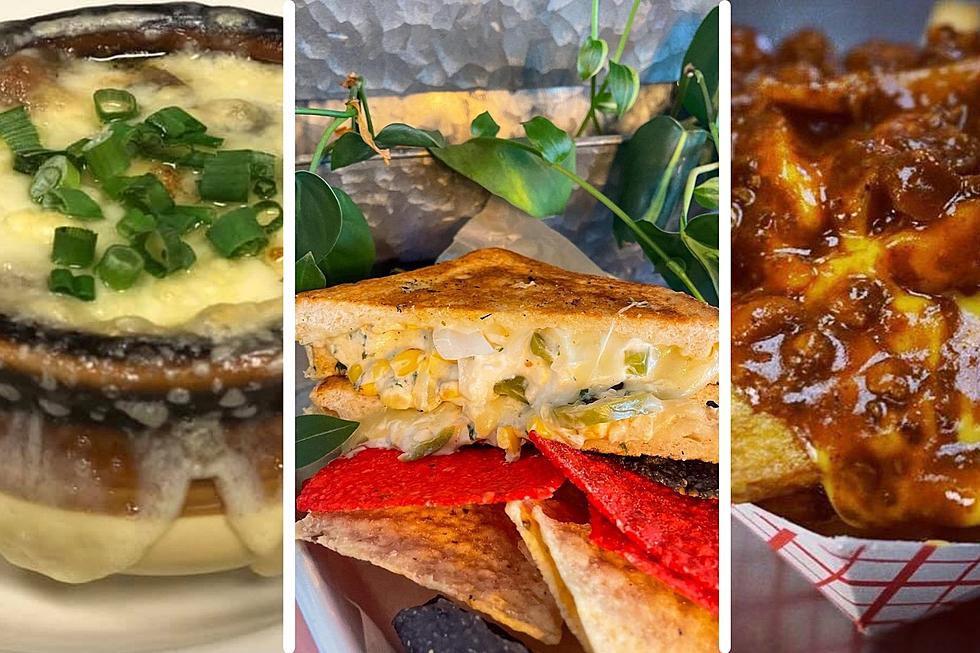 Cheesy Comfort Foods Perfect for Winter? These 6 New England Restaurants Deliver the Goods
Cheese Louise via Facebook; Gilley's Diner via Facebook; The Grog via Facebook
Editor's note: This article was written by a Townsquare Media Northern New England contributor and may contain the individual's views, opinions or personal experiences.
Fall, winter, and melted cheese go together so well.  I mean, cheese works year-round, but there's honestly something about New England falls and winters that make the melty deliciousness of cheese a delicious must.
We start with New Hampshire.
I discovered that Gilley's Diner in Portsmouth has mouthwatering chilly cheese fries.  As we watch the temperature drop, all I have to say is yes, please.
But let's get cheesier with some cheesy mac.  I mean, if that doesn't scream warm, cozy comfort on a weekend with highs in the teens, I don't know what does.
Mr. Mac's in Manchester, as the name says, is literally based on a love for made-to-order macaroni and cheese dishes.
Meanwhile, nothing says warm nights like chili smothered in cheese.  Mojo's West End Tavern in Portsmouth definitely fits the bill on that one.
Grilled cheese is about as winter comfort as you can get, especially with tomato soup while curled up on the couch watching TV. The restaurant Cheese Louise says it all.  It's in Conway, New Hampshire, and there's also one in Portland, Maine.
Speaking of Maine.
My hunt for, you guessed it, lobster mac n cheese is a given. Sure enough, right in York is Lobster Cove Restaurant, and the first item listed under the menu's Everything Lobster section is exactly that warm delight, smothered with cheese.
Should we check out Massachusetts?
I'm thinking the perfect cheesiness on our addictive quest for warmth by food is cheesy soups, and I found some on the menu at The Grog in Newburyport.  Soup equals winter.
So much cheese, so little time.  There's fondue, cheesiest of cheese pizza of course, and of course, nachos, as long as the cheese is dripping.
What are some of your favorite cheesy foods and where can we find them?
These Are the Best Places to Get Chicken Tenders in New Hampshire
Yeah, we know a thing or two about chicken tenders in New Hampshire! They were invented in our fine state after all! Here are some the best places to get this delicious crowd pleasing comfort food in the Granite State.
Look at Maine's Breweries in the Mountain & Lakes Region
Maine's mountains and lakes region is full out four season fun. It's also loaded with delicious and local craft breweries. Here's a closer look at many of them, and how close they are to recreation.
More From Seacoast Current