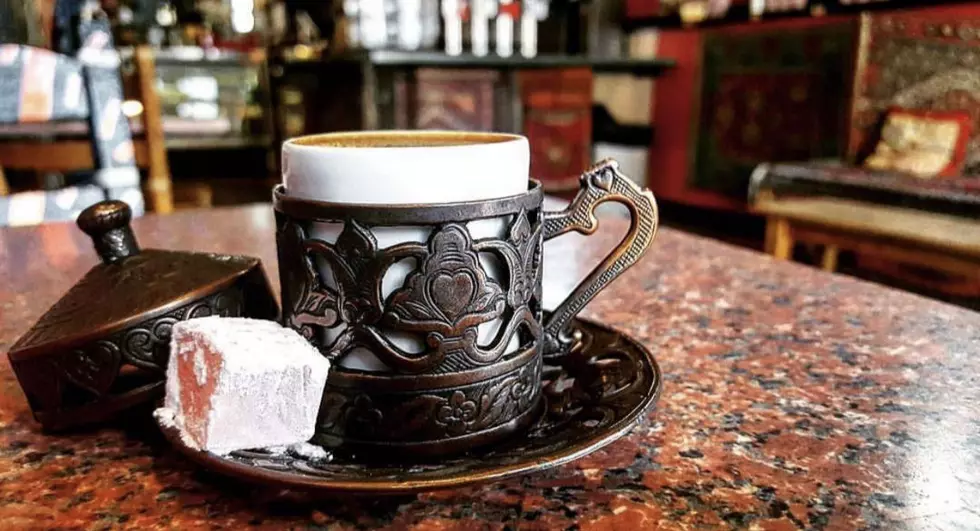 4 Cultural Cafés In Portsmouth, New Hampshire That Feel Like Taking A Vacation
Courtesy: Caffe Kilim
Sure, we travel abroad to take in the scenery and soak up the culture. But can we be honest for a minute? The best part of vacation is the food! No one forgets their first morsel of black truffle or mouthful of banoffee pie. Quite often the tastes are as indelible as the sights.
Recent restrictions have left most Americans stateside, dreaming of sidewalk cafes along the Champs-Élysées. Since a flight overseas is not an option, a little creativity may be in order.
From the outside, Portsmouth appears to be a quaint New England village, but a closer look down the cobbled alleys can transport you to many destinations abroad. Why not curl up in a quiet corner with a good book and let the sights, sounds, and flavors take you on a trip around the world?
A visit to these ethnic cafes in Portsmouth is the cure for your stuck-at-home blues.

Enter your number to get our free mobile app
Kaffee Vonsolln
Address: 79 Daniel Street
Destination: Munich
Reading Recommendation: "Tschick (Why We Took the Car)" by Wolfgang Herrndorf
Willkommen! You will certainly feel welcome the moment you set foot inside Kaffee Vonsolln. The smell of fresh-roasted coffee and warm, buttery pastries instantly conveys you to a sunny bakery in the heart of the Marienplatz. Kaffee Vonsolln's original proprietor was a native of Munich, but current owner Emma Nelson says she and her family are committed to maintaining the German traditions. "The previous owner shared all of his recipes, which we still use to this day." she said When asked which pastry offers the definitive Bavarian experience, Nelson effuses, "Oh, that would have to be the bienenstich kuchen (translation: bee sting cake — it's everyone's favorite!" Seating is limited, so Emma recommends arriving early to get the best spot.
La Maison Navarre
Address: 121 Congress Street
Destination: Paris
Reading Recommendation: "Chocolat" by Joanne Harris
Long before you enter the gleaming glass doors of La Maison Navarre, your eyes will have already taken you to Paris. It is impossible to miss their counter display filled with rows of dainty pastel concoctions. If it's true that we eat with our eyes first, La Maison Navarre flawlessly delivers. Owners Charlotte and Victor are from Lyon and Paris, respectively. The pair have combined their culinary and business expertise to bring a true taste of France to downtown Portsmouth. The artistry of their pastries is beautifully executed, but it doesn't stop there. Heartier fare is also available, including classic French crepes—both sweet and savory—as well as irresistible croque monsieur sandwiches. What to order for the ultimate flavor of France? "If you can only choose one thing, then it would have to be the macarons," Victor suggests. "They are the perfect bite."
Caffe Kilim
Address: 163 Islington St.
Destination: Istanbul
Reading Recommendation: "The Time of Mute Swans: A Novel" by Ece Temelkuran
Upon entering this ethnic coffee shop, you are instantly whisked away to the Grand Bazaar, a glittering spectacle of sights and sounds! Turkish music fills the background and regular customers can be heard speaking in their native tongue. The walls and tables are lined with authentic Kilim rugs and textiles, all of which are for sale. Even better is the rich, dense perfume of Turkish coffee and exotic spices: Za'atar, cinnamon, sumac, and sesame. "We have a wide selection of items that are both popular and hard-to-find," says owner Janice Schenker, who first opened the doors in 1993. "Our customers can experiment with ingredients like pomegranate molasses to make their own food at home." Manager Ahmet Yazgan adds: "We've been here a long time and helped bring the coffee culture to Portsmouth." For an authentic experience, Ahmet recommends a hot cup of espresso paired with a sugary treat known as Turkish Delight.
Tuscan Market
Address: 14 Market Square
Destination: Florence
Reading Recommendation: Under the Tuscan Sun by Frances Mayes
If you visit Portsmouth's Tuscan Market one morning, you will be struck with the aromas of sizzling pancetta, Portobello mushrooms, and roasted red peppers. Next comes the unmistakable scent of real Italian espresso—and before you know it, your mouth is watering. Complete with rustic brick walls and exposed beams, Tuscan Market feels like you've entered a legitimate Florentine gastronomia. It's a grocery store, deli, and café all rolled into one. Manager Kie Bynum says, "Our coffee beans and espresso machines all come from Italy. Everything here is the real deal." Kie also suggests first time visitors sample their tiramisu or cannoli, which are prepared fresh daily. "It takes more than just food to make a place authentic," Bynum continues. "It's the locals and regulars who come here each day to visit, gossip, and read the newspaper—the people are what makes us authentic."
Visit café websites for directions and further information.
These 10 NH Restaurants Deserve Your Attention
More From Seacoast Current