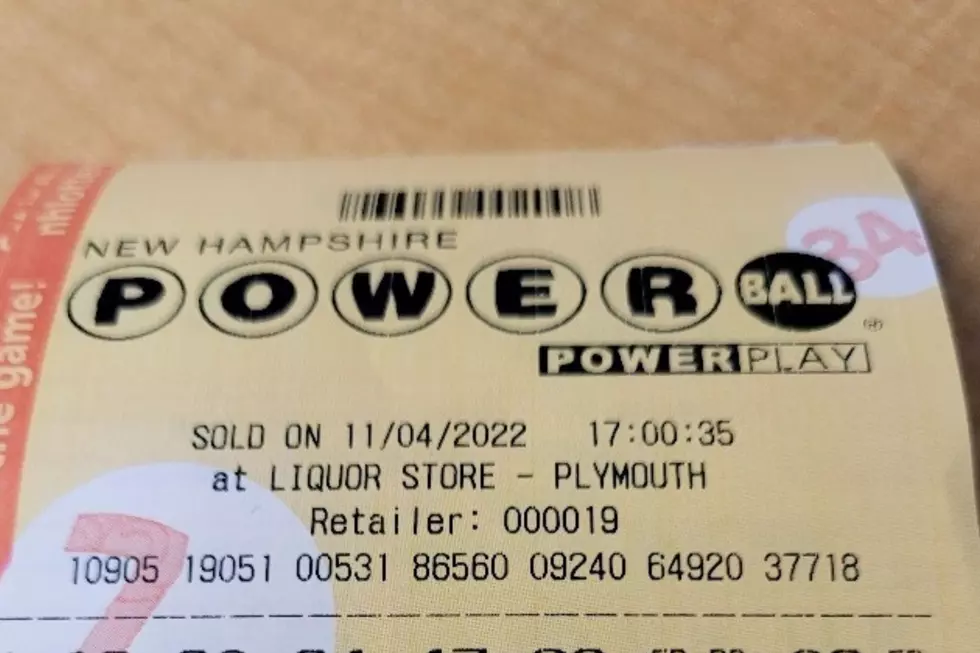 Did Anyone Win the Record Powerball Jackpot in New Hampshire or Maine?
Powerball ticket (Eric Pyra)
The Powerball jackpot heads further into record territory, as no one won in Saturday night's drawing.
The numbers drawn were: white balls 28 45 53 56 69 Powerball 20.
There were 16 winners of a one million dollar prize for matching the white balls. One ticket was sold in Massachusetts, but none in New Hampshire or Maine.
219 tickets matched four of the white balls and the Powerball, which are worth $50,000 each. Two tickets were sold in New Hampshire at The Brook in Seabrook and Circle K in Warner, according to New Hampshire Lottery spokeswoman Maura McCann.
McCann said that Saturday alone, lottery retailers sold $1.8 million worth of tickets.
"New Hampshire is number 1 in per capita ticket sales for all jurisdictions that sell the game," McCann said in an email.
The jackpot for Monday's jackpot will have an unprecedented annuity value of $1.9 billion (cash $929,100,000).
The top 10 jackpots in U.S. lottery history are:
1. $1.9 billion, Powerball, November 7, 2022 (anticipated)
2. $1.586 billion, Powerball, January 13, 2016
3. $1.537 billion, Mega Millions, October 23, 2018
4. $1.337 billion, Mega Millions, July 29, 2022
5. $1.05 billion, Mega Millions, January 22, 2021
6. $768.4 million, Powerball, March 27, 2019
7. $758.7 million, Powerball, August 23, 2017
8. $731.1 million, Powerball, January 20, 2021
9. $699.8 million, Powerball, October 4, 2021
10. $687.8 million, Powerball, October 27, 2018
Contact reporter Dan Alexander at Dan.Alexander@townsquaremedia.com or via Twitter @DanAlexanderNH
Ski These 9 New England Mountains for Under $100
Looking for a place to go skiing that won't break the bank? Check out these ski mountains in New England.
More From Seacoast Current