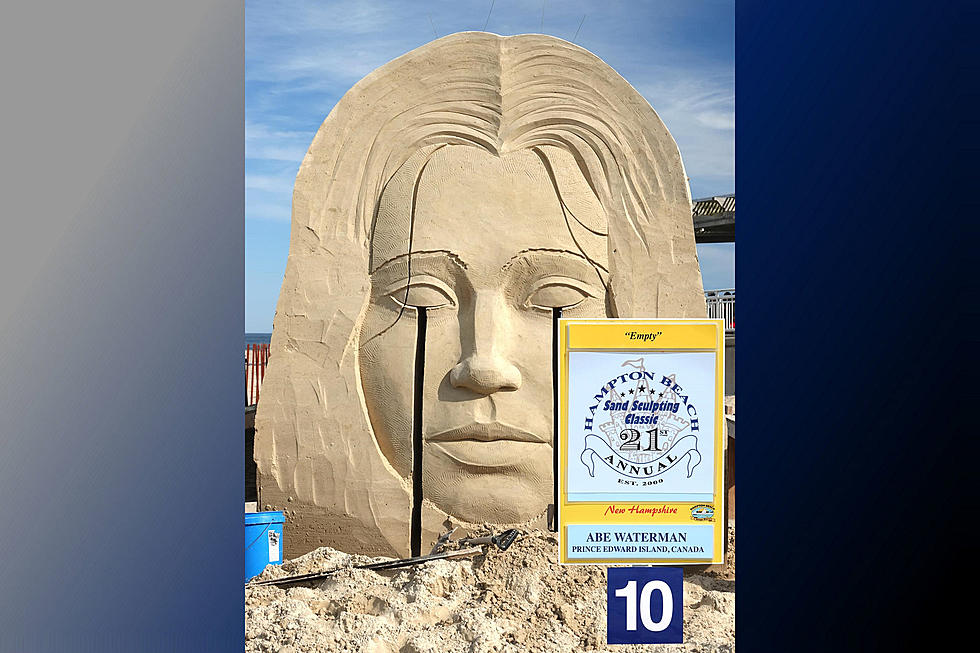 Don't Miss Your Chance to See the Sand Sculptures in Hampton, NH
Hampton Beach Sand Sculpting Classic
Saturday night will be the last chance for people to view the sand sculptures at Hampton Beach this summer.
The 21st Hampton Beach Sand Sculpting Classic was held June 17 to 19, and organizer Greg Grady said it was among the best in its history.
Twelves master sand sculptors from the U.S. and Canada built their creations over the course of three days with the winners being named Saturday night during a presentation hosted by Grady at the Sea Shell.
The winner was Abe Waterman, of Prince Edward Island in Canada. He took home $6,000 for the first-place win.
That is his winning piece of art above. It is called "Empty."
Waterman told CBC News that "Empty" was a personal piece about anguish.
Waterman came in second last year with "Yesterday's Serenade."
This is him working on a sponsored piece on June 10, 2018.
Waterman is a fun-loving person. Watch this 2019 video from the Revere Beach International Sand Sculpting Festival.
Mélineige Beauregard of Montreal, Canada, created "Rebirth of Phoenix" to win second place at Hampton Beach this year.
That piece, which includes an open space within the sculpture, won second place and the popular People's Choice Award.
Beauregard took home $4,000 for the second place win and $1,000 for People's Choice.
Beauregard won the competition in 2019 and 2020. She is the daughter of internationally renowned sculptor Guy Beauregard.
Beauregard's 2019 win, "Breaking Out," was about her divorce and was so emotionally powerful it drove people viewing it to tears.
This is her talking about it for the competition's social media.
During the day on Saturday, the weather is supposed to be partly sunny with a high near 85 degrees.
Saturday night is forecasted to be mostly cloudy with a low temperature of around 68 degrees.
If you can't make it to Hampton Beach to see the sculptures in person, you can view the activity around them on the live online camera, or you can scroll to see them below.
Contact Managing News Editor Kimberley Haas at Kimberley.Haas@townsquaremedia.com.
21st Hampton Beach Sand Sculpting Classic
Take a look at the entries in the 21st Hampton Beach Sand Sculpting Classic held June 17-19, 2021
More From Seacoast Current