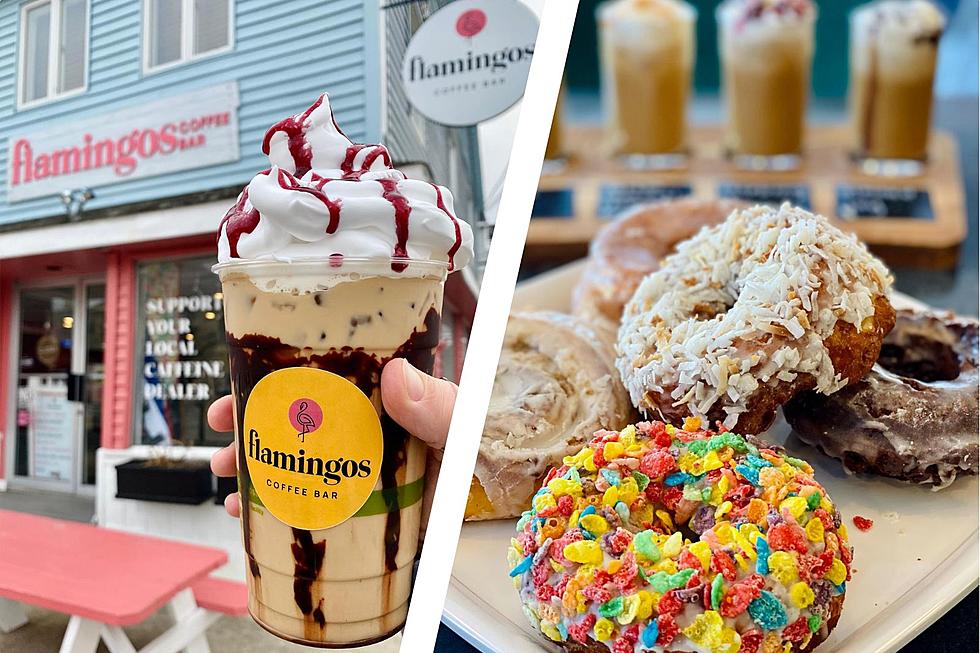 Flamingos Coffee Bar Opening Second Location in Exeter, New Hampshire
Flamingos Coffee Bar via Facebook
Editor's note: This article was written by a Townsquare Media Northern New England contributor and may contain the individual's views, opinions, or personal experiences.
We're getting pretty excited over here, folks.
Flamingos Coffee Bar, which calls New Hampshire's Hampton Beach home, has a reputation that precedes itself. You may have heard of them because of their delicious, one-of-a-kind coffee flights (case in point with this St. Patrick's-themed flight)...
...or their scrumptious pastries and sandwiches that make us hungry just looking at them.
Maybe you've seen pictures of the stylish interior, complete with funky flamingo wallpaper.
Whatever you've heard, this writer promises that this place is worth the hype. She went for the first time last month, and tried a Taylor Swift-themed latte called "Wildest Dreams" (yes, you heard that right). It was an 11/10.
According to their website, Flamingos Coffee Bar is a newer addition to the Seacoast, having opened in the summer of 2021. Now, less than two years later, they're officially adding a second location in Exeter.
Here's a look at the Facebook post sharing the news.
It looks like the Exeter Flamingo's will be opening their doors this spring at 56 Lincoln Street.
For a place that opened so recently, the fact that Flamingos is already expanding is a testament to how beloved this coffee shop is. We don't doubt that the new location will succeed, so be sure to check them out on Facebook to stay in the loop about all things opening day.
To learn more about Flamingos Coffee Bar, click here. We can't wait to pay their new location a visit (and try another T-Swift latte, perhaps?).
In the meantime, here's a look at some other popular coffee shops in New Hampshire.
These Are 17 of the Best Coffee Shops in New Hampshire
Enjoy a Delicious & Hearty Breakfast at These 25 New Hampshire Restaurants
More From Seacoast Current