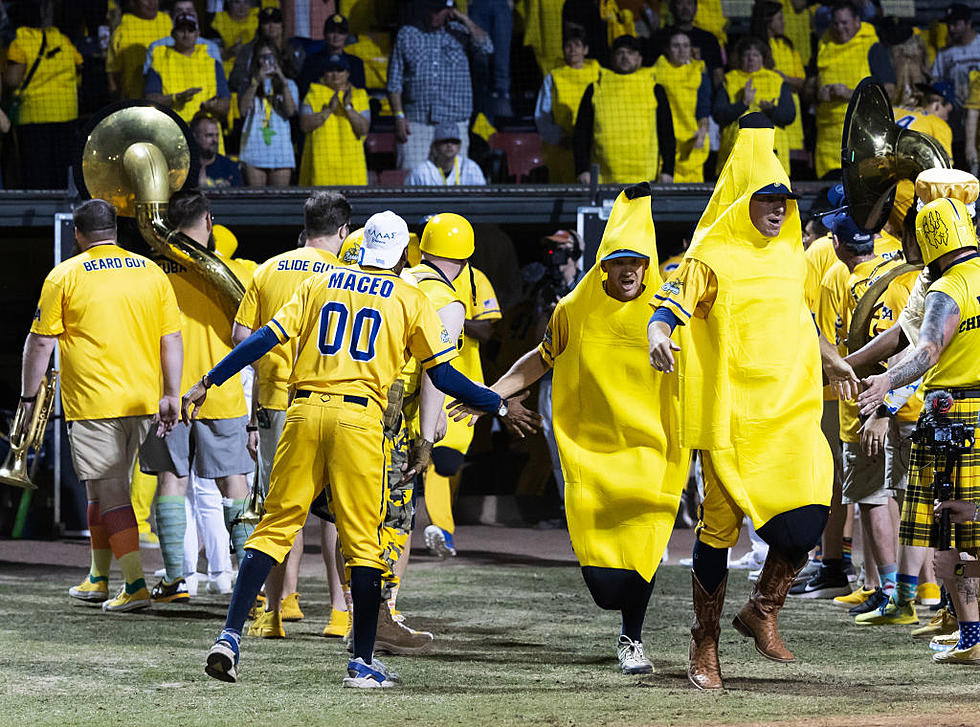 Former Red Sox Star Johnny Damon Joins a Hilarious, Must-See Baseball Team: The Bananas
Getty Images
Editor's note: This article was written by a Townsquare Media Northern New England contributor and may contain the individual's views, opinions, or personal experiences.
What the heck is "The Savannah Bananas?"
Where do I even begin? They are a baseball team that dances, sings, and above all, entertains.
"Affectionately referred to as 'The Greatest Show in Sports" by ESPN with an atmosphere that would make most MLB teams jealous (Sports Illustrated), the Bananas have reimagined the baseball experience and the game itself," according to an MLB article.
This video from Sports Center sums up the team pretty well.
Yes, this is a real sporting event. They put fans first by constantly entertaining them.
Below are the nine rules:
Even the umpires get into the game by dancing around, entertaining the crowd, and having some good fun.
Just last week, Johnny Damon – former two-time World Series Champion (one being with the Boston Red Sox) – made his Savannah Bananas debut.
Remember Johnny Damon? Long hair, don't care Red Sox outfielder?
Now he is a long hair, certainly doesn't care, BANANA.
Although whiffing on the first pitch, he is certainly having fun being a part of this new, epic, and entertaining, league.
He dances around on his first at-bat. He even gets chirped by the Bananas in another guest appearance for a rival team.
"Johnny Damon, you got the sweetest A$$ in the league..." a hilarious Fever Pitch reference if you are familiar with the 2005 film with Jimmy Fallon and Drew Barrymore.
So are these Bananas real, and will we ever see them in New England? Yes and yes.
"The response has been absolutely Bananas for this world tour," said Owner Jesse Cole. "Everywhere we go we hear from fans begging us to come to their city. We are so grateful for their support and because of their passion for the Bananas and Banana Ball we knew we had to extend the tour dramatically in 2023. Now we are bringing the show to almost four times the amount of cities as we did in 2022 to make sure we able to connect with as many Bananas fans as possible."
The Portland Sea Dogs will take on the Savannah Bananas at Hadlock Field on August 18, 2023.
"Taking the Bananas to Portland has been something we've heard constantly from our fans over the years," said Cole. "We are fired up to bring an unforgettable show to them this spring."
Will New England get a glimpse of Johnny Damon in the Banana Uniform? We will have to wait and see.
Tom Brady's Tampa Rental Priced at $60,000 Per Month
Listed by Allan Mezrah of THE TONI EVERETT COMPANY, see inside and around Tom Brady's Tampa apartment priced at $60,000 per month.
Private Golf Course and 17 Bed Airbnb Makes for Perfect Bachelor Party in New England
This Airbnb rental comes with a private golf course making it the best place for a bachelor party in New England.
New Hampshire's 2023 Easter Egg Hunt and Celebrations
Check out the best location, date, and time for some Easter Egg hunts in New Hampshire to make this Easter the most memorable one yet. Many are confirmed for 2023; however, some locations have not been confirmed. Based on the past, because some hunts are 20+ years old, we are able to have a good idea of time, location, and details. See all below.
More From Seacoast Current