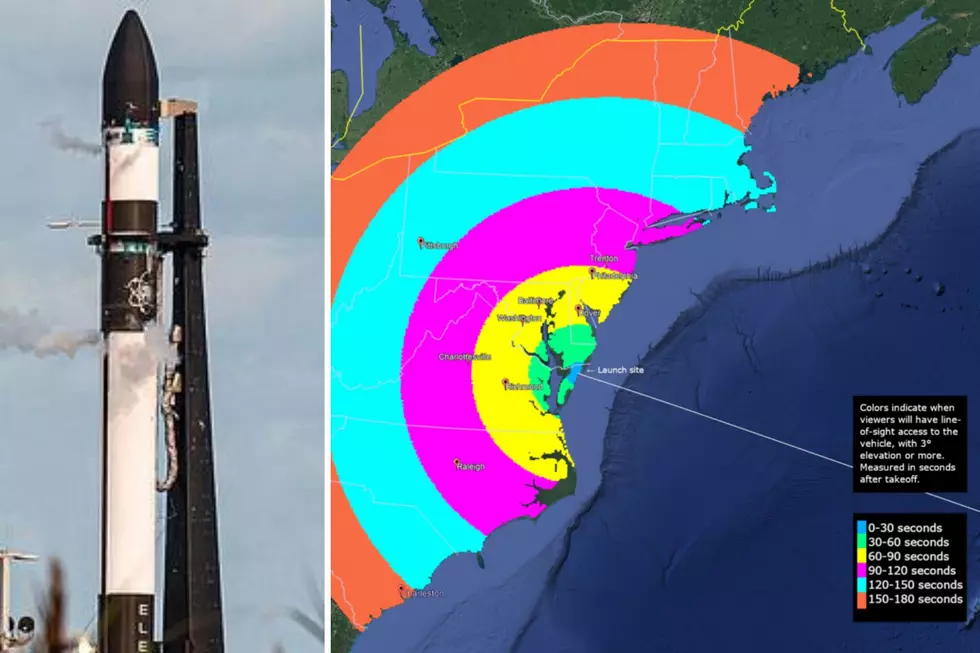 Friday Night Rocket Launch May Be Visible From Seacoast
Electron rocket, Map showing where and when people may see Rocket Lab's Electron launch in the sky, depending on cloud cover. (NASA Wallops/Mission Planning Lab)
The forecast looks favorable for the Seacoast to see Rocket Lab USA's first Electron rocket after its launch from Virginia Friday night.
The 59-foot-tall Electron rocket is scheduled to lift off from Launch Complex 2 at Virginia Space's Mid-Atlantic Regional Spaceport on Wallops Island at 6 p.m., according to NASA.  If the skies stay clear, the rocket will be visible 2-3 minutes after launching.
The window for the launch remains open until 8 p.m. There will be opportunities to try again between December 10 and 20, if needed.
Radio frequency monitoring satellites for HawkEye 360 will be released from the rocket during the "Virginia is for Launch Lovers" mission. Once all the satellites are launched, HawkEye 360 will be able to collect radio frequency data as frequently as every hour anywhere in the world.
A live stream will also be available at rocketlabusa.com/live-stream. The stream will go live about 40 minutes before launch.
The launch of SpaceX's Falcon 9 rocket from Cape Canaveral in Florida on Sept. 25 was clearly visible on the entire east coast from Maine to Florida.
Contact reporter Dan Alexander at Dan.Alexander@townsquaremedia.com or via Twitter @DanAlexanderNH
New Hampshire Here Are Your Top 10 Baby Names for 2022
Baby names are tough to pick, but here are some of the top names in the Granite State for 2022.
More From Seacoast Current