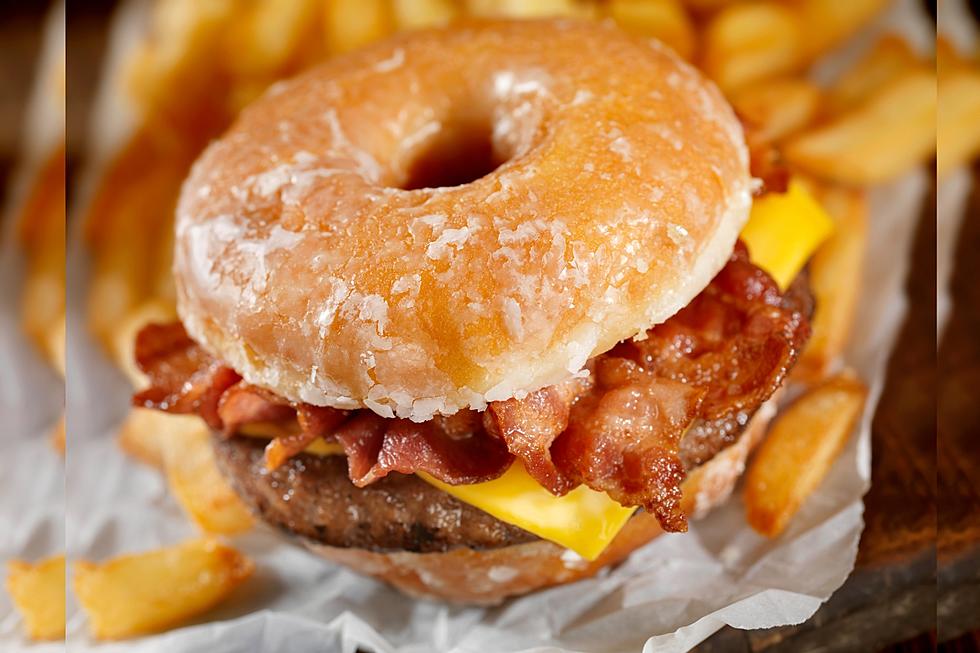 Heard About Donut Burgers? What Are They? Where Can I Get One?
Canva.com
Donut Burgers are something new and delicious, but probably not good if you're counting calories.  But hey, who's counting when you're having a splurge?
Before we go any further, I asked this question on Facebook: "Where can I get the best donut burger in New Hampshire?"
People were perplexed.  Best burgers?  Best what?  What's a donut burger? These were the responses I received, so I decided to back it up and explain what a donut burger is.
A donut burger is a donut, usually a glazed donut, sliced in half like a bagel, with a burger and condiments in between.  The burger is often a smash burger, which also leaves room for two burgers, one on top of the other. It's then smothered in cheese and bacon, of course.
How do we know donut burgers are the hottest trend?
When baseball and NASCAR feature this spiffy item on its menu as a specialty item, then you know it's hip.
Last summer, the MLB Grapefruit League on Cape Cod, the Red Sox, brought back this unique food item for the season, according to the Yarmouth-Dennis Red Sox site.  It's one of the hottest picks for foodies and baseball fans.
Also, last summer, the New Hampshire Motor Speedway brought back the donut burger as a specialty item for the NASCAR Cup Race weekend.  It sold out. The donut burgers, that is.
Good luck trying to find one locally.  I find donut burgers randomly, but haven't seen it as a regular menu item.  If you see one, try it, and you will be hooked too.  Sure they're decadent, but everything in moderation, my friend.
20 New England Restaurants That Deserve to Be on Food Network
Locals shared their thoughts on what restaurants they would like to see on Food Network. Here are the most popular suggestions, in no particular order.
Gallery Credit: Megan
Savor a Delicious Chicken Sandwich at These 16 New Hampshire Restaurants
Gallery Credit: Megan
More From Seacoast Current