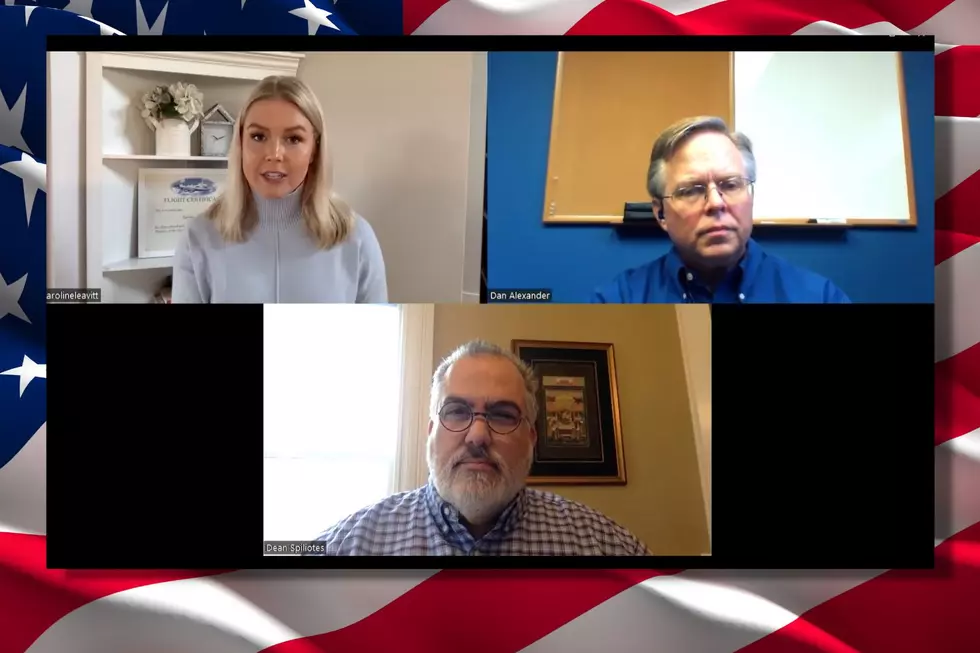 Karoline Leavitt: Ready to Undo Democratic 'Radical Agenda'
First Congressional District candidate Karoline Leavitt with Dan Alexander and Dean Spiliotes (Townsquare Media)
Seacoast Current invited the Democrats and Republican candidates in the First Congressional District, U.S. Senate and gubernatorial races for a "live to tape" unedited interview lasting 10-15 minutes with Dan Alexander and SNHU Civic Scholar and founder of NH Political Capital Dean Spiliotes. Gov. Chris Sununu's campaign staff could not agree on a date. Don Bolduc's campaign did not respond to several  invitations.
First Congressional District Republican candidate Karoline Leavitt already knows what will be the first legislation she'll sponsor if elected: a balanced federal budget, increasing domestic energy production, and reduced spending.
The 25-year-old Hampton resident running for her first political office after working in the press office in the Trump White House made it clear that she holds Rep. Chris Pappas responsible for the the highest inflation in 40 years.
"8.2% inflation has been driven by the $5.5 trillion in new spending over the past two years. Imagine that.  That's an unfathomable amount of money. $5.5 trillion in two years. That's what the Democrats, including Chris Pappas, have rubber-stamped. He voted for every single bill 100% of the time," Leavitt told Seacoast Current. "His solution was the inflation Reduction Act back in August. I don't care what you name a bill. If you're spending $750 billion more dollars, it's not going to reduce inflation, it's only going to drive it up."
Leavitt also said she will not support an increase in the debt ceiling. Instead she would like to see spending cuts.
"There is a lot of money that Congress needs to slash before we spend more. Taxpayers deserve it, especially in this economic crisis," Leavitt said.
Leavitt is aware that balanced budget amendments have not gotten far in the past, but she is hopeful that young leaders such as herself will be able to affect some change. She also plans to tackle the longtime difficult issue of term limits, one of many issues where she and Pappas differ.
"I guess he wants career politicians like Nancy Pelosi to keep ripping us off forever. We need to get back to a government that's truly for the people by the people. And I will be supporting that legislation in January 2023," Leavitt said.
Heat or Eat
Energy costs have also gone up, another issue Leavitt blames on Pappas and his support of Biden administration policies and what she calls a "radical agenda."
"He does not believe in domestic energy production. I do. So we need to fight to unleash that, led with strong legislation to push the Biden administration to do what's right. To open up pipelines and to have an all above energy approach. That includes nuclear. That includes hydro. That includes renewables as well. But we can't abandon fossil fuels. That's what the Democrat party has done," Leavitt said.
One of the cornerstones of Leavitt's campaign is her time in the Trump White House and her support of the former president.
"We welcome the support of President Trump. We welcome the support of anyone who wants to join our campaign. We have the support, of course, of forever Trumpers here and the New Hampshire first district. We have the support of never Trumpers as well. We have the support of anyone and everyone who wants to change the direction of this country," Leavitt said.
Leavitt said Trump is not on the ballot, much to the disappointment of Pappas and Biden.
"The inconvenient truth for the Democrats is Donald Trump's not on the ballot this year. They are. And their policies over the past two years have led to 8.2% inflation that's robbing New Hampshire families of $700 every single month. It has led to skyrocketing energy costs that are minimizing the profits for our business community, really making them suffer," Leavitt said.
Saving Social Security
Leavitt accused Pappas of spinning her words about supporting privatization of Social Security, and said she would always protect the current system to make sure those who have paid into it gets the benefits. But it will be insolvent in 10 years, a problem she says both Republicans and Democrats have not dealt with.
"I want to save Social Security and ensure that those sustainable retirement benefits are there, whether that's privatization, or other solutions that have been proposed. I will look at all of them when I get to Congress, and ensure we're protecting it for our retirees and our seniors here in New Hampshire have paid into the system, and then assuring a more sustainable solution for the future," Leavitt said.
Contact reporter Dan Alexander at Dan.Alexander@townsquaremedia.com or via Twitter @DanAlexanderNH
Ski These 9 New England Mountains for Under $100
Looking for a place to go skiing that won't break the bank? Check out these ski mountains in New England.
More From Seacoast Current