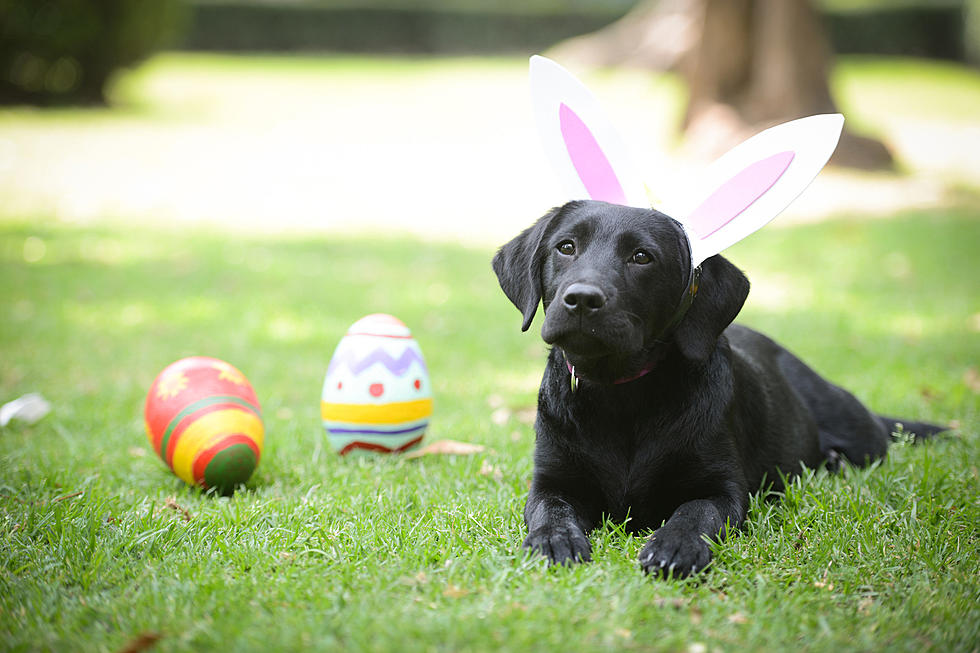 3rd Annual Doggy Easter Egg Hunt in Lee, New Hampshire, 2023
Getty Images
Editor's note: This article was written by a Townsquare Media Northern New England contributor and may contain the individual's views, opinions or personal experiences.
Would you ever bring your dog to a dog-only Easter egg hunt? Is that a real thing?
The Little River Park in Lee, New Hampshire, says it's absolutely a real thing, which if you ask me, is so 'pawsome'.
It is safe to say that family dogs get just about as much love, attention, and care as human children.
Yes, I am partially biased, as I treat my two mini-bernedoodles like kings; however, I am not alone in spoiling my dogs.
Considering the growing love for dogs, The Little River Park is hosting their 3nd Annual Doggy Easter Egg Hunt, according to an event page.
The Doggy Easter Egg hunt will be on April 8, 2023 between 1:30 pm – 4:30 pm at 34 N River Rd. in Lee, New Hampshire.
This event has a lot of layers to it.
To start, there is a cost associated, and two kinds of tickets, according to the event page.
COST: Tickets for this event are limited to 40 dogs. Members, your special rate will be reflected in your cart.
V.I.D. (Very Important Dog) Ticket (1 dog/2 humans): Members = $140; Non-Members = $155
V.I.D. Ticket (1 dog/1 human): Members = $125; Non-Members = $140
General Admission Ticket (1 dog/2 humans): Members = $85; Non-Members = $100
General Admission Ticket (1 dog/1 human): Members = $70; Non-Members = $85
Those who purchase a general admission ticket will receive:
15+ activities and experiences for your dog to engage in at our partner booths (see Agenda)
Easter egg hunt to locate 24 eggs filled with treats (some may contain prize slips) on a 1-mile wooded trail
Wag bag filled with goodies for your dog, including an Easter bandanna
Those with a VID (very important dog) experience ticket will receive:
A special Easter basket filled with treats and sensory toys for your dog
First entry into the woods to find eggs before other participants
Six additional eggs for your V.I.D. to locate for a total of 30 treat-filled eggs (some may contain prize slips)
One in 18 chance of winning our special V.I.D. raffle prize (value $100), donated by Stonewall Surveying
To clarify one more time, this is solely for your dogs. Yes, humans get to participate by bringing your dogs to such a fun opportunity; however, this event will be a one-mile trail walk with your dog. Your ticket will allow your furry companion to grab up to 24 eggs that will hold a dog treat and perhaps an extra prize slip.
There are a decent number of rules and regulations, including that dogs must be leashed, no more than two dogs per person, dogs must have a rabies vaccination, and more.
To register and see all of the rules, regulations, and what is induced, click here.
New Hampshire's 2023 Easter Egg Hunt and Celebrations
Check out the best location, date, and time for some Easter Egg hunts in New Hampshire to make this Easter the most memorable one yet. Many are confirmed for 2023; however, some locations have not been confirmed. Based on the past, because some hunts are 20+ years old, we are able to have a good idea of time, location, and details. See all below.
Most popular dog breeds that are good for families
RANKED: Here Are the 63 Smartest Dog Breeds
Does your loyal pup's breed make the list? Read on to see if you'll be bragging to the neighbors about your dog's intellectual prowess the next time you take your fur baby out for a walk. Don't worry: Even if your dog's breed doesn't land on the list, that doesn't mean he's not a good boy--some traits simply can't be measured.
More From Seacoast Current