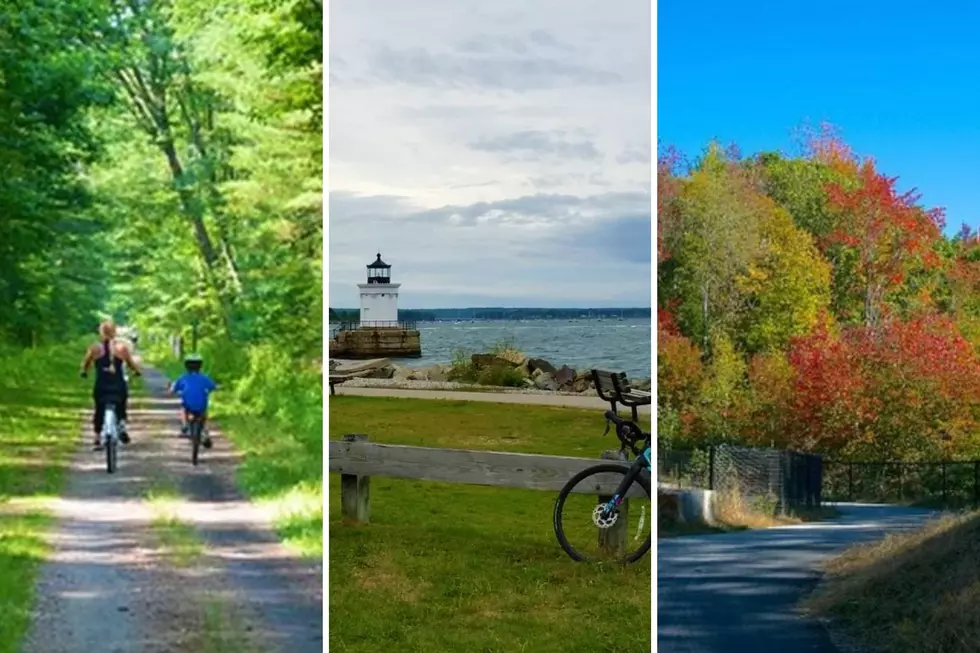 Maine's Premiere Trail Being Inducted Into the United States Rail-Trail Hall of Fame
Eastern Trail Alliance via Instagram
Editor's note: This article was written by a Townsquare Media Northern New England contributor and may contain the individual's views, opinions, or personal experiences.
Congratulations!  A celebration is in order after the nation's largest Rails-to-Trails organization welcomes one of the best trails in New England to the Rails-to-Trails Conservancy, or RTC Hall of Fame.
It's about time we see Maine's Eastern Trail take this prestigious honor.
In case you're not super familiar with the Eastern Trail, it runs through the very charming South Portland neighborhoods and scenic coastal landscape, including a famous lighthouse called Bug Light, the more than 3,000-acre Scarborough Marsh, and a 7-mile stretch of sandy beach.
According to the RTC, the Eastern Trail is a powerful example of the outdoor recreation economy in Maine, and an essential community asset in the cities and towns it serves. The trail delivers nearly $45 million in annual economic benefits, and 364 jobs throughout Maine.
Who knew green space for recreational activity played such a huge role?  I truly never really thought about it, to be honest, as most of us see these trails as just a fantastic outdoor outlet and space of beauty to take advantage of.
The New England Rail-Trail Network is adding sixteen additional miles to the Eastern Trail. 11 of those miles were supported by $700,000 in federal funding received in the spring of 2022.
Here's more on the exciting expansion and where the trails will go with the Eastern Trail.
Once the 16 miles of trail under construction are completed, the trail is projected to bring an additional $5.9 million in earnings and sales for Maine.
What's crazy is that the original rail route was built by the Eastern Railroad in the 1840s to connect Boston to Portland. You can learn more about the Eastern Trail right here.
The Hall of Fame inductee is selected during a public vote based on outstanding scenic value, use, amenities, historical significance, and community value.
As a matter of fact, RTC, the Eastern Trail Alliance, and the East Coast Greenway will host an induction ceremony welcoming Maine's Eastern Trail into the 2022 Rail-Trail Hall of Fame, and then enjoy a 2-mile hike along the trail.
Click here for more info on the ceremony.
RANKED: Here Are the 63 Smartest Dog Breeds
Does your loyal pup's breed make the list? Read on to see if you'll be bragging to the neighbors about your dog's intellectual prowess the next time you take your fur baby out for a walk. Don't worry: Even if your dog's breed doesn't land on the list, that doesn't mean he's not a good boy--some traits simply can't be measured.
More From Seacoast Current