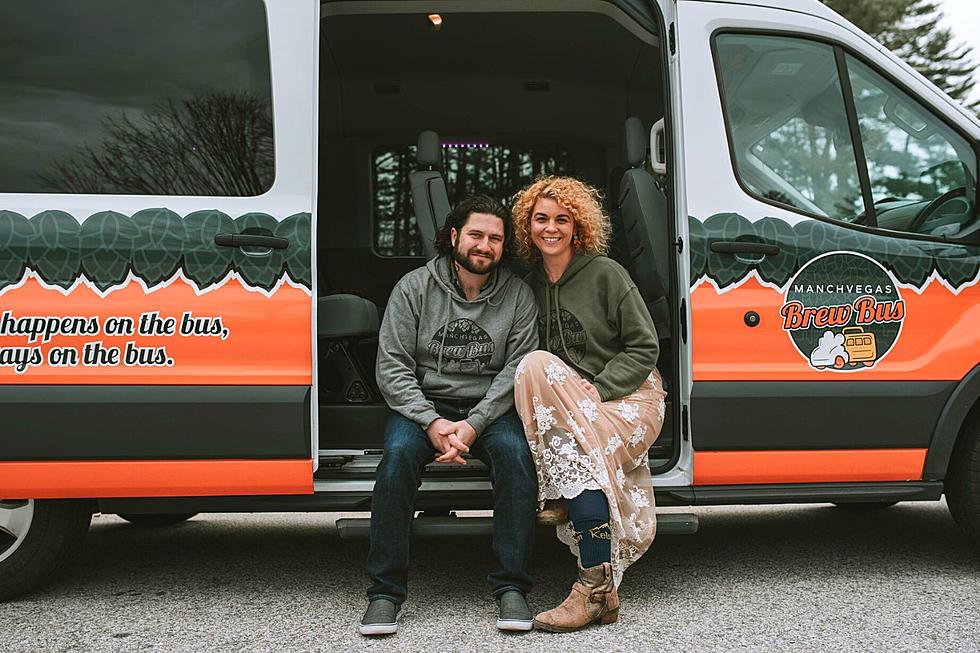 Manchester, NH, Brewery Bus Creates 'ManchVegas' Fun With No Driving Involved
ManchVegas Brew Bus via Facebook
Editor's note: This article was written by a Townsquare Media Northern New England contributor and may contain the individual's views, opinions, or personal experiences.
Bar crawling is a sport in New England.  There are so many unique breweries in the region, and you can make it a mission to visit each one over time, but the question is always the same: who will be the designated driver?
Thanks to Bill and Alli Seney, you won't have to ask that question.  The couple own the ManchVegas Brew Bus in Manchester, New Hampshire, and provide loads of fun to all brewery lovers near and far.
The Brew Bus idea was created by their love for trivia, music, and brews.  Alli is a professional musician and Voice Faculty Member at renowned Berklee College of Music, and performs all over New England.  Bill is an award-winning trivia aficionado and lover of craft brews.  Combine all of these passions, and poof, the Brew Bus was born.
Not only are these two busy professionally, but they have two young children to add to the chaos.
If you have a special event, they can customize any tour.  The bus holds up to 14 passengers with a minimum of six required at $70 each for a tour, which includes at least three breweries in a four-hour tour.  But it's totally customizable.
It's not just about breweries.  You can head to distilleries, meaderies, or wineries, however, your group chooses to customize the experience in the state of New Hampshire.  Ask about the fun pretzel necklaces, too.  They think of everything for a good time.
From family reunions to girls or guys weekends, bachelorette or bachelor parties, birthdays, weddings, or office parties, the Brew Bus crew can do it all.
The ManchVegas Brew Bus, Bill & Alli, were featured on the Visit New Hampshire YouTube page.
All the details are on manchvegasbrewbus.com.
These Are 12 of the Best Date Night Restaurants in New Hampshire
Looking for the perfect place to nosh on a date night? Here are some of New Hampshire's favorite restaurants for just the two of you.
The Top 25 Beers in New Hampshire
Beer Advocate is a website to review beers. Using the hundreds of reviews, we are able to rank the local beers in New Hampshire. See below, for the list of the top 25 beers here in the Granite State.
More From Seacoast Current