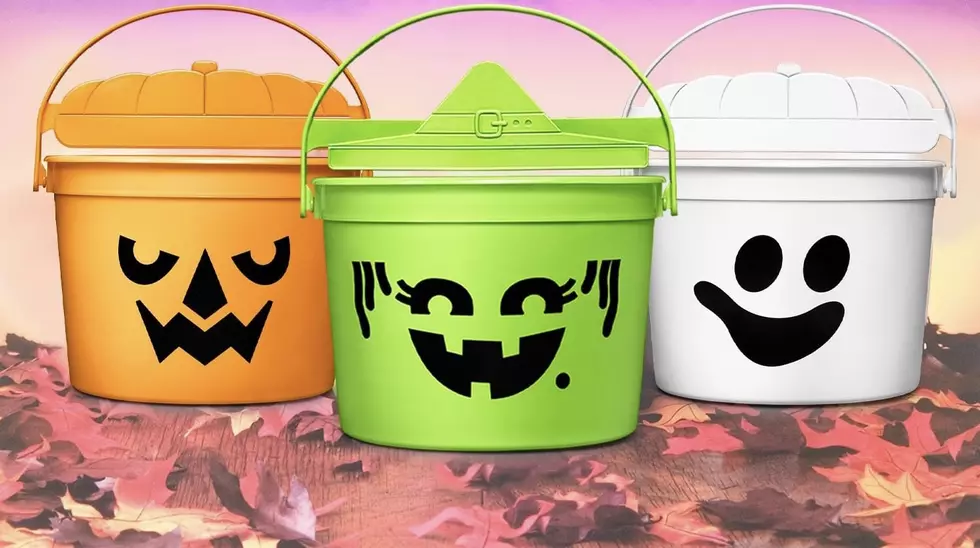 McDonald's Brings Back '80s Halloween 'Boo Buckets' in New England
Facebook/McDonald's
Editor's note: This article was written by a Townsquare Media Northern New England contributor and may contain the individual's views, opinions, or personal experiences.
New Englanders of a certain age felt a sense of nostalgia today, as McDonald's brought back its Halloween Pumpkin Pails, or as the cool kids call them, "Boo Buckets."
First introduced in the mid '80s, the Buckets have come and gone until fading away about five or six years ago. But as a wave of Halloween nostalgia has washed over the region and the country, thanks in large part to the Netflix series "Stranger Things" and films such as "Hocus Pocus 2" and "Halloween Ends", these pails seem to have returned.
Mayor McCheese was clearly listening to his constituents, as McDonald's will offer three different types of Boo Buckets: a white ghost (or, "McBoo), a green ghoul (or, "McGoblin"), and the classic orange pumpkin (Or, "McPunk'n").
The pumpkins will be available through October 31, and all you have to do is order a Happy Meal. This means that in a strange twist, aunts and uncles will be asking their nieces and nephews to borrow their IDs.
Arguably the most famous brand globally, McDonald's has deep New England roots. As documented in the 2016 film "The Founder," brothers Richard and Maurice "Mac" McDonald grew up in Manchester, New Hampshire, before moving to Los Angeles.
It was there where the brothers met controversial tycoon Ray Kroc and entered into what would become a tenuous business relationship. In the mid '80s, Richard was served the ceremonial 50 billionth McDonald's hamburger.
No word on whether it came with a Boo Bucket.
The Buckets are back just in time for going out in the New England town that was ranked one of the safest in the U.S. for trick-or-treating, or the New England state that is oddly fond of Almond Joys.
2022 Family Friendly Halloween Events
We've put together a list of some of the best trunk or treats and other family friendly Halloween events in Maine. Some of these are free, for others, there is a nominal charge. If there is something we should add to our list, email cooper.fox@townsquaremedia.com
Adam Sandler-Inspired Halloween Costumes
From SNL to the big screen, these Sandler-inspired looks will make your Halloween so very happy.
More From Seacoast Current