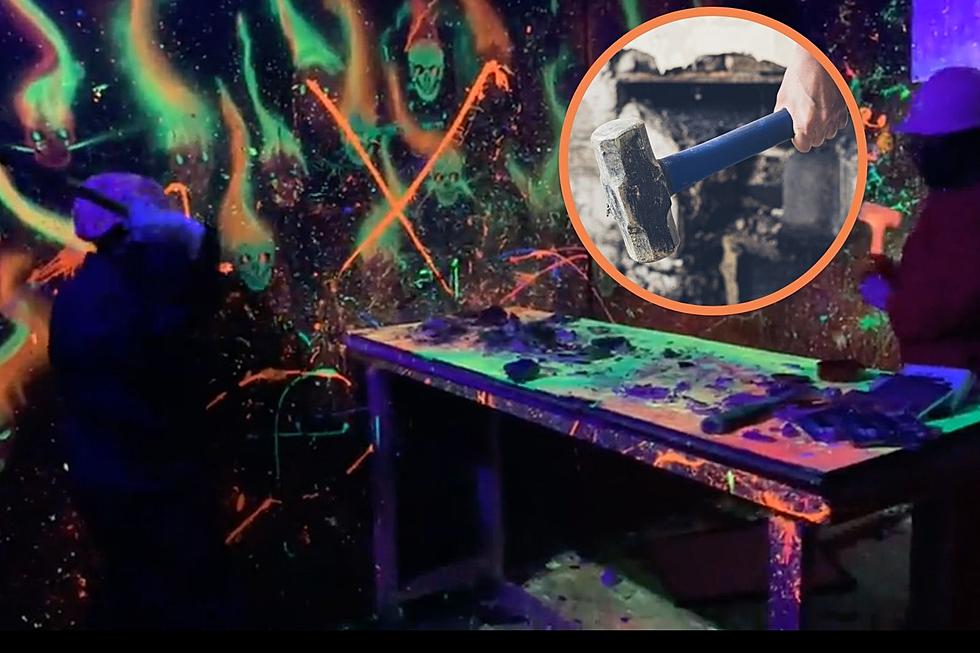 Nashua's RAGE CAGE NH Lets You Smash Stuff and Get Your Rage on
RAGE CAGE NH via Facebook, Canva
Editor's note: This article was written by a Townsquare Media Northern New England contributor and may contain the individual's views, opinions or personal experiences.
Think of the last time you felt frustrated or angry about something. Now imagine feeling those emotions in a contained, safe space with a hammer and breakable items at your disposal.
Here's a place to let out some of those frustrations.
What is RAGE CAGE NH?
RAGE CAGE NH is in Nashua, and is New Hampshire's largest rage room. Visitors wear protective gear, enter a 'smash room' with various breakable items, and smash them with bats and sledgehammers. Loud music also blasts in the background, setting the mood.
Besides the popular Smash Room package, guests can also select Glow Smash, where the breakable items are coated in UV fluorescent colors that make them look pretty epic in the room's dark lighting.
Not all of RAGE CAGE NH's offerings involve smashing stuff. With the more family-friendly Paint Party, you can use up to 10 paint colors to paint a canvas. There's also Glow Paint Party, where you can use UV-REACTIVE paint instead. Check out this father's positive review about his family's experience in the paint splatter room.
Or, if aggression is more your style, you can be like this guy and boogie with your bat as you smash a printer.
How Do Rage Cages Help You?
In addition to releasing tension, smashing stuff has psychological benefits as well, according to RAGE CAGE NH's website.
"Physical activities like smashing releases endorphins. These chemicals interact with receptors in your brain that reduce your perception of pain. Endorphins also trigger a positive feeling in the body....that feeling, also known as a "runners high" can be accompanied by a positive and energizing outlook on life, which has been shown to help with depression and anxiety."
So, there you have it. You getting your rage on is a simultaneously healing activity. It's a win-win.
There are no age restrictions for the paint splatter room, but those who want to access the smash room must sign a waiver and be at least 16 years old. For other FAQ's, click here.
Oh, and just a side note: RAGE CAGE NH is ultimately supposed to be a fun experience. If you feel that your troubles are of a more serious nature, please consult a licensed mental health professional.
25 of the Best Arcades in All of New England
These are 25 of the best arcades in New England
Retro-Like Prices: Go Skiing at These New England Mountains for Under $100
Looking for a place to go skiing that won't break the bank? Check out these ski mountains in New England.
More From Seacoast Current