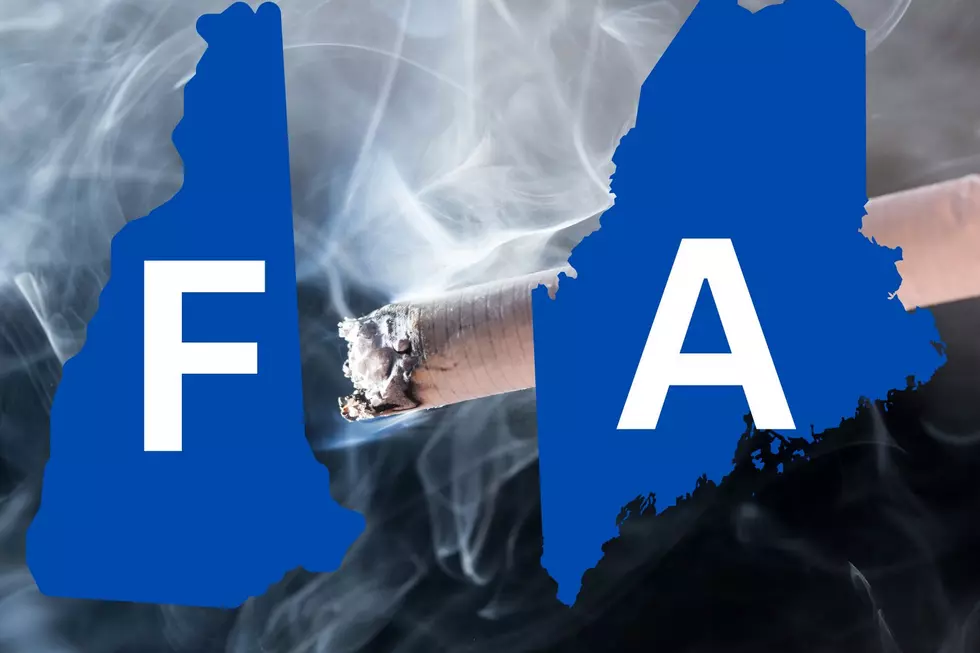 NH, ME Earn Opposite Grades in Smoking Control Report
American Lung Association State of Tobacco Control 2023 grades for New Hampshire and Maine (Townsquare Media via Canva)
🚬 New Hampshire earned an average grade of an F while Maine averages at an A
🚬 The Granite State's low tobacco tax helped drag down its grade
🚬 Maine and New Hampshire both earned a grade of F in the same category
---
New Hampshire and Maine came out at the opposite end of the grading spectrum in the American Lung Association's 21st annual State of Tobacco Control" report.
The report grades each state individually on its progress towards the group's goal of a tobacco-free future, as tobacco use remains the leading cause of preventable death and disease in America. 1,940 New Hampshire residents and 2,390 Maine residents die each year because of tobacco, according to the American Lung Association.
In its 2023 report, New Hampshire earns an average grade of an F, while Maine averages at an A.
Bad Tobacco Policy, Bad Grades
"It's kind of one of those report cards that if you were in school, you would hide from your parents with three Fs and two Ds and a lot of work to be done in the Granite State as well to protect our kids and adults who want to quit tobacco and nicotine addiction," Lance Boucher, Director of Advocacy at the American Lung Association in New Hampshire, told Seacoast Current.
One of the biggest factors that put New Hampshire at the bottom of the list is its tobacco control policies, which the American Lung Association believes has contributed to nearly 1 in 3 high school students and 12.3% of adults using tobacco products, according to Boucher.
Despite New Hampshire receiving $275 million in tobacco taxes and payments from tobacco lawsuits, the state spends less than half a million dollars to help current users of tobacco quit and prevent kids from starting to smoke, according to Boucher.
The state's tax on cigarettes, little cigars, e-cigarettes, loose tobacco, smokeless tobacco, and cigars is the lowest in New England at $1.78 per pack. It attracts out-of-state buyers from neighboring Maine ($2 per pack), Massachusetts ($3.51 per pack) and Vermont ($3.08).
"Having a high price point on tobacco helps to encourage people who are currently using make a quit attempt, and it also deters kids from initiating the habit. And unfortunately, New Hampshire has the lowest tax in the Northeast. So we know the policies that work. We have a roadmap that legislators and our elected officials can follow. However, we just haven't had that momentum and movement in New Hampshire," Boucher said.
A Jump From a C to an A for Maine
Increased funding by the Maine legislative for the Maine tobacco control programs that brought it up to recommended federal CDC levels brought the state's grade up from a C in 2022.
"The Maine legislature really increased robust investment in tobacco prevention. And that's going to take some time to pay dividends and see our use rates go down," Boucher said. "But it is important to have a well-funded tobacco program to work with adults in the quit line to help people make quit attempts, and to take into some of that counter-marketing and to prevent youth from taking up this habit."
Boucher said that Maine has prohibited smoking at indoor workplaces, restaurants, and bars since 2009. The law has proven popular, and there have been no efforts to eliminate it.
Maine is similar to New Hampshire in two areas: its tobacco tax, the second lowest in the northeast, and the sale of flavored tobacco products.
"The last time Maine raised its tax was 2005. And at that time, we were the highest in the Northeast. That was an effective strategy to help our tobacco use rates decline. However, we have failed to keep pace with the rest of the Northeast except for New Hampshire," Boucher said.
There is also no statewide ban on flavored tobacco products, but Boucher is encouraged by local bans.
"We're hopeful to see that momentum that's happened in Bangor, Portland, South Portland, Brunswick, become a statewide initiative this year and protect all Maine kids from Fort Kent to Kittery," Bourcher said.
Democratic State Sen. Jill Duson has introduced legislation that would end the sale of flavored tobacco product.
Contact reporter Dan Alexander at Dan.Alexander@townsquaremedia.com or via Twitter @DanAlexanderNH
These Are 30 of the Best Places for Chicken Wings in New Hampshire
More From Seacoast Current