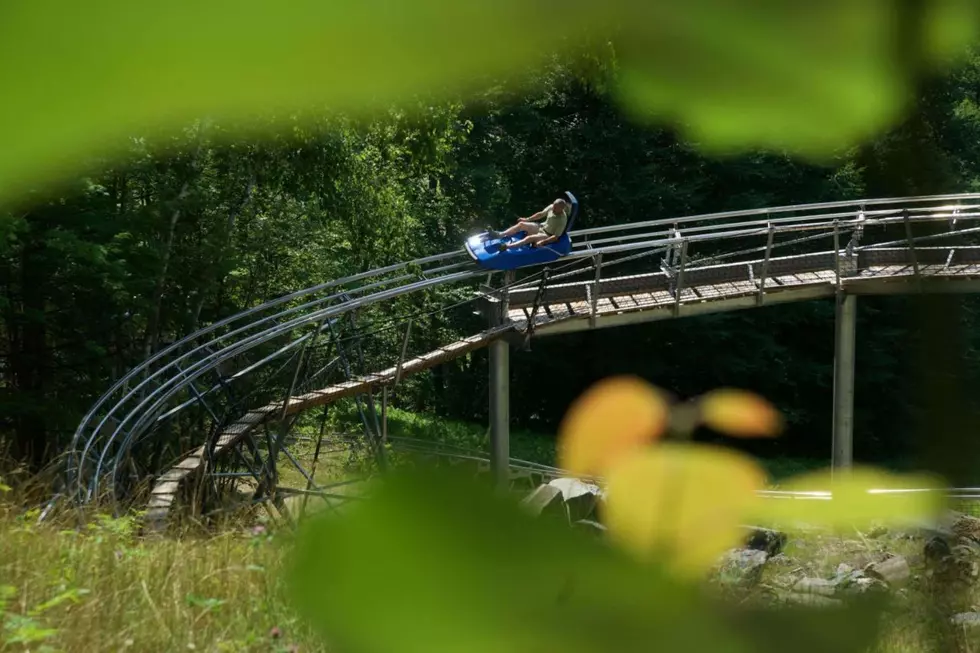 North America's Longest Mountain Roller Coaster is in the Massachusetts Berkshires
Berkshire East Mountain Resort
Editor's note: This article was written by a Townsquare Media Northern New England contributor and may contain the individual's views, opinions, or personal experiences.
Weeeee! Put your hands up and have some fall fun whizzing through the Berkshires on 3,780 feet of track.  Let's do this.
It's called the Thunderbolt Mountain Roller Coaster, and it's incredibly unique, as you're in your own car and can actually control the speed. So, you're free to zoom crazy fast or make it a more leisurely ride as you weave in and out of the forest canopy.
According to the website, the best way to think about this mountain coaster is "alpine slide meets roller coaster."
It's designed with swooping turns, banked corners, rolling drops, and 360° turns. Each cart is equipped with its own braking system, allowing you to slow speeds to a comfortable pace or accelerate to G-Force inducing levels.
This mountain roller coaster is at the Berkshire East Mountain Resort in the town of Charlemont, nestled in the Massachusetts region of the Berkshires.
This means that the list of activities is endless if you want this to be more than just a day trip or overnight stay, but rather a frolicking fall getaway.
The area also has zip-lining, camping, and a bike park.  You can even plan a trip around live concerts, or enjoy a quaint day of shopping and discovering new restaurants in the area.
No matter how you plan to tackle the Thunderbolt Mountain Roller Coaster, what pride to know that the longest one in North America sits in New England's own backyard.
Click here for all the info you need.
30 Band Names Taken From Classic Rock Songs
When looking for the right collection of words to label their new groups, musicians often turn to other artists for inspiration.
Take a Look Inside the Biggest House in Maine
More From Seacoast Current