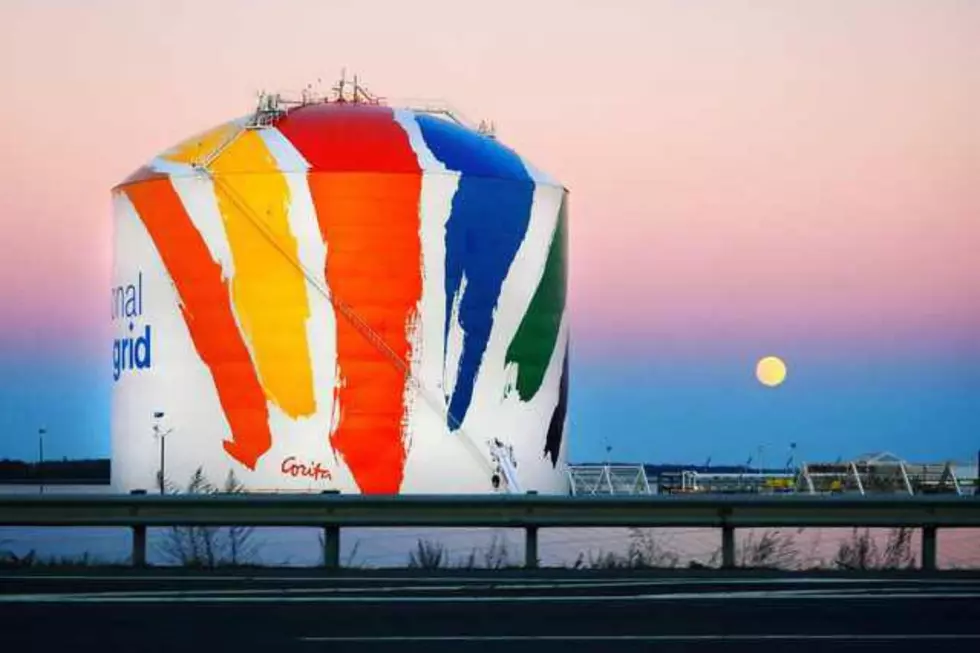 Painted by a Nun, Boston is Home to the Largest Piece of Copyright Art in the World
Rainbow Swash via Facebook
Editor's note: This article was written by a Townsquare Media Northern New England contributor and may contain the individual's views, opinions or personal experiences.
For me, this is one of those things that I can file under that old adage, "you learn something new every day."
You know when you're driving south of Boston on interstate 93 and you see that huge, white gas tank along the water with the rainbow design painted on it? Those gigantic paintbrush-like strokes in orange, yellow, green, purple, and blue adorning the tank were commissioned, making that a piece of art lovingly called the Rainbow Swash. Being 140 feet tall, it's literally the largest piece of copyrighted art on this planet.
Talk about art in open spaces. That gas tank is a Boston landmark, just like the Citgo sign at Fenway Park, and is even part of the skyline.  It may not be in downtown Boston, instead along the south shore in the Dorchester neighborhood of Boston on the Dorchester Bay, but it is an iconic, well-known, and recognizable part of Boston and its history.
According to Trademark and Copyright Law, there's quite the history here.
Besides adding an unexpected touch of beauty to a utilitarian structure, the "Rainbow Swash," as the formally untitled work is commonly called, had the distinction of being the largest copyrighted work of visual art in the world when completed.  That in and of itself is interesting enough.  But what is truly fascinating is the story of the influential artist (of whom you have probably never heard) who painted the work.
Here's the quick version, but click here for some fascinating history on the artist, Sister Corita Kent.
In 1971, the then-called Boston Gas Company commissioned Sister Corita Kent to paint the Rainbow Swash design on one of two adjacent gas storage tanks facing 93. The original design was painted on an 8-inch scale model, and that's where 20 painters reproduced the work on the tank.  In 1992, the original rainbow-painted tank was torn down so the Rainbow Swash was again recreated on the adjacent tank.  Side note here for you, but apparently the yellow stripe is said to resemble the profile of Fred Flintstone looking south.  That's hilarious, and I'll have to safely look the next time I drive by.
PICTURES: Look Inside Dolly Parton's Longtime Nashville Home
Dolly Parton's surprisingly humble former home in Nashville has finally sold, after many years on and off the market. Parton and her husband, Carl Dean, purchased the 4-bedroom, 2-bathroom home in 1980, and they owned it until 1996. It's been on and off the market for 12 years, finally selling for $849,000 in December of 2021.
Inside Rihanna's $6.6 Million Hollywood Hills Villa
Take a look inside the singer's recently sold $6.6 million home with views of the Sunset Strip and mountains.
More From Seacoast Current