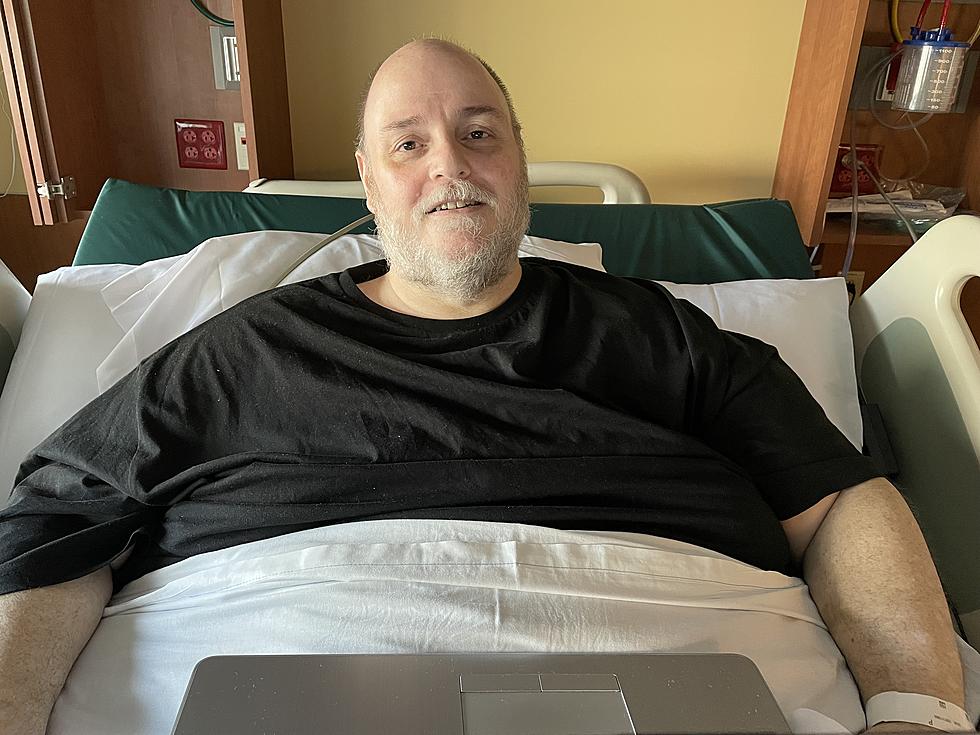 Somersworth, NH Man Hopes To Be Discharged From Hospital This Week
Jack Bocchino
This is the story of how one Somersworth man chose to fight for his independence so he can go back to the apartment he calls home.
Jack Bocchino has been at Wentworth-Douglass Hospital in Dover, NH since March 16. The 54-year-old man weighed 573 pounds when he was admitted and was told he could not return home to his second-floor apartment after he was discharged from rehabilitation because he was immobile due to his weight.
The ambulance company had no way to safely transport Bocchino to his residence and local emergency medical service crews refused to assist with gaining access to the apartment because of safety concerns, according to court paperwork.
Since that time, Bocchino has lost over 115 pounds while staying at the hospital and has learned to walk again with the help of his doctors and nurses. He has even gained enough strength to go up and down some stairs and looks forward to returning home to the place he has lived for years.
Bocchino confirmed on Sept. 1 that he plans to be discharged from the hospital and return home to his apartment on Friday.
"I don't like being here. This isn't a spa," Bocchino said during a recent interview. "I miss my house. I miss my bed. I miss my big TV. I miss my son most of all."
Bocchino, who is an actor who specializes in voiceover work, has a grown son.
Bocchino's story came to light when hospital officials filed for an injunction asking for a judge to compel him to cooperate with plans to place him in a long-term care facility or independent living situation with supportive services.
Bocchino said the places hospital officials wanted him to consider were out of his price range.
The filing from the hospital states Bocchino wants to remain at Wentworth-Douglass until he is eligible for and undergoes bariatric surgery, which officials argue could be six to nine months out and is best prepared for on an outpatient basis.
The court filing has left a bad taste in Bocchino's mouth, even though he is relieved to now be leaving on his own accord.
"I don't think it was classy on the hospital's part. I actually think it was pretty tacky on their part," Bocchino said.
Adam Bagni, director of communications and community relations at the hospital, said he could not comment further on the court case. 
Bagni referred back to a statement released by hospital officials when the injunction paperwork was filed at Strafford County Superior Court in Dover.
"Wentworth-Douglass Hospital is committed to treating all our patients with the highest degree of care, dignity, and respect. Our policy and practice is not to publicly discuss a patient's medical care.
Over the past several months the hospital has, more often than not, been at nearly full medical/surgical capacity. In order to accommodate the medical needs of our community, our staff works diligently every day with each of our patients to develop and carry out their best course of medical care and treatment.
When patients no longer require an acute level of medical care, our team works with them and their families to develop an appropriate plan of discharge, aligned with their medical needs and personal circumstances, for their next level of care and recovery.
We believe the most successful transitions of care occur when there is full participation and collaboration between and among the patient, their family, and our medical and nursing teams.
We consider any filing of legal action as an absolute last resort and we remain committed to ensuring all of our patients are safely and respectfully discharged."
Wentworth-Douglass Hospital has been recognized with a nationally designated distinction for its high-quality weight-loss surgical program, according to a press release issued in April.
The hospital was named a Blue Distinction® Center for Bariatric Surgery by Anthem Blue Cross and Blue Shield in New Hampshire.
Contact Managing News Editor Kimberley Haas at Kimberley.Haas@townsquaremedia.com. 
10 Old Fisher Price Toys That Are a Blast From The Past
More From Seacoast Current