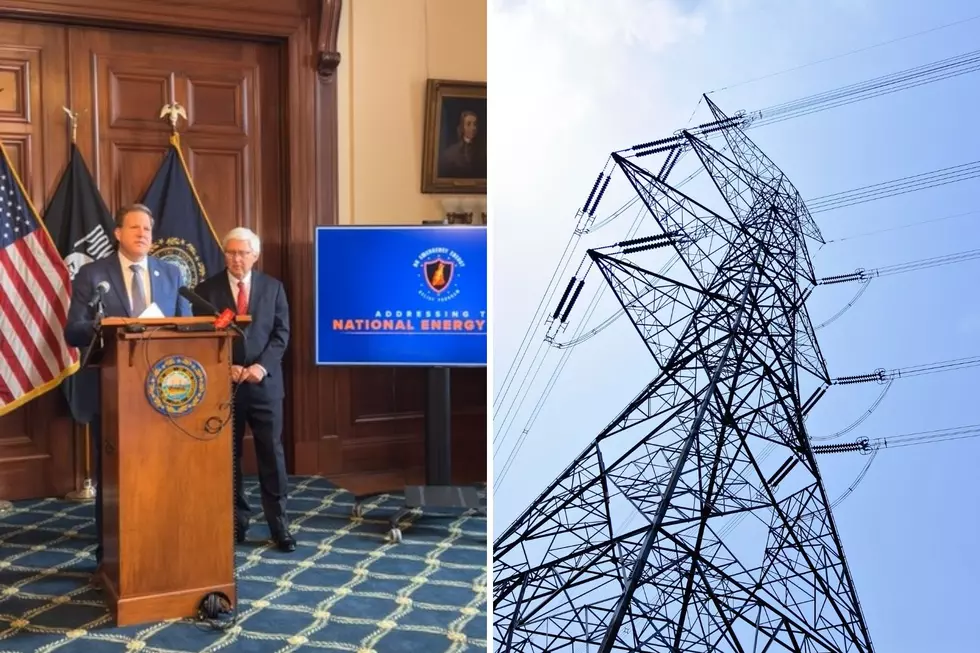 Sununu Announces Financial Assistance Plan for High Energy Costs
Gov. Chris Sununu announces a plan to help with electric bills (Gov. Chris Sununu)
Faced with the prospect of skyrocketing electric costs, Gov. Chris Sununu announced a plan to help residents handled their payments.
Electric bills for many New Hampshire residents will essentially double as Liberty and Eversource filed their twice a year Default Energy Service rate increase requests with the New Hampshire Public Utilities Commission. Liberty filed an increase of 22.223 cents per kilowatt hour, while Evesource filed for 22.566 cents per kilowatt hour.
"If you are an Eversource residential customer using 650 kwh per month, your bill is going to increase by more than 53 percent as a result of the new default energy service rate," Donald Maurice Kreis, consumer advocate for the New Hampshire Office of the Consumer Advocate tweeted.
Why the Hefty Increase?
In a statement, Eversource Executive Vice President of Customer Experience and Energy Strategy Penni Conner explained that the rate changes twice a year on Feb. 1 and Aug. 1. Rates usually go up in the summer because of 25% more energy used by air conditioners and fans. Other factors played into this year's increase.
"The increase is due to several factors – the conflict in Ukraine causing energy supply constraints, continued increased demand as the economy recovers from the pandemic and extreme weather impacting gas-producing states," Conner wrote.
On Wednesday, Sununu announced the New Hampshire Emergency Energy Relief Program, which will provide over $100 million in assistance. The program includes:
$7.5 million in a direct benefit to 24,000 households that received assistance last winter through the Fuel Assistance Program. No re-registration is required.
$7 million to fund the Electric Assistance Program to provide bill assistance to those making less than 60% of the median household income.
$60 million for an automatic monthly credit to New Hampshire residential rate payers from August through the end of 2022.
"We've managed our economy really well here and we have a large surplus here. That allows us to afford these investments to help the ratepayer at an individual level," Sununu said during his announcement.
The governor said the state is anticipating "brutal" costs during the winter, and will double home heating assistance funds by $25 million in the LIHEAP program. The funds will be available in November.
"We know these heating oil bills are not going to be $600 or $700 to fill your tank. We're looking at $1,200 to $1,500 potentially to fill a 275 gallon heating oil tank," Sununu said.
Where's the Money Coming From?
The state Democratic congressional delegation took some credit for making over a billion dollars available to the state via the American Rescue Plan. It offers states flexibility in how money is spent.
"We are encouraged that the resources we've secured have helped the state have funds on hand to respond to rising energy costs and that the state is moving forward with direct relief. The state needs to continue to explore additional ways to leverage remaining federal relief funds to support Granite Staters," read the message.
Democratic gubernatorial candidate and state Sen. Tom Sherman echoed that message while taking a political poke at Sununu.
"Thanks to our federal delegation, New Hampshire has funds to provide relief to residents who will be hit hard by rising energy costs. But one-time bandaids are a hallmark of this governor, instead of taking strategic action to lower energy costs or property taxes long-term," Sherman said in a tweet after the announcement.
Contact reporter Dan Alexander at Dan.Alexander@townsquaremedia.com or via Twitter @DanAlexanderNH
Trending Stories for Seacoast Current (June 13-19, 2022)
More From Seacoast Current