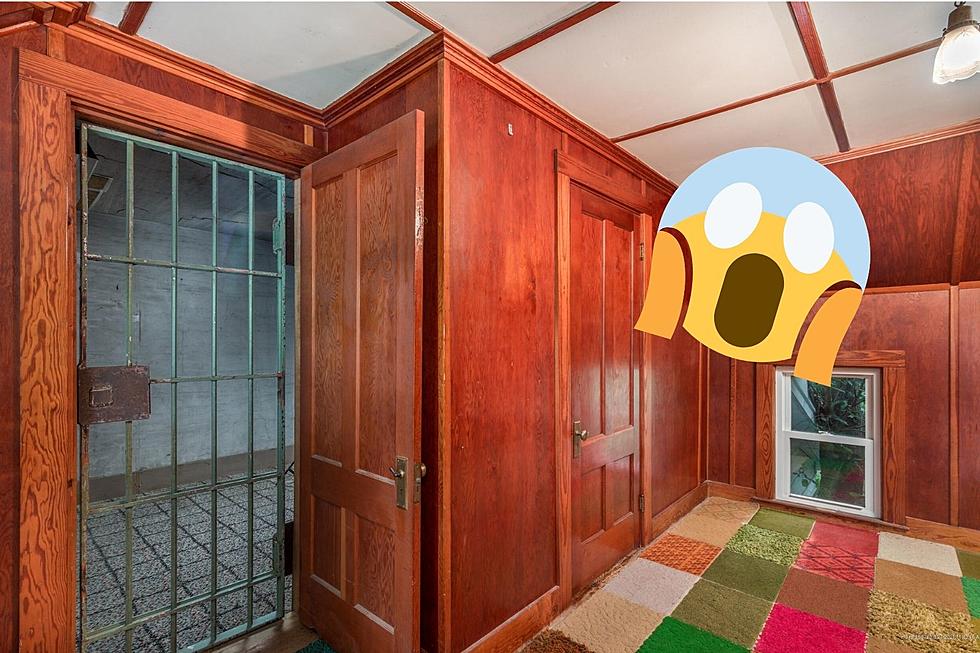 The Next Big Horror Movie Should Be Filmed at This Creepy Washington, Maine Home With a Jail Cell
Cates Real Estate
Editor's note: This article was written by a Townsquare Media Northern New England contributor and may contain the individual's views, opinions or personal experiences.
Fixer Upper
The housing crisis in Maine and throughout the country is real. Maine is seeing an extra boost in sales to out-of-staters paying in cash to escape the cities and work from home in this new world of COVID-19. For many, the only hope in being a homeowner is finding a fixer-upper.
In Washington, Maine there is a large farmhouse for sale for $169,900. The house is nearly as old as the town of Washington itself. According to Maine Geneaology, the town was incorporated as the town of Putnam in 1811 and changed to Washington in 1823. In 1860 Washington became part of Knox County, which was born from parts of Lincoln and Waldo counties. It was in the 1860s that this farmhouse on Waldoboro Road was built.
The location is wonderful with a quick drive to Augusta or the Midcoast and right across the street from the iconic Washington General Store. From the outside, it's a beautiful property with the landscape just a tad overgrown. The inside of the property is quite the mystery.
Inside the 1,165 square foot space are 5 bedrooms and 2 full bathrooms as well as a 1 car garage. The house sits on 6 acres. One feature not apparent in the listing until you start clicking through the photos is the jail cell.
In recent years, a home was spotted in Vermont that was similar to this Washington, Maine property. Charming old farmhouse on the outside but inside? Well, for this home there was a SEVEN-cell jail. Turns out it was the former Essex County Jail which was discontinued in 1969 according to News 18. In Missouri, a stunning renovated home also housed a jail with NINE cells according to Daily Mail.
Scouring Google, I couldn't find any confirmation that this home used to serve as some other purpose back in the 1800s, but here's to hoping it was operating as a jail. Otherwise, I have several questions.
The questions aren't limited to the jail cell, however. There's a lot about this home that feels very Stephen King-esque. You could tell me that this was a real-life house of horrors and I would believe you without a second thought.
Oh, and one room has a mirror on the ceiling. Not necessarily creepy, but worth noting.
I'm not big on horror flicks but I feel like this home is the PERFECT setting for a movie. What I am a big fan of is true crime. If there's one thing I've learned, anything can happen and probably has.
Check out the photos below. What do you think about this property? Old jail? Haunted? A potential goldmine after renovation?
There's a Mysterious Jail Cell Inside This 1800s Maine Home You'll Want to Explore
The property is at 10 Waldoboro Road in Washington, Maine. It is listed by
Cates Real Estate
.
Skinny New England Home Built Out of Spite is For Sale for $1.2M
As the story goes
according to Boston Magazine
, the home was said to have been built by a man in 1890 on a plot of land that was left by his father to him and his brother. Well, this guy had been off fighting in the Civil War, and once he returned he discovered that his brother had gone ahead and built a big house on that land.
Then, out of pure spite he built the skinny spite house on the remaining plot between his brother's house and another building to block sunlight and harbor views from his brother.
Comparing Two Vastly Different Modern Maine Homes For $300k
With the housing market always being unique in Maine and being extra crazy due to the pandemic, what can $300,000 get you in June of 2021? Here's a breakdown of the two properties. One in the heart of Downtown Portland and the other, in Somerset County in St Albans.
So, which property would you prefer?
More From Seacoast Current