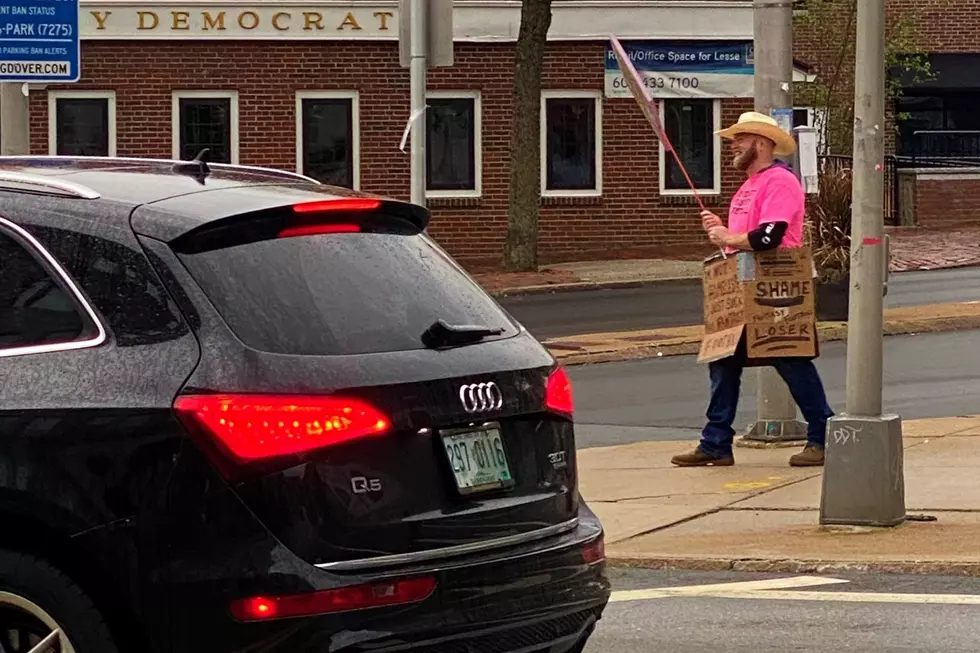 Video: Hilarious Reason Why Cars Are Honking at This Mainer Standing on a Street Corner in New Hampshire
Jolana Miller Townsquare Media
Editor's note: This article was written by a Townsquare Media Northern New England contributor and may contain the individual's views, opinions, or personal experiences.
Boys will be boys, am I right?  And talk about going all out for this punishment, or penalty, as this Fantasy Football league refers to it. Jeff Clark from Eliot, Maine, stood on this busy, downtown Dover, New Hampshire, street corner, getting honked at time and time again for being a loser.
Here, let me explain.
Jeff is in a fantasy football league called Big Boy League, and they even have hats!  There are 12 guys total, all living on the Seacoast except for a friend in North Carolina. That long distance friend is lucky, I guess, because when one of these guys loses in fantasy football, just like losing a bet, they have to do something embarrassing, disgusting, or painful as a penalty for losing.
They're a tight-knit group that only brings in a new player if someone drops out, and so far, that hasn't happened in seven years.
For losing the 2021-2022 season after the home opener for the New England Patriots, Jeff had to throw on this pink shirt, a makeshift tutu, if you will, and wave this sign with the goal of getting honks from passing cars, and letting everyone know he's horrible at fantasy football.
Jeff has lost twice in three years.   A couple of years ago, he had to drink a blended concoction of mysterious ingredients brought by each player, including pigs feet. EW. This feels like a much better penalty for Jeff this year, and he told me he's actually having fun.
I will tell you one thing though, it's only for an hour, but his friends decided not to tell him when the hour was up. They just continued to drink some beer and taunt him, as you'll hear in the video posted below, and see how long it took him to realize.
I'll tell you this. I heard the honking and fun for over an hour-and-a-half.
By the way, Jeff handled this like a champ, but I'm not surprised. His friends told me he has a podcast called Combat Cowboy about MMA fighting, so clearly he has tough skin.
These Are 25 of the Best Sports Bars in New Hampshire and Massachusetts
Below are the best sports bars and restaurants to catch a game in Massachusetts and New Hampshire.
Yankee Candle Owner's Massachusetts Estate for Sale Has Arcade, Indoor Water Park, Bowling Alley, Golf Course
More From Seacoast Current