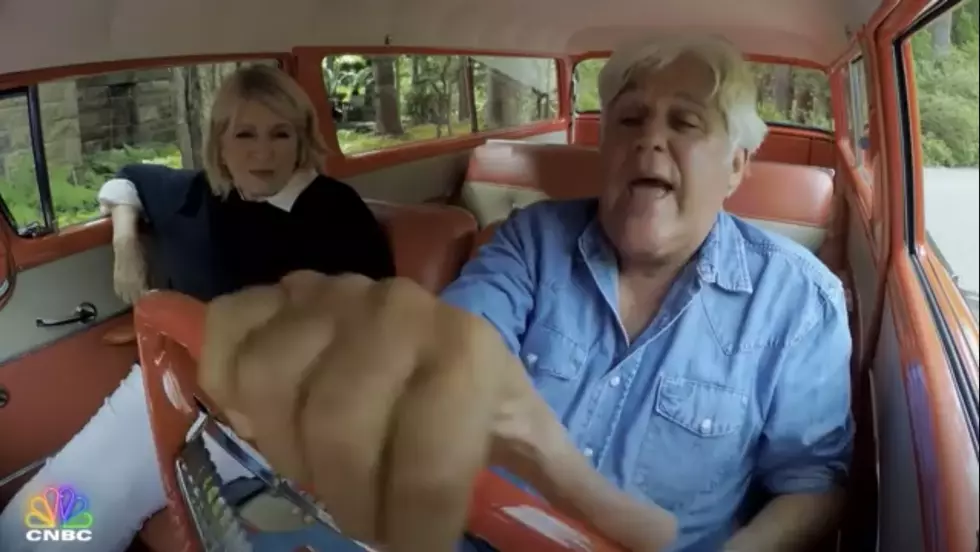 WATCH: Remember When Jay Leno and Martha Stewart Took a Maine Road Trip?
YouTube/Jay Leno's Garage
Editor's note: This article was written by a Townsquare Media Northern New England contributor and may contain the individual's views, opinions, or personal experiences.
Fans of Andover native Jay Leno were relieved as the former Tonight Show host's prognosis improved after a frightening accident suffered while working on one of his antique cars.
But if you think that's the last of the man who says he orders 200 denim shirts and 50 pairs of jeans each year getting underneath an antique or hot rod, you don't know Jay Leno.
Jay Leno's Garage has been a runaway hit on CNBC, giving the comedy legend the second act his predecessor, Johnny Carson, never quite captured. From athletes to politicians, Leno traded in the suit and tie for the denim to speed around racetracks or ride rough terrain.
One of the most memorable episodes took place right here in New England, and it featured a rather unlikely guest: Martha Stewart.
In 2020, Leno journeyed up to Maine in a 1958 Edsel Roundup for a joy ride with Stewart. It made perfect sense, as Stewart lives in the home once owned by Edsel Ford (son of Henry Ford).
Located in Seal Harbor, Maine, the house, known as "Skylands", has been kept as meticulously by Stewart as a car by Leno. During their drive, the two talked about their first cars, going to drive-ins, and dates in high school (in surprisingly descriptive detail).
Stewart also discusses her desire to design a car of her own, the obstacles she faced in taking her business public, and adds some clarity to her often-infamous work ethic.
Leno is also famous for his inspirational work ethic, as well as making time for everyone from Stewart to virtual unknowns. And as he recovers, it looks like he's covered when it comes to consulting with someone on his pillows and linens.
18 Celebrities Who Have Owned Homes In Maine
From Kittery to Islesboro, some of Hollywood's biggest names have owned homes in Maine. We explore the who and where.
These Celebrities Call New England Home
These celebrities all have ties to New England in some way, shape, or form!
More From Seacoast Current