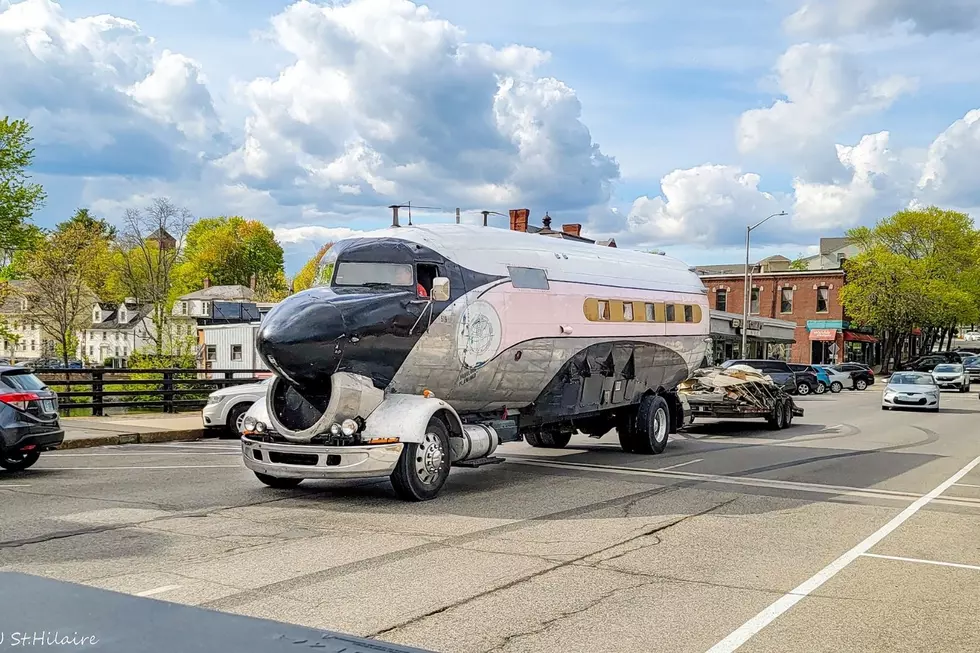 Yes, That's Part of an Airplane You've Seen Driving Around NH
AJ St Hilaire via Facebook
Editor's Note: This article was written by a Townsquare Media Northern New England radio personality and may contain the individual's views, opinions or personal experiences.
We've all heard of hybrid pets and even hybrid cars, but this is one hybrid vehicle that I don't think any of us ever expected to see -- part of an airplane driven as a motor vehicle on residential roads, all registered and legal!
Earlier this week, Facebook user AJ St. Hilaire shared a picture he snapped while walking along Central Ave in Dover of this very vehicle, which he says is called the "Fabulous Flamingo."
In his Facebook post, AJ goes on to explain what exactly the Fabulous Flamingo is:
'The Fabulous Flamingo' is a class A motorhome from Michigan on an International truck frame & built out of a 1943 DC3/C47 fuselage, used by the Navy in WWII. This (is) believed to be (a) one of a kind vehicle I photographed...
History of The Fabulous Flamingo
A Google search of The Fabulous Flamingo mostly brings up articles about The Flamingo/The Fabulous Flamingo hotel in Vegas, but it also brings up a few YouTube videos about the actual motorhome vehicle, including this one from this spirited fella that explains the background and origin of The Fabulous Flamingo.
Even though AJ photographed this in downtown Dover, responses to his Facebook post have commenters mentioning they've seen it driving around in other areas as well, including Rochester and Wells, Maine.
Never mind renting an RV or Winnebago -- next time you take a road trip, why not make your trip next-level amazing by cruising the country in The Fabulous Flamingo? If only it had wings or had somehow already visited the future -- that way wherever you decided to travel to, you could ask yourself, "Roads? Where we're going, we don't need...roads."
LOOK: See the iconic cars that debuted the year you were born
See the Must-Drive Roads in Every State
More From Seacoast Current