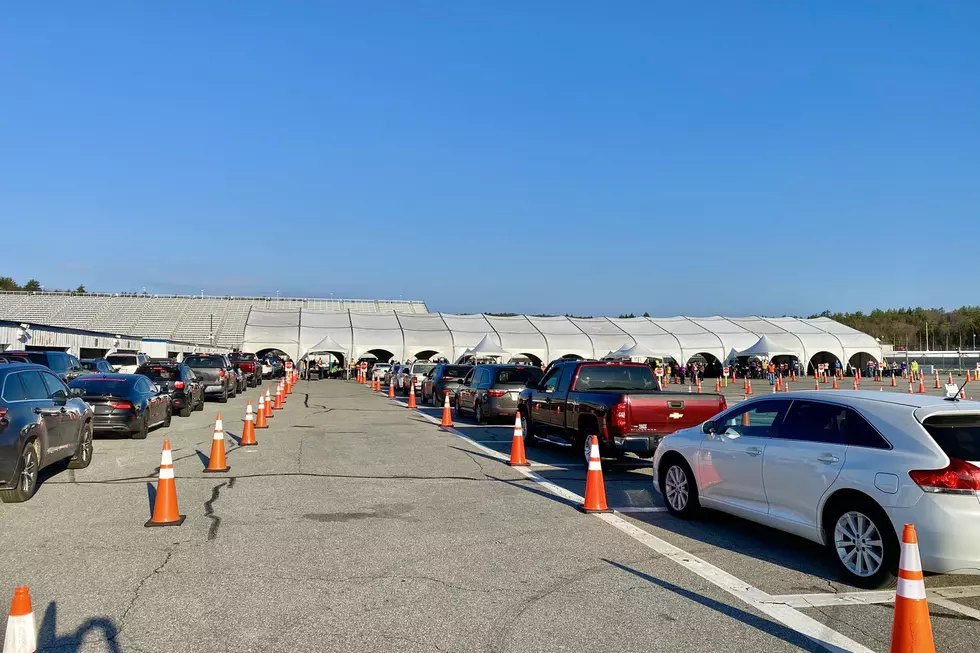 2nd Dose of COVID-19 Vaccine at NH Motor Speedway on Saturday
Vehicles at the NH Motor Speedway COVID-19 vaccination clinic on April 10 (@GovChrisSununu via Twitter)
A round of COVID-19 second dose vaccinations is scheduled for the New Hampshire Motor Speedway in Loudon on Saturday for those who got their first dose in March.
The clinic is only for individuals that received their first vaccination dose of the Pfizer vaccine on March 27 and 28 at the Speedway but an appointment must be made. In addition all previously scheduled appointments for Sunday, April 25 have been moved to Saturday, April 24.
The site will be open from 8 a.m. - 5 p.m.
Many individuals elected to move their appointments closer to home which prompted the single day clinic, according to the state Department of Health.
Appointments can be checked on the state VINI website or by calling 603- 271-5980.
As of Friday 338,972 people have been fully vaccinated in New Hampshire, or 25.1% of the population according to the state COVID-19 dashboard. The U.S. this week surpassed the 200 million dose mark.
Contact reporter Dan Alexander at Dan.Alexander@townsquaremedia.com or via Twitter @DanAlexanderNH
COVID vaccines: 17 myths, misconceptions and scientific facts
Do any of the vaccines impact fertility? Do they contain a live virus, or change a person's DNA? Here are some of the most rampant social media rumors and the real, verified answers on COVID-19 vaccines currently being distributed in the U.S.