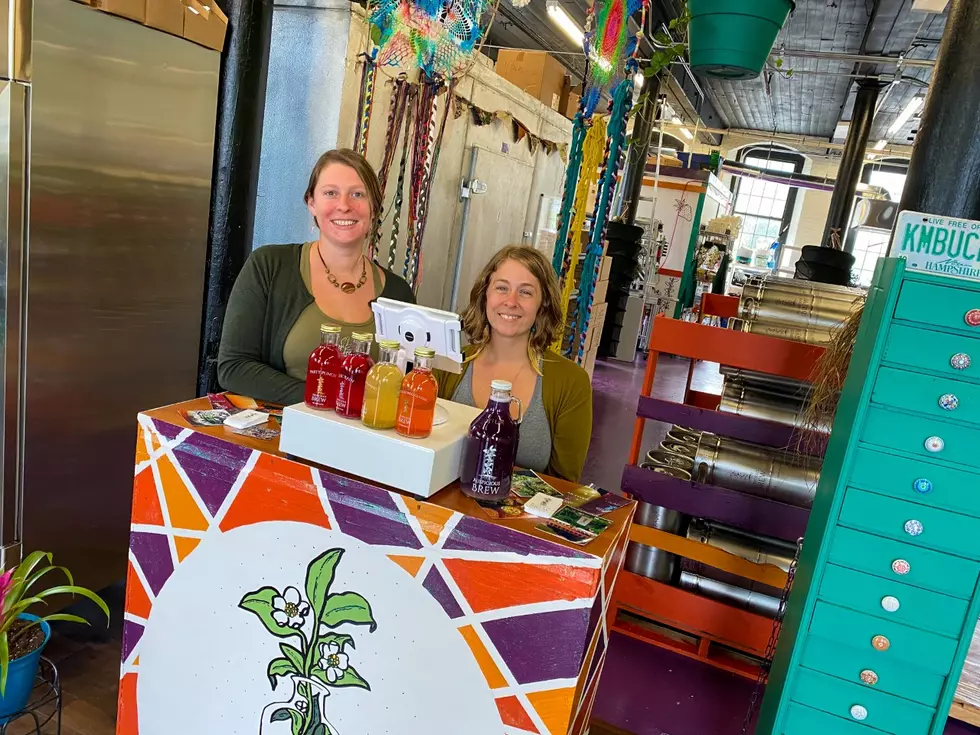 'Auspicious' Dover Company is Kombucha Juggernaut
Courtesy: Auspicious Brew
Briana Hehir and Helen Leavitt started their company following a recipe many craft breweries have used successfully. Hehir and Leavitt's love for their craft met a similar love felt by those who consumed it. And so, they figured, why not just turn it into a business?
Still, despite the company's name, Auspicious Brew in Dover is not just another microbrewery. Instead, they're juggernauts of their own craft.
Hehir and Leavitt don't brew beer. They don't craft hard cider. These two master herbalists specialize in a fermented tea called kombucha, and they're taking pride in sharing their products with the Seacoast region and beyond.
"Kombucha is a slightly effervescent fermented tea with a green tea base and sweetened with sugar," Leavitt told Seacoast Current when reached by phone. "The sugar is what seeds the fermentation process. It's been talked about for centuries and people are very excited about its health benefits and it's definitely been passed down through generations. It's similar to sourdough where you need a portion of the previous batch to get the next batch going."

Enter your number to get our free mobile app
Hehir and Leavitt, both of whom have backgrounds in herbalism and passions for gardening, used to brew kombucha as a hobby until folks started to get a real taste at what they had created. The positive feedback from those who tasted it made the decision clear: 'Let's open our own brewery.'
Auspicious Brew recently opened its doors down in the mills by the Cocheco River on Washington Street in Dover, and they believe themselves to be the first licensed kombucha brewery in the Granite State. They currently offer six different herb-infused kombucha flavors, including: Party Punch, Swamp Thang, Rose-Colored Glasses and Lilac Rain.
Many of the herbs and plants used in Auspicious Brew's kombucha are grown personally by Leavitt and Hehir. Others, when necessary, are locally sourced from farms on the Seacoast or elsewhere in New Hampshire.
Still, while kombucha breweries might be a novelty to New Hampshire, that's not necessarily the case in the rest of the country. But there is a key difference between Auspicious Brew's process and those employed by others.
The biggest difference between brewing styles, of which there are essentially three main philosophies, is alcohol content. Some companies cling to the tag 'Hard Kombucha' in selling their product, placing additives in the brew to enhance the naturally occurring alcohol levels that are a result of fermentation. Others tout alcohol-free kombucha, which Leavitt said also requires additives to nullify the alcohol that occurs as a natural result of fermentation.
Auspicious Brew products, however, have an alcohol content just over the 0.5% ABV threshold that requires them to get a liquor license from the state, and Leavitt said the relatively low alcohol levels in their kombucha are a more natural representation of the popular fermented tea.
"You could think of it is being three categories," Leavitt said. "There is a hard kombucha that usually comes in around 6% (ABV) where people are introducing more sugar and yeast into the brew that is really spiking up the alcohol content. Then there is a category of those who sell their kombucha like a juice that can be sold in a grocery store, which is obviously easier to sell. But it's often been adulterated in some way, whether by pasteurization or forced carbonation in some way.
"So the claims that some make about it being a living probiotic beverage, they've actually killed off all the beneficial enzymes to make it a more shelf-stable product."
Still, Leavitt said since she and Hehir do have a license from the state to produce liquor, Auspicious Brew is planning on releasing a line of kombucha with an enhanced alcohol content to supplement their current line of products.
For now, folks can try out these herb-infused concoctions either by visiting Auspicious Brew's retail space in Dover, ordering online, on draft at Stone Church Music Club and The Oak House in Newmarket, and in bottles at Newfields Country Store, Blue Moon Evolution in Exeter, and The Kitchen in Portsmouth.
12 of the Best Breweries in NH Decided by Granite Staters
More From Seacoast Current