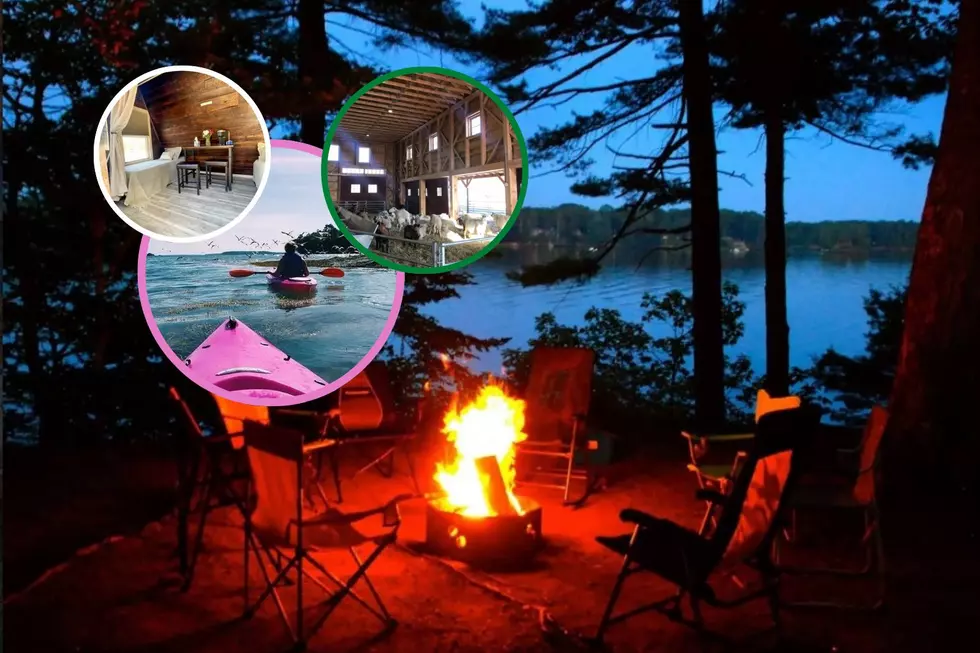 This Award-Winning Campground in Maine is an Ocean, Forest, and Farm Retreat
Wolfe's Neck Oceanfront Camping
Editor's note: This article was written by a Townsquare Media Northern New England contributor and may contain the individual's views, opinions or personal experiences.
'Tis the camping season in warm weather, and you know outdoor lovers are rejoicing. But there's something different about Wolfe's Neck Oceanfront Camping in Freeport, Maine, and that includes adding new, cozy, pet-friendly A-frames for sleeping to their forest, sea, and farm camping adventures.
They say they couldn't be more excited to add this style of sleeping to their incredible camping experience.
For over 50 years, our award-winning campground has welcomed happy campers from all over the world to our 626 acres and four miles of oceanfront. Spectacular views of farmland and sea make you feel far away from it all. Onsite Farm Cafe, bike and kayak rentals, farm-based activities, hiking trails and demonstration barnyards and gardens will keep your whole crew content and engaged.
Wow, right? I'm not even a camper and I'm intrigued, which is why I'm sharing this with you.
Formerly known as Recompence Shore Campground, Wolfe's Neck Oceanfront Camping says it continues to be a vacation retreat. The campground is an important part of the Wolfe Neck mission as a nonprofit organization, and all proceeds from campsite fees support that mission.
We use our setting  to connect people of all ages to the food they eat and where it comes with a demonstration farm that you're welcome to come visit. We hope to inspire active participation in a healthier food system and build a community of people who care deeply about the future of food.
So if you're all about having a home base camping site with a comfortable and homey atmosphere for an incredible cause, then Wolfe's Neck Oceanfront Camping website says it's adding two new A-frame cabins to their site.
These cozy A-frame style cabins offer a different experience, but still allow guests to unwind and enjoy the beauty of being outside with nature. Comfortably accommodating two people, it lands somewhere between tiny house living and cabin camping.
Wolfe's says the new A-frames come with two beds, cots if needed, electricity and USB ports, a Keurig coffee pot, and a space heater or fan depending on your comfort level. Depending on time of year, you also get your own deck with Adirondacks, a gas grill, fire ring, and picnic table. They're near shared restrooms and a sink where you can wash your dishes.
Are you ready to explore Wolfe's Neck? Click here for more happy campers.  Wolfe's is 5 miles from downtown Freeport and L.L.Bean, which means that great shopping and restaurants aren't far.
$16 Million New England Estate With Mini Golf, Helicopter Pad, Art Gallery
Read On: Take a Peak Inside This $19.5M Lake House in New Hampshire
More From Seacoast Current