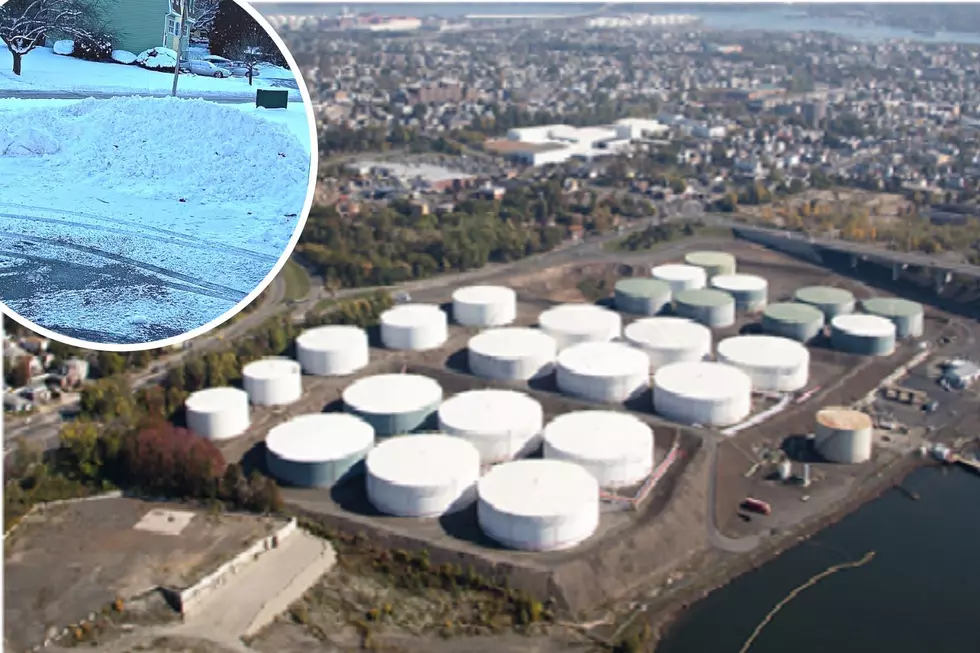 Pappas, King Ask White House to Head Off Winter Energy Woes
Storage tanks holding the Northeast Home Heating Oil Reserve in New Jersey (US GAO), Snow in Derry (Townsquare Media)
Two separate letters from members of the northern New England congressional delegation are looking to the White House for a plan to avoid rolling blackouts if the weather turns frigid for an extended period of time
NH Rep. Chris Pappas joined Maine Rep. Jared Golden, NY Reps Nicole Malliotakis (NY-11) and Andrew Garbarino (NY-02) in a letter telling the president it is "imperative" to work with Congress to ensure winter electricity reliability.
They pointed out the lack of pipeline infrastructure in the Northeast, limited shipments of foreign sourced LNG resulting from the war in Ukraine, and the closure of coal, oil, and natural gas refineries as factors creating a potential heating crisis for the northeast.
"At a minimum, we ask that you and the Secretary of Energy ensure any northeast fuel reserves released remain in the region and not be shipped overseas to the highest bidder. We understand the importance of assisting our allies in Europe; however, we must prioritize the well-being of our constituents given the realities we face at home," they wrote.
Being Prepared
Sen. Angus King (I-Maine) tweeted a similar message on Friday looking to the White House for help before extreme winter weather happens.
"Winter is right around the corner so we need to take proactive steps now to ensure Maine stays warm. The Biden administration should develop a plan that will prevent price hikes or blackouts — no matter what the winter brings," King said in a tweet.
He joined with Sens. Chris Murphy (D-Conn.), Richard Blumenthal (D-Conn.), Patrick Leahy (D-Vt.), Bernie Sanders (I-Vt.) in a letter to Secretary of Energy Jennifer Granholm looking for the same help. The senators would like to see Biden also convene a meeting between the Federal Energy Regulatory Commission (FERC), ISO New England, New England governors, public utility officials, generators, suppliers, and utilities.
"Additionally, we ask that you leverage resources within the Department of Energy to identify barriers to bringing non-fossil fuel energy online as quickly as possible. Lastly, we ask that you work across the Executive Branch to review the emergency powers available to the Department of Energy and other agencies to ensure New England has the resources needed to get through the winter without major supply disruptions or price spikes," they wrote in their letter.
In September, Sen. Maggie Hassan asked Biden to release stock from the reserve, although at the time, oil analyst Tom Kloza was skeptical of it having a major impact on prices.
"When you're talking oil demand for crude at about 100 million barrels a day, and you're talking about releasing a million barrels in the northeast, it helps, but it's not a big deal. It's like putting a Band Aid on an injured artery," Kloza said.
White House Already Planning?
Four unnamed sources familiar with the discussions told CNBC the administration is considering asking Congress to approve an increase in the storage limit for the Northeast Home Heating Oil Reserve, possibly doubling it from the current 1 million barrels.
The reserve is currently held in three commercially leased locations in Revere, Massachusetts, Groton, Connecticut, and on the New Jersey side of New York Harbor.
"The administration continues to work with lawmakers and industry to identify all options that can help American consumers," the Energy Department told CNBC in a statement.
Contact reporter Dan Alexander at Dan.Alexander@townsquaremedia.com or via Twitter @DanAlexanderNH
We'll Miss These 20 New Hampshire Restaurants That Closed in 2022
More From Seacoast Current