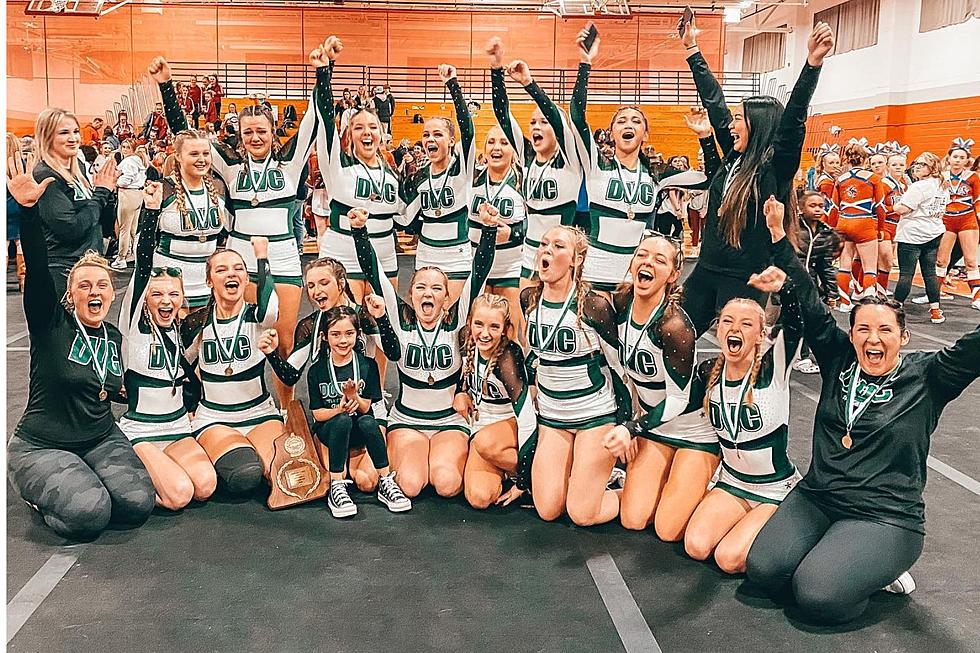 Dover, NH, Cheerleaders Bring Home the Gold as D1 State Champs
Dover Varsity Cheer via Instagram
Editor's note: This article was written by a Townsquare Media Northern New England contributor and may contain the individual's views, opinions, or personal experiences.
If you heard beeping and cheering at 10pm on Thursday night and live in Dover, New Hampshire, here's the reason.
The Dover, New Hampshire, Varsity Cheerleaders were driving into their hometown honking their horns and waking up anyone who would listen.  After months and for some, years of practicing, strength training, doing acrobatics, and perfecting routines, the Dover Varsity Cheer Squad were once again victorious.
The team captured the D1 State Championship at the cheerleading finals at Pinkerton Academy in Derry, New Hampshire.
Cheering is a sport which requires the same dedication, commitment, and hard work as other varsity level sports.  The team not only practices difficult routines, but perfects them.
Here's an intense but fun practice from an Instagram post.
According to the team's Instagram page, it was a season of injuries and setbacks, but the team persevered, and isn't that what team sports are all about?  "There's no 'I' in Team" is a mantra for many corporate, non-profit, and medical teams, but appropriate for sports teams from grade school to professional.
The Dover High School mascot is The Green Wave, and the motto screams, "Nothing Stops the Wave".  This group of women proved the motto to be true.
Cheering is a unique sport requiring tremendous fitness and precision flips, much like gymnastics.  In fact, to be champions in the Fall of 2020 and now the Winter of 2023, and runners-up six times in the last five years, requires an enormous commitment to the team, to each other, and to their school.
Congrats to our hometown champs!
The Best College Towns in New England
See the best college towns in New England and give one of them a go for your next bar crawl.
These Are 12 of the Most Beautiful Things in New Hampshire, Say Locals
More From Seacoast Current