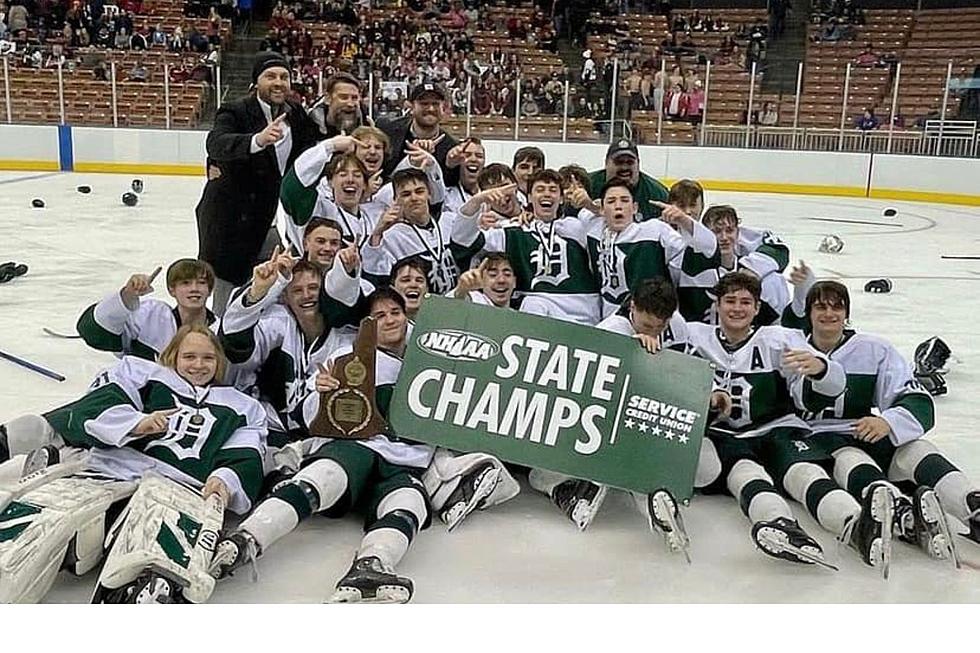 Dover, New Hampshire, Green Wave Soars as Varsity Hockey Wins State Championship
Dover High School and Career Technical Center via Facebook
Editor's note: This article was written by a Townsquare Media Northern New England contributor and may contain the individual's views, opinions, or personal experiences.
For the second time in three days, a Dover High School Varsity team has won a State Championship.
On Thursday, the Dover Green Wave Varsity Cheerleaders won another State Championship, which started the wave of success. Check it out here.
On Saturday afternoon, at the Southern New Hampshire University Arena in Manchester, the Dover High Boys Varsity Hockey Team took home the top trophy, winning the NHIAA Division II State Championship.  The Green Wave beat Merrimack's strong hockey team, 4-2, with 29 shots on goal, to Merrimack's 23 shots on goal.
The teams took to the ice about 2:45pm with plenty of green in the crowd.
This is the second State Championship for the hockey team in three years, creating memories for a lifetime not only for the coach and team, but for the six seniors on the squad.
The Green Wave Hockey team likes to give back too, participating in "Shoot for a Cure" with the Winnacunnet High Hockey team at the Phillips Exeter rink.  The teams raised funds for local cancer patients for the Exeter Hospital's Beyond the Rainbow Fund, and the American Cancer Society, according to Green Wave Hockey on Instagram.
The Boys Varsity Hockey Team and the Varsity Cheerleading Team have had quite a week, but that also means the parents, teachers, coaches, siblings, and entire school have had a banner week too.
Congrats to The Green Wave teams, for learning about teamwork and perseverance, which are character builders which will last a lifetime.
Eight Things You'll Only Understand if You Live in New Hampshire
These Are 15 of the Best Museums in New Hampshire
More From Seacoast Current