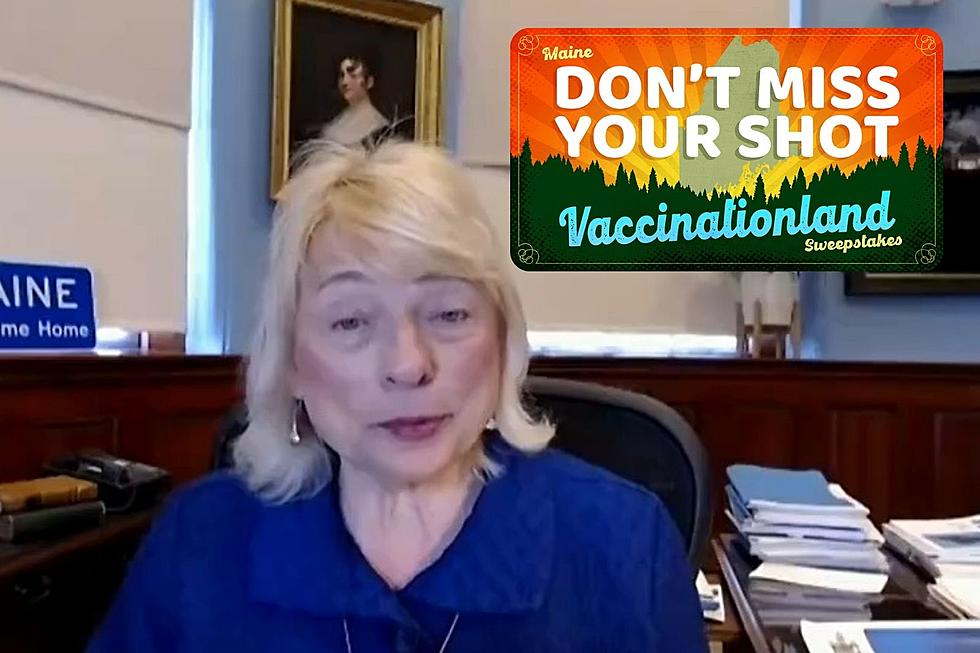 Get a COVID-19 Shot in Maine, Increase the 'Vaccinationland' Jackpot
Gov. Janet Mills announces Vaccinationland Sweepstakes (Maine Public)
Add Maine to the list of states offering a financial incentive to get the COVID-19 vaccine to help reach the national goal of 70 percent of adults fully vaccinated by the Fourth of July.
Gov. Janet Mills announced the "Don't Miss Your Shot: Vaccinationland Sweepstakes" with a jackpot that will match the number of Maine residents who have received the vaccination.
The final jackpot will be determined by the number of vaccines on July 4 when Mills announces the winner. If the drawing were held on Wednesday the jackpot would have been $876,655.
The game is open to all residents ages 12 and older who have had at least one dose of the COVID-19 vaccination since December 15 when they first became available in Maine. Registration is open on the and continues through 11:59 p.m. on June 30.
Both doses of the Moderna and Pfizer vaccines or the single-dose Johnson & Johnson vaccine must have been received in the state of Maine.
"Maine is a national leader in COVID-19 vaccination thanks to the more than 876,000 people who have already rolled up their sleeves," Mills said. "Our goal with the Don't Miss Your Shot: Vaccinationland Sweepstakes is to encourage even more people to get the vaccine and declare their independence from COVID-19 as we approach the Fourth of July."
Massachusetts Gov. Charlie Baker announced its VaxMillions game on Tuesday with five million dollar prizes to be drawn weekly starting July 26. Five $300,000 college grants will also be awarded.
New Hampshire has not offered any incentives to bring up vaccination numbers which have leveled off in recent weeks.
Contact reporter Dan Alexander at Dan.Alexander@townsquaremedia.com or via Twitter @DanAlexanderNH
COVID vaccines: 17 myths, misconceptions and scientific facts
Do any of the vaccines impact fertility? Do they contain a live virus, or change a person's DNA? Here are some of the most rampant social media rumors and the real, verified answers on COVID-19 vaccines currently being distributed in the U.S.
More From Seacoast Current