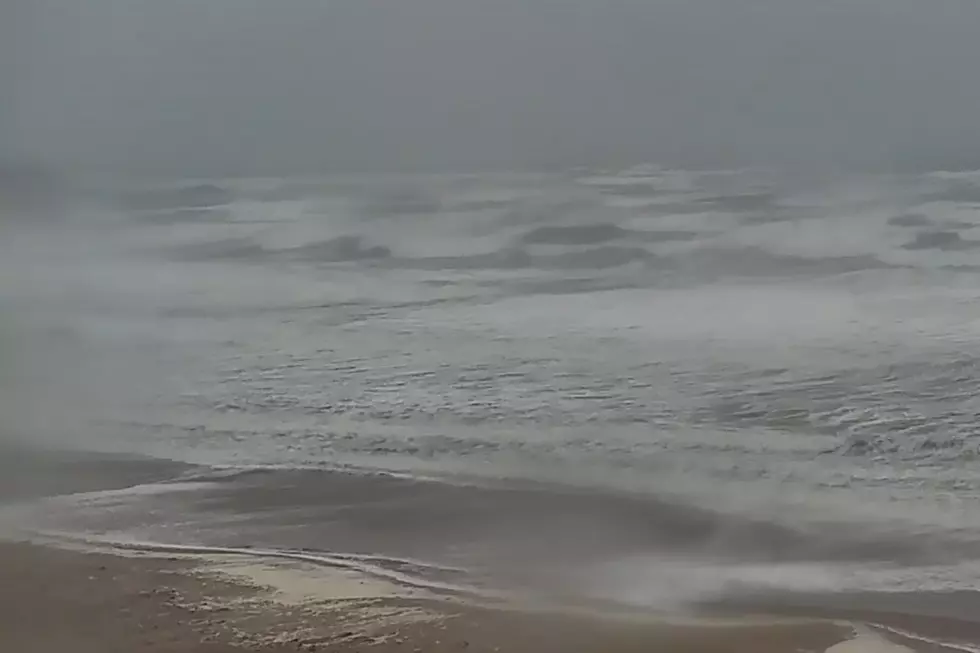 High Winds, Heavy Rain Knock Out NH, ME, Power Before Deep Freeze
Hampton Beach at dawn Friday morning 12/23/22 (Hampton Beach Village District)
Thousands are without power Friday morning as winds and rain pound the Seacoast before the big freeze by nightfall.
Heavy rain, strong gusty winds, and astronomically high tides are all expected, with winds out of the southeast at 25 to 35 mph and gusts up to 70 mph that will likely bring down trees, branches, and power lines. A High Wind Warning is in effect until 2 a.m. Saturday morning.
Classes in the Winnacunnet school district were canceled for Friday because of the potential impact on transporting students during the high tide. Dover also canceled classes.
Power Outages
The winds led to power outages for thousands of Eversource customers including Barrington, Northwood, Strafford, Nottingham, Dover, and Epping residents as of 6:45 a.m. The utility said it prepositioned crews throughout its coverage area to be ready for restoration when conditions warrant.
Unitil's outage map was showing Seacoast outages in Atkinson, Exeter, Hampton, Hampton Falls, and Stratham.
"We are expecting a long duration event, with hazardous conditions possible in our region for an extended period," Unitil Media Relations Manager Alec O'Meara said. "We will be working with first responders to address public safety issues and restoring power where conditions allow as the highest winds pass through."
O'Meara advised to assume all cables and wires that have fallen or are dangling are energized, and to stay away. Be sure to avoid wet ground or puddles near a downed line, because water conducts electricity.
"In addition, keep away from all flooded and debris-laden areas because they may be hiding downed lines. Stay in a safe place and avoid driving in damaged areas so you don't interfere with rescue and restoration efforts," O'Meara said.
OSHA rules prohibit utility crews from going up in bucket trucks to work on repairs when winds are higher than 40 mph.
Central Maine Power is reporting over 8,000 customers without power in York County.
Coastal Flooding Concerns
A Coastal Flood Warning is also in effect until 2 p.m. for an astronomical high tide at 10:30 a.m., which could cause roads to be closed and moderate to locally severe beach erosion. Splash-over may lead to significant ponding of water behind dune structures and result in flooding of roads and vulnerable structures.
Hampton Fire Chief Michael McMahon, who is also the town's Emergency Management director, is taking the storm in stride.
"We are expecting some coastal flooding. It happens fairly regularly for us at the beach, so it's not particularly difficult for us to manage. I anticipate that there'll be some road closures or at least some roads that are inundated and are best avoided," McMahon told Seacoast Current.
McMahon expects Brown Ave, Ashworth Avenue, and the east end of High Street to have standing water during the high tide, and to likely be closed for a period of time. He also expects Ocean Boulevard and the north beach area to have high standing water as well. Driving on those roads is not safe, and could damage vehicles.
The chief said people should just stay away from the area during the high tide.
"While it's fun and it's pretty to watch the big waves standing on the seawall, it's not a safe activity. If you end up in the water or hit with a large stone that comes over, that can be a real problem," McMahon said.
He also advised surfers to stay away despite the attraction of the big waves, as the cold 45 degree ocean water can be deadly to those not properly prepared.
"That will rapidly lead to hypothermia and the ability to protect oneself to swim, for example. And that becomes a real life-threatening situation," McMahon said.
He is also concerned that the roads affected by high water during the tide will freeze over when temperatures begin to drop, even though it's seawater.
Travel Impacts
The storm has impacted holiday travel, with 3,221 flights canceled in-and-out or within the United States Friday, according to FligtAware.com. The rain, which is impacting the entire northeast, also affected the midwest with heavy snow.
Southwest Airlines canceled 737 flights as of 7:45 a.m. Friday morning, with American canceling 234 and Delta 158. 117 flights were canceled out of Boston's Logan International Aiport. No flights were canceled from Manchester, Portsmouth, or Portland.
Contact reporter Dan Alexander at Dan.Alexander@townsquaremedia.com or via Twitter @DanAlexanderNH
10 New England Towns and Places Mentioned in "Seinfeld"
While a fictional town in the show's finale was the most notable, several real New England cities and locations were mentioned throughout the series' run. Here's a recap, with some help from fan site
"Maps About Nothing."
More From Seacoast Current