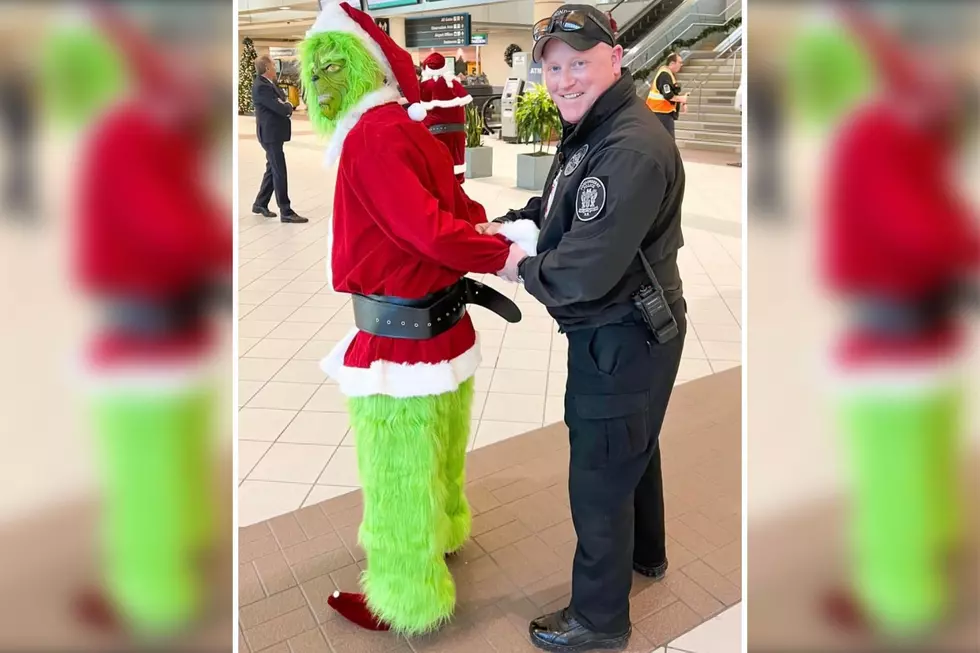 Holiday Hijinks: The Grinch Taken Into Custody in Londonderry, New Hampshire
Londonderry Police Department via Facebook
We wouldn't touch him with a thirty-nine-and-a-half foot pole.
'Tis the season for all sorts of holiday hijinks, and you know what that means: time for the mischievous Grinch to do his dirty work by stealing presents from children and families everywhere.
The grouchy green creature has also been trending on TikTok lately, as parents, relatives, and friends have been pranking kids by dressing up as the Grinch and taking Christmas gifts. Here's one example:
It looks like the Grinch has been roaming around New Hampshire, as well. We certainly have plenty of snowy mountaintops for him to call home as he conducts his holiday scheming, that's for sure. Thankfully, his mischievous plans were stopped after coming face-to-face with the law in Londonderry, New Hampshire, who weren't about to let Christmas be ruined by the Grinch's "nauseous super 'naus'!"
The town's police department recently made this Facebook post commending Captain O'Donaghue, who "single-handedly saved Christmas by taking the Grinch into custody at the Manchester-Boston Regional Airport."
We'll be honest. We don't know what's going on here, or what mischief the Grinch was up to at the airport. What we do know is that the Londonderry PD saved Christmas, and for that, we owe them a tremendous thank-you.
Hopefully, the Grinch's heart will indeed grow three sizes on Christmas day, as the Dr. Seuss story goes. In the meantime, we'll be here listening to the classic 1966 song:
Speaking of the holidays, here are some popular ornaments you'll find on a New Englander's Christmas tree.
20 Ornaments You'll Find on a New England Christmas Tree
These holiday ornaments are common on many Christmas trees in New England. Are they on yours?
25 New Hampshire Towns That Would Be Perfect for a Christmas Movie
More From Seacoast Current