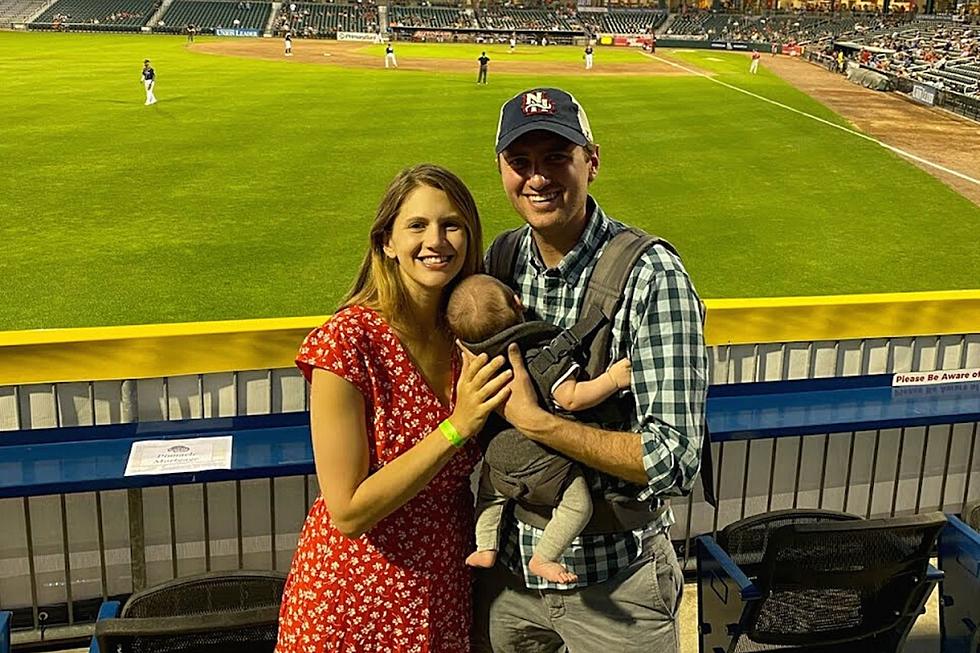 Matt Mowers Starts Congressional Rematch Bid vs Pappas
Matt Mowers with his wife and son "Little" Jack (Matt Mowers)
Republican Matt Mowers on Wednesday officially announced his candidacy for the First Congressional District primary and a possible rematch with incumbent Chris Pappas.
He is the fourth announced candidate in the race along with Julian Acciard, 33, state Representative Tim Baxter, 23, and Karoline Leavitt with the possibility of at least one more.  Mowers, 31, lost to Pappas in the 2020 election 51%-46%.
Mowers said the reasons he ran last time were to make sure the country and communities were safe and secure by standing with law enforcement through strong national security and to empower small businesses and entrepreneurs. Conditions for them have only gotten worse in the ten months since the election, he said.
"Congress, including Chris Pappas, just voted for $3 trillion on a socialist spending spree which we all know factors into driving up inflation which hurts middle-class families," Mowers told Seacoast Current.
Mowers also blamed what he called weak leadership and no accountability from Congress for creating an "entirely avoidable situation in Afghanistan" and the deaths of members of the U.S. military.
One thing changing Mowers' perspective is the birth of his first child nicknamed "Little Jack" after his grandfather who served in World War II.
"Think about the country he fought to defend versus the country my son was born into. It's becoming a different place. Many of the traditional American values of hard work that we've always supported standing with those who put themselves in harm's way at the community level or veterans at the national level - those are things that just aren't being respected anymore. We need new American leadership to step up to the plate," Mowers.
The Trump Factor
Mowers is the second candidate in the race who has connections to the Trump administration. Karoline Leavitt, 24, of Atkinson, was an Assistant Press Secretary under Kayleigh McEnany and Communications Director for New York Rep. Elise Stefanik. In a video announcing her candidacy, Leavitt said she was proud to help advance Trump's "America First" agenda.
"I worked for President Trump in the 2016 campaign, had a senior role in his transition and served as senior White House advisor, a big part in his administration and he endorsed my campaign last time during the primary too," Mowers said. "If that's something he decides to do again I would welcome his support,"
Senior Trump advisor Corey Lewandowski will be part of the Mowers campaign although his role has not yet been disclosed.
The 'Adult' in the Race
There could be at least one more candidate in the race: former Boston TV news anchor Gail Huff, 58,  wife of Scott Brown who recently announced plans to re-start his political action committee. Conventional wisdom saying that he would enter the race was upended when Huff tweeted she was thinking about it.
"Like many Granite Staters, I am deeply concerned about the direction of our country. I look forward to hearing from voters across the state as I weigh a decision whether or not to run for Congress in NH's first Congressional District," Huff tweeted.
With the announced candidates all under the age of 40 some suggest she would be the "adult" in the race.
On Wednesday, Mowers said he would not support a COVID-19 vaccine mandate for all to receive the shot or a vaccine passport.
"Vaccination and healthcare issues are very personal. These are decisions best left to individuals, their doctors and their families to decide. I'm opposed to mandates of the vaccine because I think it's a personal decision," Mowers said.
Mowers will kick off his campaign with a tour that will include stops in Laconia, Alton, Sandown, Derry, Rochester, Bedford and Manchester.
Contact reporter Dan Alexander at Dan.Alexander@townsquaremedia.com or via Twitter @DanAlexanderNH
25 True Crime Locations: What Do They Look Like Today?
Below, find out where 25 of the most infamous crimes in history took place — and what the locations are used for today. (If they've been left standing.)
More From Seacoast Current