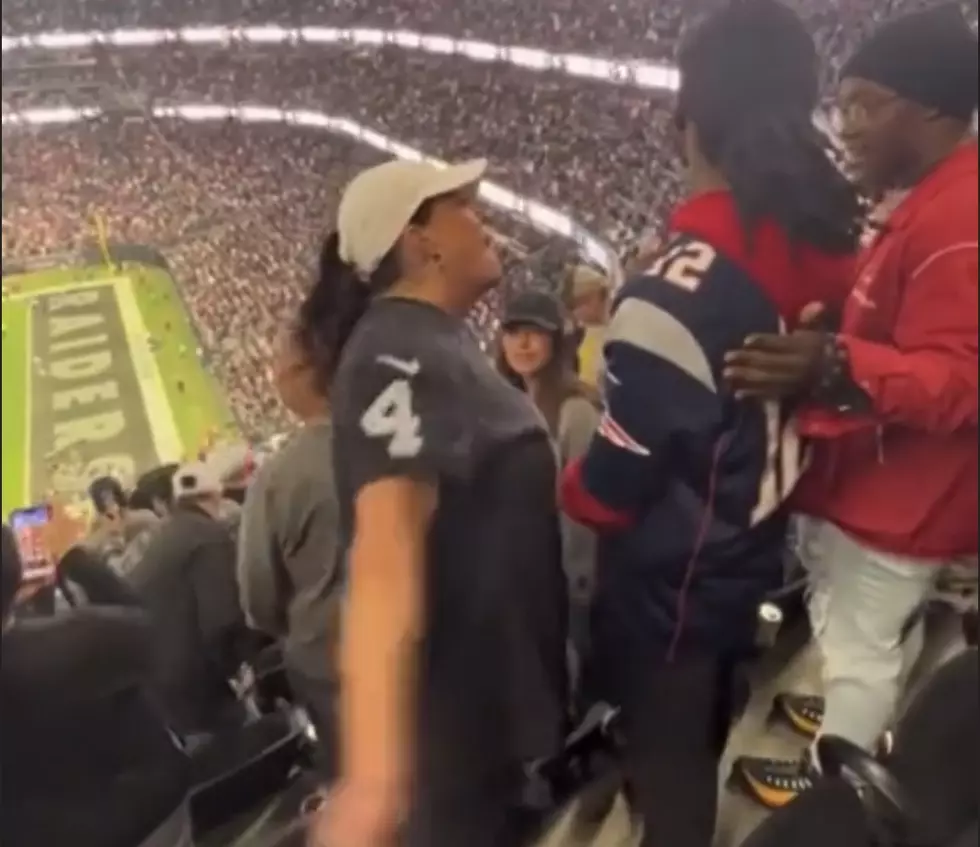 New England Patriots Fan Who Kept Cool in Viral Video Gets Special Invitation From Robert Kraft
BabzOnTheMic via Twitter
Editor's note: This article was written by a Townsquare Media Northern New England contributor and may contain the individual's views, opinions, or personal experiences.
The Patriots' recent loss against the Raiders in Las Vegas has already achieved infamy in the region, with some deeming it the franchise's most embarrassing defeat ever (while other knuckleheads went so far as to suggest it's time to break the glass and bring back Tom Brady).
As bad as things got in the final moments on the field, however, they were nothing compared to what happened in the stands between a belligerent Raiders fan and a Patriots fan who made Gandhi look like Gronk.
In a video that went viral on social media, the woman could be seen berating a man for several moments, just because he dared to wear a New England jersey on enemy turf.
The Pats fan retaliated by…not retaliating. No words. No gestures. A superhuman calm.
The man soon identified himself in a tweet as Jerry Edmond, who was attending his first ever NFL game. And shortly after, he received a call that made an already surreal week even harder to believe.
It was from Patriots' owner Robert Kraft, inviting Edmond to the team's game against the Cincinnati Bengals. The team released a statement saying that as its way of thanking Edmond for setting an example with his restraint, he would be Kraft's personal guest on Sunday.
In addition, Edmond will receive pregame passes to watch team warmups on the field at Gillette Stadium (maybe he could call a couple plays too, because, why not?).
Apart from their Vegas implosion, it has been a largely forgettable season for the 7-7 Patriots. So, it's nice to see a good moment steam from such a volatile situation.
And in a way, it's also remarkable to think of how Robert Kraft has gone from a potential Supervillain (when he attempted to move the team in the '90s) to someone who can turn a negative into a positive with one phone call.
Pro Sports Teams That Used to Play in New England
Did you know these pro teams used to play in New England?
The Many Deep Thoughts of Patriots' Coach Bill Belichick
It's been said that Patriots' coach Bill Belichick is fairly "emotionless." But that's not true. He's actually a very deep guy, and if you look closely enough, you can actually see what he's thinking. Don't believe it? Just take a look at these photos and the thoughts going on behind them.
More From Seacoast Current