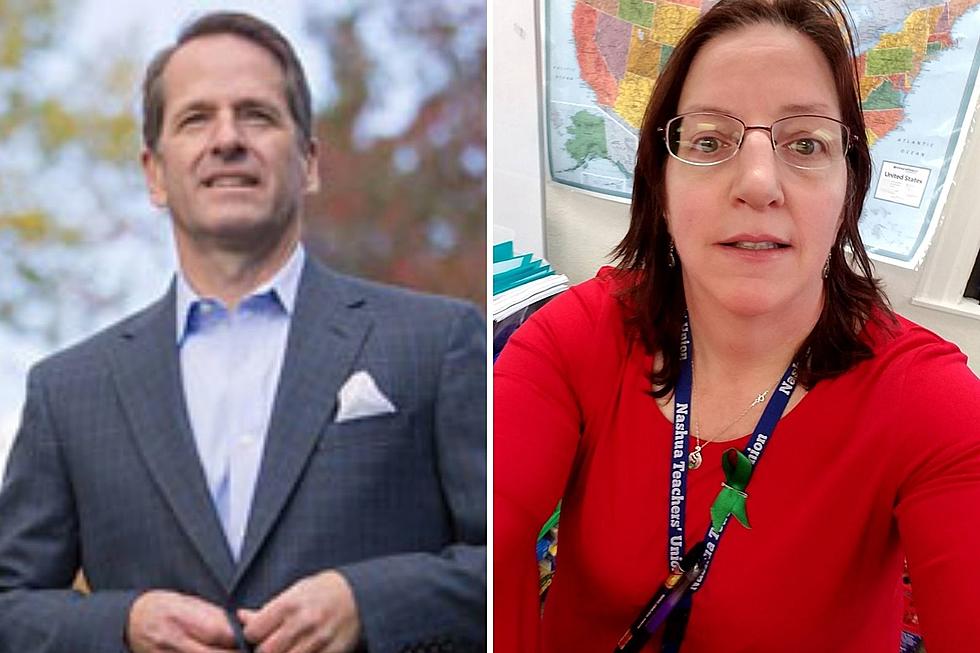 NH Dept. of Education Website Declares War on Teachers — union
(L-R) Frank Edelblut (Dept. of Education), Deb Howes (AFT-NH)
The head of one of New Hampshire's teachers unions is calling for state education commissioner Frank Edelblut to be fired after the Department of Education added a page to its website for parents to report discrimination in what is being taught to their children.
According to the new website page it was created after House Bill 2 was signed into law in June that includes sections about the Right to Freedom from Discrimination in Public Workplaces and Education.
Parents can report if they believe their child's school was teaching and/or advocating that one identified group is:
Inherently superior or inferior to people of another identified group
Inherently racist, sexist, or oppressive, whether consciously or unconsciously
Should be discriminated against or receive adverse treatment
Should not treat members of other identified groups equally
AFT-New Hampshire President Deb Howes said no teacher teaches that any group is inherently superior or inferior to another and accused Edelbut of raising a false flag.
"Totally innocent teachers could lose their teaching license over claims that are not backed up by any evidence. Edelblut has declared a war on teachers, a war that the overwhelming majority of N.H. parents will find repulsive," Howes said.
She called on Sununu to fire Edelbut for what she calls an "outrageous, obviously politically motivated, harmful effort."
Howes said Edelbut refused an invitation to talk about the bill and chose instead to attack them.
The union has never been a fan of Edelbut going back to 2017 when it expressed "grave concerns" about his nomination.
"There still has been presented no evidence, after a lengthy public hearing, to suggest Mr. Edelblut either has the experience or qualifications in education to lead NH schools and serve more than 180,000 students, our state's most precious resource."
Contact reporter Dan Alexander at Dan.Alexander@townsquaremedia.com or via Twitter @DanAlexanderNH
Answers to 25 common COVID-19 vaccine questions
Vaccinations for COVID-19 began being administered in the U.S. on Dec. 14, 2020. The quick rollout came a little more than a year after the virus was first identified in November 2019. The impressive speed with which vaccines were developed has also left a lot of people with a lot of questions. The questions range from the practical—how will I get vaccinated?—to the scientific—how do these vaccines even work?
Keep reading to discover answers to 25 common COVID-19 vaccine questions.
More From Seacoast Current