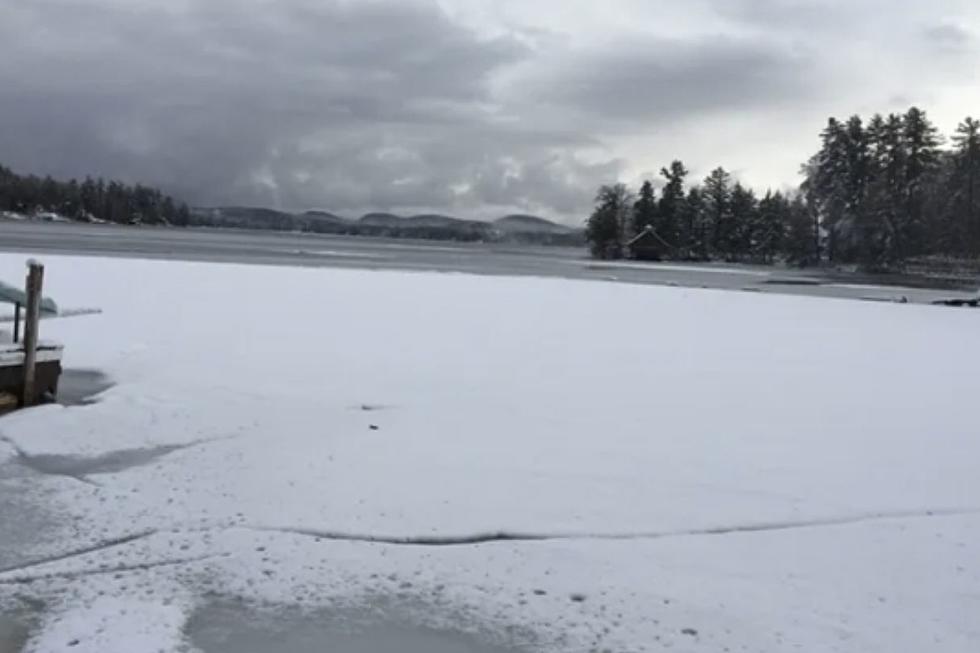 NH Fish & Game: Stay Off The Ice This Weekend
NH body of water with snow and ice (NH Fish and Game)
Our taste of spring temperatures this week makes it not a good idea to walk or drive onto the ice this weekend.
Saturday's forecast is more winter-like, with temperatures in the 30s and 25-30 mph wind gusts from the south. There's even the chance of heavy snow squalls that could briefly reduce visibility. But temperatures well above freezing on Thursday caused the ice on lakes and ponds to weaken, making it unsafe according to New Hampshire Fish & Game.
"Caution is in order for those going out onto any ice, especially following the recent variations in temperature and precipitation," Col. Kevin Jordan, Chief of Fish and Game's Law Enforcement Division said in a statement. "With erratic weather conditions, some areas of ice may look safe, but may not be. As always, we are urging people to check the ice thickness before going out onto any frozen waterbody."
Jordan said that vehicles should not be driven onto the ice and that those on foot should use an ice chisel or auger to determine the thickness and composition of the ice.
"Continue to do this as you go further out because the thickness of the ice will not be uniform over the entire waterbody. Snow-covered ice can be deceiving and should always be inspected carefully," Jordan said.
Dangers of Cold Water
Falling through the ice and into freezing cold water is potentially deadly after a relatively short period of time. Being immersed in water below 50 degrees causes cold shock and an immediate loss of breathing control, according to the National Weather Service.
If someone does fall in the cold water the NWS advises:
Call 911
Once the person is out of the ice move them someplace warm immediately
Remove clothing if possible and dry the victim
Wrap the person in warm blankets or coast and lay him/her face up. DO NOT massage limbs.
Give the person warm drinks or high-energy foods if he/she is conscious
Staying Safe on the Ice
NH Fish and Game offers these suggestions to consider when going onto the ice.
Don't venture onto any ice during thaws.
Stay off the ice along the shoreline if it is cracked or squishy. Docks, rocks, and downed trees absorb the sun's heat and can cause the ice around them to be thin.
Watch out for thin, clear, or honeycombed ice. Dark snow and ice may also indicate weak spots.
Small bodies of water tend to freeze thicker. Rivers and lakes are more prone to wind, currents, and wave action that weaken ice.
Never gather in groups on less than 8–10 inches of hard ice.
Always bring along a rescue rope, ice picks, and a personal flotation device such as a float coat or life preserver.
If you do break through the ice, stay calm. Move or swim back to where you fell in, where you know the ice was solid. Lay both arms on the unbroken ice and kick hard. This will help lift your body onto the ice. A set of ice picks can help you pull yourself out; wear them around your neck or put them in an easily accessible pocket. Once out of the water, roll away from the hole until you reach solid ice.
If someone you are with breaks through the ice, don't rush over to the hole—keep yourself safe. Look for something to throw or to use to reach out to the person such as a rope, tree branch, or ice spud. Lie down flat and reach out with your tool. After securing the person, do not stand—wiggle backwards on the solid ice pulling the person with you.
Contact reporter Dan Alexander at Dan.Alexander@townsquaremedia.com or via Twitter @DanAlexanderNH
Retro-Like Prices: Go Skiing at These New England Mountains for Under $100
Looking for a place to go skiing that won't break the bank? Check out these ski mountains in New England.
More From Seacoast Current