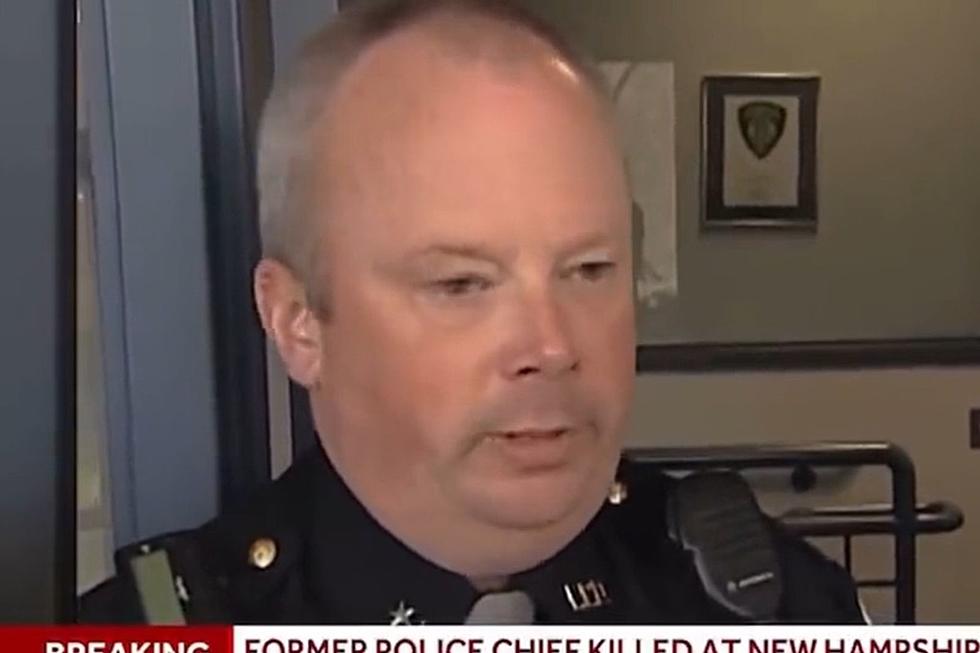 New Hampshire Hospital Shooting Victim Bradley Haas Remembered
Bradley Haas (WMUR via X)
⚫Bradley Haas worked for Franklin Police for 28 years until his retirement in 2008.
⚫He was working security at New Hampshire Hospital.
⚫A NH State Police trooper shot the gunman dead.
---
The victim of the shooting at New Hampshire Hospital Friday was identified as former Franklin police chief Bradley Haas.
According to State Police, the gunman entered the lobby of the mental health facility and fired a shot at Haas, who was a security guard. A state trooper on duty at the hospital shot the gunman dead. The shooter's identity has not yet been disclosed by State Police. Haas was taken to Concord Hospital, where he died.
State Police will update the shooting at a press conference Saturday morning.
"Valerie and I extend our sincere condolences to the family of Department of Safety Security Officer Bradley Haas of Franklin, NH, who gave his life today protecting the patients & staff at New Hampshire Hospital. He will be remembered for his heroism and decades of public service," Governor Chris Sununu said in a statement.
Haas lived in Franklin all his life, began working with Franklin Police after three years as a military police officer in the U.S. Army, and retired in 2008.  He was with the force for 28 years. He is also a father.
"He continued to dedicate his time to the NH community by serving as a security officer helping and protecting those at the NH State Hospital. The FPD will honor his memory by flying our flags at half staff and wearing mourning bands in our badges," the Franklin Police Department wrote on its Facebook page.
Thoughts and Prayers
Condolences poured in from all over for Haas after he was identified Friday night.
"Our thoughts and prayers are with the Haas family and the Franklin Police Department during these difficult times. We'd also like to thank all of the first responders who were involved in this incident for their quick response and professionalism in handling such a tragic incident," the Hill, NH Police Department wrote on its Facebook page.
"Bradley Haas spent his life dedicated to protecting the people of New Hampshire, including as Franklin's chief of police and in the U.S. Army," Sen. Maggie Hassan wrote on her X account. "His bravery will never be forgotten and I know all Granite Staters are thinking of his family today.
"I'm saddened to learn of the death of Bradley Haas in the shooting at NH Hospital. He served our nation and had a distinguished career in law enforcement. My thoughts are with his family as they grieve this tragic loss. May we never forget his leadership, courage, and sacrifice," Rep. Chris Pappas wrote on his X account.
"My heart is with the family and loved ones of NH Department of Safety security officer Bradley Haas," Rep. Ann Kuster wrote on her X account. "From his 28 years in the Franklin Police Department, including as chief, to his time as a U.S. Army police officer, we are eternally grateful for his lifetime of public service."
"Joe and I are heartbroken by the horrific act of violence that took the life of former Franklin Police Chief Bradley Haas in Concord today. Chief Haas was a selfless public servant – dedicating his career to protecting New Hampshire and our country," Republican gubernatoral candidate Kelly Ayotte wrote on her X account. "Our prayers are with Chief Haas' family, friends, and the New Hampshire law enforcement community."
Contact reporter Dan Alexander at Dan.Alexander@townsquaremedia.com or via X (Twitter) @DanAlexanderNH
Meet Townsquare Media Portland, Augusta and Portsmouth Contributors
More From Seacoast Current