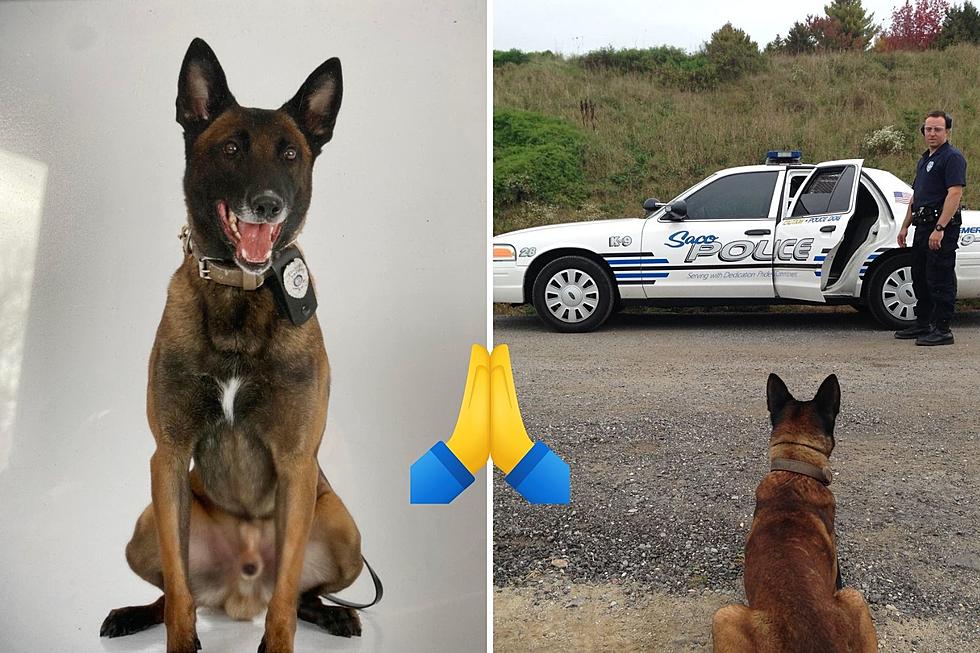 Saco, Maine Police Share Heartfelt Tribute to a Retired K-9 That Recently Passed Away
Saco Police Department via Facebook, Canva
Editor's note: This article was written by a Townsquare Media Northern New England contributor and may contain the individual's views, opinions or personal experiences.
K-9 Officers play an incredibly important role in keeping our communities safe. They use their heightened senses to chase down criminals or bust drug dealers. Some departments use their K-9s as therapy dogs to improve child welfare and mental health in the community. K-9s offer a multitude of benefits to any police force, and some K-9s are formally sworn in as police officers. When a K-9 officer passes away, the police department, especially their handler, feels like they lost a member of their family.
Unfortunately the Saco, Maine Police Department just experienced this profound loss. K-9 Ranger was put to rest on February, 2, 2022. The police department honored K-9 Ranger in a heartfelt post to their Facebook.
The post explained that K-9 Ranger joined the Saco Police Department back in 2009. He was handled by former corporal Nic Stankevitz. According to a 2016 Saco Police Department memo, Ranger executed his mission faithfully and retired that year. When Ranger retired, Nic adopted him. This is very common for handlers and K-9s, as they form a bond and are used to one another.
The post went on to highlight the many contributions K-9 Ranger made to the police department over the course of his career. He found lost children, fleeing suspects, and drugs in all kinds of weather. He was also well known at Saco Parks & Recreation, and he and Nic provided demonstrations over the years for local children.
This is the part that gives me goosebumps. On Wednesday, Nic arrived at Saco Veterinary Clinic and was met by a crowd. The lot was full of more than 20 emergency vehicles from local and regional first responders, including several K-9 units in Southern Maine. The group formed a tunnel to salute Ranger as he took his walk into the vet. What an emotional and touching display:
Nic shared to Facebook:
"Ranger passed peacefully in my arms at the vet. [Until] the last breath I could see him fighting it, wanting to protect me. I will never forget the bond we had. To all my friends, family, trainers, fellow officers, outside agencies, the City of Saco, Saco PD, and the community, thank you for one of the greatest opportunities of my life. I wouldn't trade being a K-9 handler with Ranger for the world."
Steven Boucouvalas left  a comment on the post that echoes my sentiments perfectly:
 "Saddened to read of Rangers passing, he was an asset to the Citizens of Saco during his years of service. The bond that Nick had with Ranger was a match made in Heaven. Rest in peace faithful servant."
Check Out the Wide Variety of Looks, Styles of Police Cars Across These Maine Cities, Towns
Check Out the Wide Variety of Looks, Styles of Police Cars Across These NH Cities, Towns
More From Seacoast Current