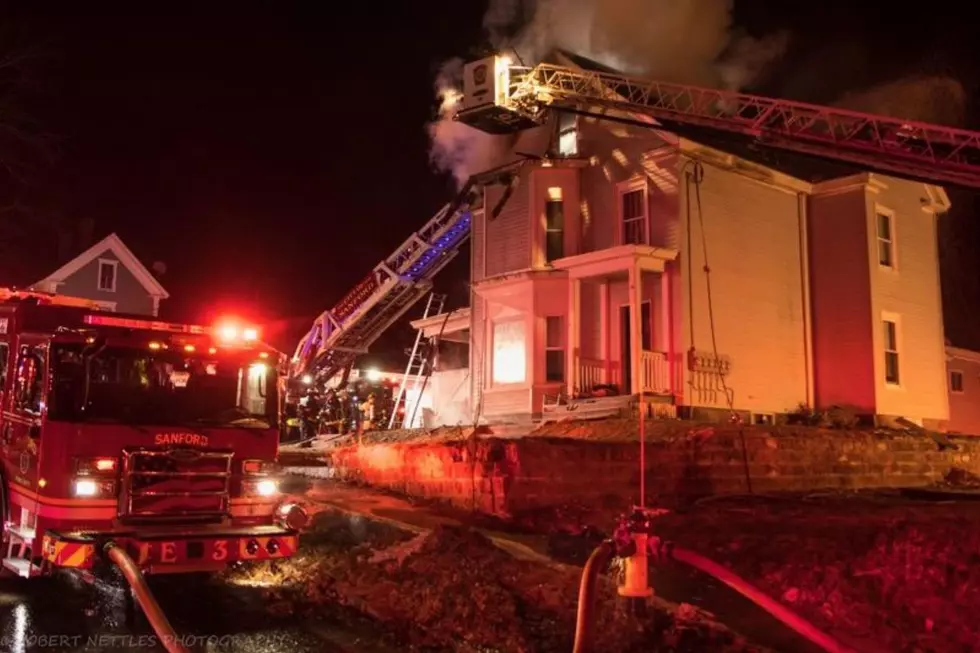 Sanford, Maine, Apartment House Fire Displaces Three Families
Fire at a house on Elm Street in Sanford 12/28/22 (Robert Nettles)
Firefighters battled a fire at a three-story home in Sanford early Wednesday morning that displaced three families.
Heavy smoke and flames were coming out of the multi-family home on Elm Street as the first firefighters arrived around 11:35 p.m. Tuesday night, according to the Wells Fire Department, which responded to the fire. Temperatures were around 20 degrees at the time.
The fire went to three alarms as the fire spread from the basement to the attic.
Kennebunk Fire-Rescue said on its Facebook page that the fire spread to all three floors of the house, which was built in the 1900s.
Everyone inside the house made it out safely, according to Sanford fire officials, who told NewsCenter Maine the house is uninhabitable. One firefighter was treated and released from a hospital for a minor injury.
The City of Sanford Fire Department on Wednesday morning did not respond to Seacoast Current's request for more information about the fire.
Fire heavily damaged a multi-family house in Merrimac on Monday morning when a fire started in the common wall of the house on Church Street.
A farmhouse in Eliot built in 1855 suffered serious damage from a fire Saturday night. A mother and her two daughters were displaced by the fire.
Photos courtesy Robert Nettles Photography
Contact reporter Dan Alexander at Dan.Alexander@townsquaremedia.com or via Twitter @DanAlexanderNH
Photos Highlight Extensive Damage, Flooding in Maine from Powerful December 23 Storm
Rain and wind hit Maine hard on Friday, December 23, causing downed trees, flooding, and power outages.
More From Seacoast Current