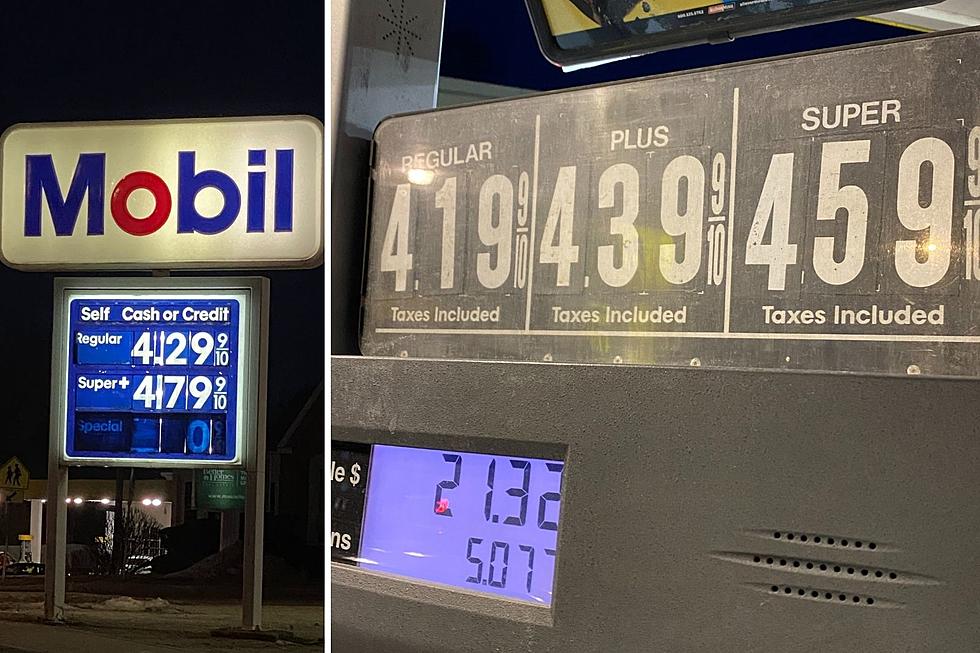 Seacoast Gas Prices on the Rise Again
Gas prices at Dover stations (Jolana Miller, Townsquare Media)
Gas prices are at their highest levels ever in the history of the AAA gas survey, and New Hampshire's average price is still among the lowest in New England.
It's been a roller coaster ride at the Seacoast pumps since Russia invade Ukraine in March, which sent the average price in New Hampshire to a high of $4.279 per gallon on March 11. Prices began a slow slide towards the $4 per gallon mark, but then began creeping up again towards the end of April.
Now, every day is a new record as prices rocket upwards.
The average price of regular in New Hampshire was $4.373 on Wednesday and again on Thursday, which was 20 cents higher than just a week ago, according to a AAA survey of prices. Maine's average was also $4.440, while Massachusetts' average is $4.455.
Summer Means Increased Demand
Prices usually go up in spring and summer because of increased demand and the use of summer blends, according to Northern New England AAA spokesman Dan Goodman. But this year, it's hard to identify just one factor pushing prices up.
"I've been looking at everything trying to figure out taking into account the price of crude. With the refineries closing. With summer blend. With the sanctions. It's so volatile with so many situations. It's very hard for me to say," Goodman said.
Goodman can say with more confidence that the pandemic is partially to blame for the short supply of gasoline in the market. A drop in demand for gasoline and sharp drop in prices in the spring of 2020 caused the oil companies to close refineries that convert crude oil into gas.
Sanctions against Russian oil because of the attack on Ukraine are another factor.
"Now that the demand is up, we're having some significant supply issues. Plus, in the past few days, the European Union released plans to sanction and potentially even ban all Russian oil, so there's major concerns as those nations hunt for an adequate supply," Goodman said.
Federal Gas Tax Holiday Still in Play
One possibility to bring down the prices is a federal gas tax proposed by Sen. Maggie Hassan, who is so confident in her proposal she has made it the focus of her reflection campaign commercials.
"We must find ways to lower costs for Granite Staters at the pump, and eliminating the federal gas tax for the rest of the year is one straightforward way to do that. I'll keep pushing for my gas tax holiday bill and will continue to work to hold Big Oil accountable for reaping record profits at Americans' expense," Hassan told Seacoast Current.
She has also proposed legislation called the Oversight to Lower Oil Prices Act, requiring the Federal Trade Commission to investigate whether companies are manipulating prices on oil and gas and driving up costs for consumers.
Goodman said AAA is opposed to the federal gas tax holiday as not to endanger highway projects funded by the tax.
"That money funds really crucial infrastructure and safety projects that are vital to all road users. Safety doesn't take a holiday. There's also no guarantee that the savings will be passed on to the consumer at the gas pump," Goodman said.
Hassan said that her bill would not impact the Highway Trust Fund or investments in infrastructure.
"The bill directs the Treasury Department to make general fund transfers to fully replenish the Highway Trust Fund," Hassan said.
Contact reporter Dan Alexander at Dan.Alexander@townsquaremedia.com or via Twitter @DanAlexanderNH
Trending Stories for Seacoast Current (May 2-8, 2022)
More From Seacoast Current