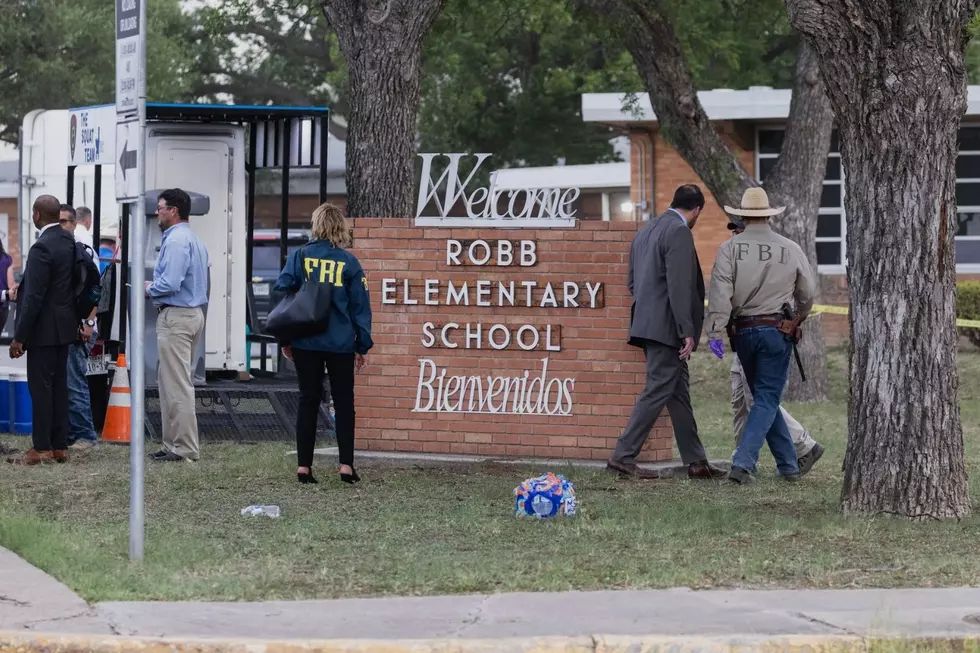 Seacoast Mourns Shooting Deaths at Texas Elementary School
Law enforcement work the scene after a mass shooting at Robb Elementary School in Uvalde, Texas ( Jordan Vonderhaar/Getty Images)
The Seacoast is mourning the shooting deaths of 19 students and two teachers at the Robb Elementary School in Uvalde, Texas, on Tuesday afternoon.
Gunman Salvador Ramos entered the school located 85 miles west of San Antonio and opened fire with a handgun and possibly a rifle, according to Texas Gov. Greg Abbot. He was likely killed by police responding to the shooting, Abbot said.
The flag at the White House was lowered to honor the victims of the shooting, as he ordered all American flags be flown at half staff through Saturday. New Hampshire Gov. Chris Sununu issued a similar order for all flags on public buildings and grounds
It was the deadliest shooting in a United States elementary school since the Sandy Hook Elementary School shooting in 2012 in Connecticut left 26 dead. It was tragedy that inspired Hampton Falls resident Jim Conant to create a giant card for New Hampshire residents to sign to express their grief and support.
"Like when the Sandy Hook tragedy took place, the grief we feel knowing that children have lost their lives is overwhelming. The lives of the parents, siblings, grandparents and extended family are changed forever," Conant said in a text to Seacoast Current. "No parent wants to outlive their child and I can't imagine the pain that comes when that takes place, it is a pain that lasts a lifetime. We send billions of dollars to other countries, perhaps we should keep some here and make our schools safer."
The same feelings of grief Conant had for Ukrainians after the attack by Russia moved him to create a second card this year for Granite Staters to again show their support.
Thoughts, Prayers and Calls for Stronger Gun Laws
The governors of New Hampshire and Maine focused on the grief and tragedy of the deaths.
"Tonight as we attempt to process the unspeakable tragedy that has unfolded in Texas, our hearts go out to the families and staff of Robb Elementary, the community of Uvalde, and the people of Texas. New Hampshire stands with you in your grief and resolve," Sununu said.
"Like people across Maine, my heart is broken by the horrific news out of Texas. My prayers are with the families and loved ones of the innocent young children and the teacher senselessly taken from us and those injured," Maine Gov. Janet Mills said. "The people of Maine share in the tremendous grief felt by the people of Texas on this tragic day."
New Hampshire Sens. Jeanne Shaheen and Maggie Hassan and Maine Sen. Angus King included mentions of the need for stronger gun laws in their initial reactions.
"I can't find the words for the horror and pain affected families must be experiencing. My thoughts are with them and the Uvalde community. The mass shootings status quo in America cannot stand. We need common sense gun laws now," Shaheen said.
Hassan called the shooting a parent's worst nightmare, and a horrific tragedy that has happened again and again.
"I, like so many, cannot understand how we as a country allow this to keep happening at our schools, at grocery stores, at churches, and so many other places where everyone should feel safe. We owe it to our kids, families, and survivors to take action," Hassan said.
The horrific, senseless shooting at Robb Elementary School shatters hearts across the nation, as we all grieve for the victims and their families," King said. "This violence does not have to continue. We can, and must, do more to protect our communities."
NEA-NH president Megan Tuttle sent condolences on behalf of her union's 17,000 members, as well as a call for safer schools.
"Once again, children's laughter was drowned out by the sound of gunshots and sirens. How many children and educators need to be killed before meaningful action is taken to make our schools safe?" Tuttle said in a statement
"I am not willing to accept that this kind of senseless violence perpetrated on our children is the new normal. Sadly, it's time once again to demand our politicians do more than express sorrow and regret when children and educators are gunned down at school," Tuttle said.
Contact reporter Dan Alexander at Dan.Alexander@townsquaremedia.com or via Twitter @DanAlexanderNH
Trending Stories for Seacoast Current (May 16-22, 2022)
More From Seacoast Current