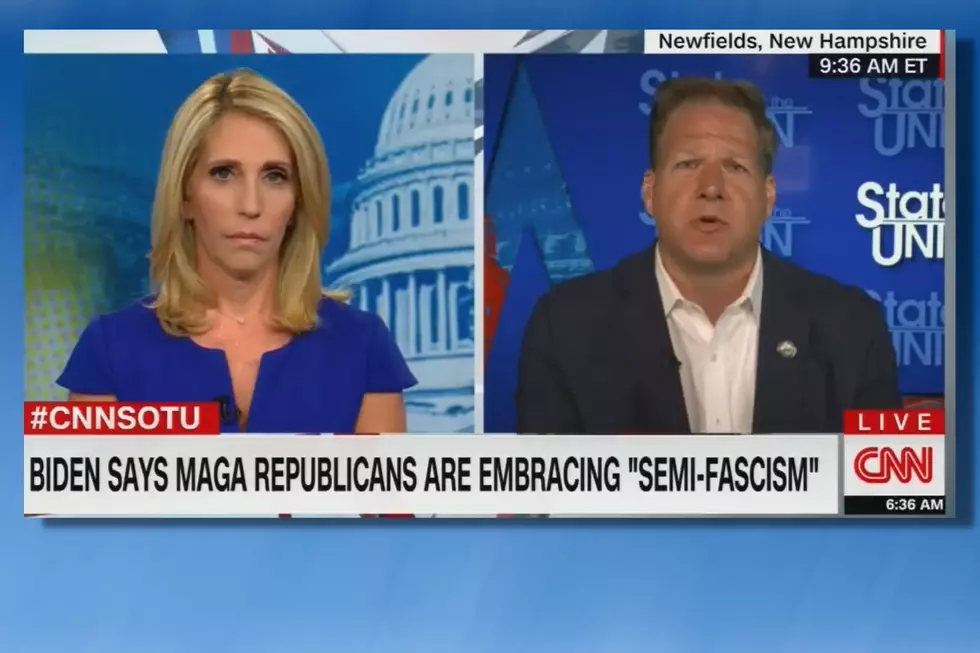 Sununu Calls for Apology From Biden Over MAGA Fascism Remark
Gov. Chris Sununu on CNN's State of the Union 8/28/22 (CNN
Gov. Chris Sununu said President Joe Biden owes an apology for his comment behind closed doors at a Democratic fundraiser that support in the Republican party of Donald Trump's "Make America Great Again" philosophy is like semi-fascism.
"What we're seeing now is either the beginning or the death knell of an extreme MAGA philosophy," Biden said during a reception according to the White House pool reporter's notes. "It's not just Trump. It's the entire philosophy that underpins – it's – I'm going say something – it's almost like semi-fascism."
Republican Sununu, who has made comments indicating he is no fan of Trump's, came to the defense of his supporters on CNN's State of the Union Sunday. He called the comment "horribly insulting" to half the country, and believes an apology is due.
"I mean, the fact that the president would go out and just insult half of America, because, effectively, half of America votes Republican, half of America ultimately votes Democrat. It swings a little bit one way or the other, but effectively call half of America semi-fascist, because he's trying to stir up controversy, he's trying to stir up this anti-Republican sentiment right before the election. "It's just horribly inappropriate," Sununu said.
When asked by host Dana Bash if he saw elements of fascism in the Republican party, Sununu broadly responded that there are elements of it in the entire country.
"You can see elements of fascism and white supremacy all -- in America. Let's own that as Americans. There's no doubt," the governor said.
He further attacked Biden by pointing out that while running against Trump, Biden said he was going to bring the country together.
"He owes an apology. That's not appropriate. That isn't leadership," Sununu said.
McCain Tweet is 'Death knell' for NH Libertarian Party
Bash asked about the state Libertarian Party's tweet of a picture of Meghan McCain crying over her father John McCain's casket that said "happy holidays" on the anniversary of the death of the U.S. Senator's death.
"That should pretty much be the end of the Libertarian Party in New Hampshire. And I mean that, again, horribly insulting," the governor said.
Student Loan Forgiveness 'Unfair'
Sununu earlier in the show spoke out against Biden's plan to wipe out student debt, calling it "inherently unfair" and illegal.
"It's arbitrarily picking a group of individuals, and we're going to arbitrarily just cancel their debt with a stroke of a pen, which, again, not even going through Congress. That's fairly illegal. It adds hundreds of billions of dollars at a time where we're trying to bring inflation under control. That's exacerbating the inflationary crisis."
The governor said he paid off his debt with a monthly payment of $278.03 for 15 years.
"We were happy to pay it, low-interest loans. You write your check, you move on," Sununu said.
Contact reporter Dan Alexander at Dan.Alexander@townsquaremedia.com or via Twitter @DanAlexanderNH
Trending Stories for Seacoast Current (August 15-21, 2022)
More From Seacoast Current