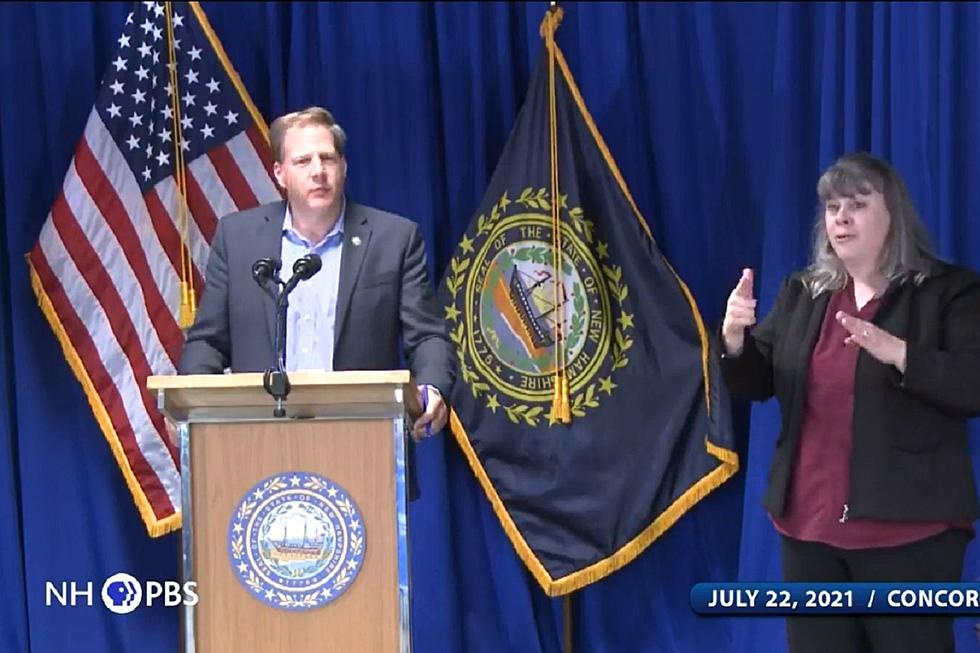 Sununu: Vaccine the Best Way to Beat COVID-19
Gov. Chris Sununu gives a coronavirus update on July 22 (NH PBS)
Gov. Chris Sununu held his first Coronavirus briefing since June on Thursday as the number of cases rises in New Hampshire.
It was also the first press conference held since New Hampshire surpassed the 100,000 infections mark. There were 100,072 COVID-19 total infections reported by officials at the NH Department of Health and Human Services on Wednesday.
That represents all of the infections over the course of the pandemic, which has taken the lives of 1,385 Granite Staters.
State Epidemiologist Benjamin Chan said 22 people were currently hospitalized and three people have died this week from the virus.
"Any death from COVID-19 is unfortunate and preventable," Chan said.
Sununu echoed the message coming from public officials around the country to get the COVID-19 vaccination.
"Folks really need to get vaccinated. The Delta variant is very severe. It's very real. It's having a very significant impact specifically with the unvaccinated populations and significantly with the younger populations," Sununu said. "It's very real and it's not going away anytime soon. We have the power. All of us have that individual power to really beat this virus back and you do it with the vaccinations."
About 749,000 people in New Hampshire are considered to be fully vaccinated.
Sununu said the vaccines are safe and effective. He predicted that a fall surge of cases - if one happens - will be of the unvaccinated population.
A mask mandate will not be returning anytime soon to New Hampshire, and instead, the governor is relying on people knowing the right things to do.
"People know what they should be doing. They know the value of social distancing or wearing a mask and in settings where they don't know who may be vaccinated, who's not and folks have to make that choice for themselves. We're not looking to institute more mandates and restrictions and all of that kind of stuff," Sununu said.
Planning for a Return to Classrooms
When asked about children and schools reopening in the fall, Chan said there's a lot of prevention strategies available for superintendents to use at the local level.
"COVID-19 is not going away. The numbers are increasing, we have the new Delta variant. There is still a need for schools and child care agencies to implement prevention strategies," Chan said.
Even with the CDC recommending students under 12 wear masks indoors at school because they cannot yet receive the vaccine, Chan pointed out it isn't just about face masks and social distancing when it comes to managing COVID-19 in a school setting.
Sununu said new COVID-19 guidance for schools will not be issued and instead referred districts to the "best practices" he issued in May.
"Schools will have to make, as they did last year, decisions to best fit the need and that balance of making sure kids are getting the highest quality education in the classroom and the safest possible conditions," Sununu said.
But the main message from the briefing was that the best way to combat COVID-19 is through the vaccine.
"That is the number one recommendation, get vaccinated," Sununu said.
Sununu said people have to understand that the COVID-19 vaccines are very effective.
"This would be a totally different conversation if this were a traditional 60 percent effective vaccine. But these vaccines work really, really well and that is a wonderful silver lining of this whole process."
As of Thursday afternoon, officials at the U.S. Centers for Disease Control and Prevention were reporting 607,684 Americans have died due to COVID-19 during the global pandemic.
Contact reporter Dan Alexander at Dan.Alexander@townsquaremedia.com or via Twitter @DanAlexanderNH
Delta variant dominating NJ - here are signs you may have it
More From Seacoast Current