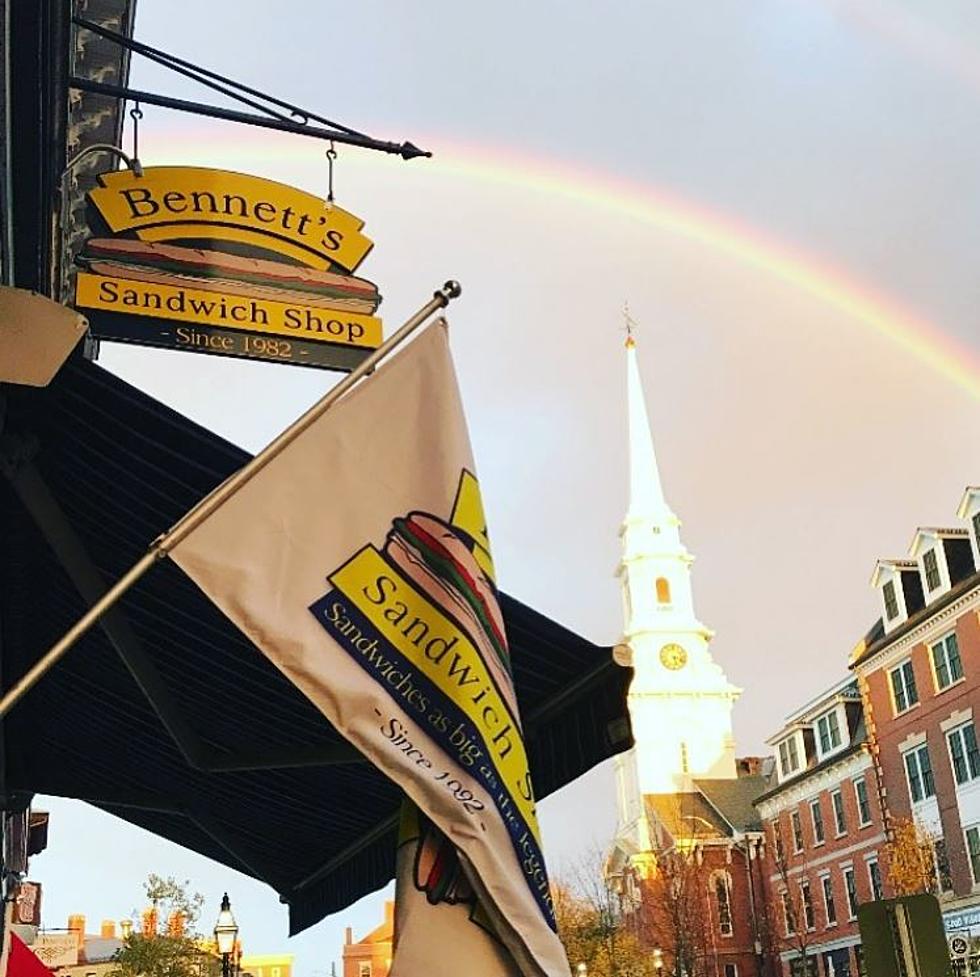 The Greatest Sandwich Shop on the Seacoast, Bennet's, is Opening in Salem, New Hampshire
Bennett's Sandwich Shop via Instagram
Editor's note: This article was written by a Townsquare Media Northern New England contributor and may contain the individual's views, opinions or personal experiences.
Perhaps this is a hot take, perhaps a clear front runner, but I think Bennett's Sandwiches is arguably the best sandwich shop on the Seacoast (dare I say New England).
I mean, look at this pastrami sandwich.
Regardless of where you put Bennett's in your power rankings, there is good news headed to Salem, New Hampshire's sandwich lovers.
A Bennett's Sandwich shop is coming to you.
Bennett's started with a seasonal shop in Kennebunk, Maine. From there they expanded to Portsmouth, New Hampshire and later to Boston, Massachusetts.
Well, Bennett's has their foot on the gas and they are not done expanding. Just a few weeks ago, Bennett's opened a fourth location in Burlington, Massachusetts.
Eager to check out info on the newly opened location, as I am a huge fan of these subs, I went to the website and found a "coming soon" image with a location identified as Salem, New Hampshire.
I went in to grab my lunch usual: a large buffalo chicken cheesesteak on their incredibly soft bread, and decided to get the scoop. Owners Maggie and Brendan were at the Burlington location, as they are busy just getting opened there.
Fortunately, lead manager Cassie Guy was on-site and able to tell me that within two months, they hope to be opened and running in the Tuscan Village in Salem.
"We are just trying to expand in New England," said Guy. She went on to mention that there will be new items only available at the Salem location, such as smoothies.
One thing that will not be taken off the menu will be the all-day breakfast sandwiches Bennett's offers.
Being someone who always has to ask for an extra egg on my breakfast sandwiches, Bennett's is the only place that does them right. On their signature bread roll, a small comes with three eggs and a large comes with four. That is before the meat...and they load it up with meat.
From their breakfast sandwiches, to their cheesesteaks, and even their lobster rolls, this place brings a full meal to every sandwich.
The way lobster rolls should look. Well done Bennett's, this is why I love ya.
So to those in or around Salem, New Hampshire, congrats. You have a delectable sandwich joint coming to you. From their staff to what is between the bread (and oh the bread too), Bennett's is elite.
I am fortunate to have a quick moped ride to my Portsmouth location. In two months, you can bet I will be making it to Salem for a chicken cheesesteak and a smoothie.
These 50 Restaurants Closed in Maine and We Wish They Would Come Back
A nostalgic list that makes your belly growl. Do you remember them?
10 of the Best Waterfront Restaurants in Maine You Need to Experience
We asked our listeners what their favorite waterfront restaurants in Maine are and boy did they deliver! Did your favorite make the list? Keep your eyes out for part 2!
More From Seacoast Current