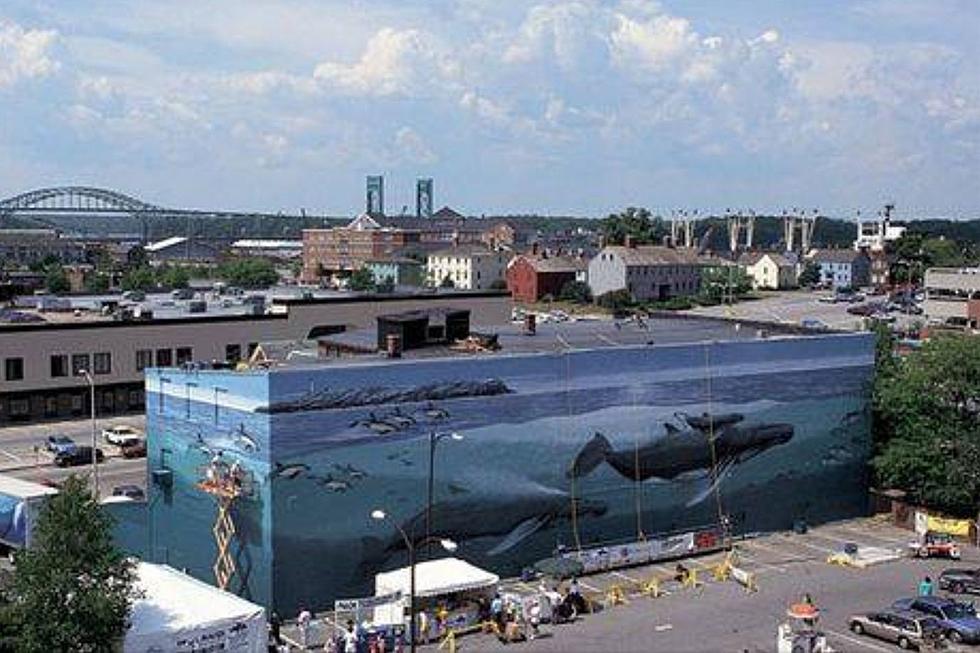 The Infamous 'Whaling Wall' in Portsmouth, New Hampshire, is no Longer
Michael J Tobin via Facebook
Editor's note: This article was written by a Townsquare Media Northern New England radio personality and may contain the individual's views, opinions or personal experiences.
Well. it's official! Residents and visitors of Portsmouth can no longer use the Whaling wall as a landmark for a place to park.
Hopefully, you had the chance to bid farewell to the three humpback whales, the family of dolphins and the school of tuna that have been a staple in Port City for almost 30 years.
Did you know that the official name of this piece of art was the 'Isles Of Shoals Humpbacks'? I think that is a perfect title. It was painted throughout the spring of 1993. The artist, Robert Wyland, most commonly known by just his last name, is still very much active in the promotion and conservation of marine wildlife as well as his art.
I am following a thread on the (un)official city of Portsmouth Facebook page, regarding the infamous whale wall, and people are REALLY sad to see it go. Many people remember watching Wyland paint it all those years ago.
As human beings, we are resistant to change. Change makes us feel like we are not in control of the world around us and who wants to feel like that? I'm not sure who said "change is the only constant" but it could not be more true.
The only thing that is guaranteed in life is that things are always changing! Clinging to yesteryear isn't always productive and I try not to do it. Trust me, it's difficult! I wish I could still wear butterfly clips in my hair and rock a vibrant windbreaker but times have changed.
All we can do is look to the future and hope that even though things will be different they can also be good, in their own way. And also. I always liked the Shark wall in Portsmouth more than the Whale wall, anyway. Please don't come for me.
These Items Will Give You Nostalgia for Yoken's Restaurant in Portsmouth
Take a look back at these Yoken's family restaurant items from a menu to the famous treasure chest and "Thar She Blows" whale sign.
10 Things You Totally Remember If You Lived in New Hampshire In the 1980's
If you lived here in New Hampshire in the 1980's, there's no way that you didn't know about these events, people and places. They were part of our lives and some, still are. Sadly a few are no longer with us, but enjoy this list. I know I enjoyed remembering all these things from back in the day.
More From Seacoast Current