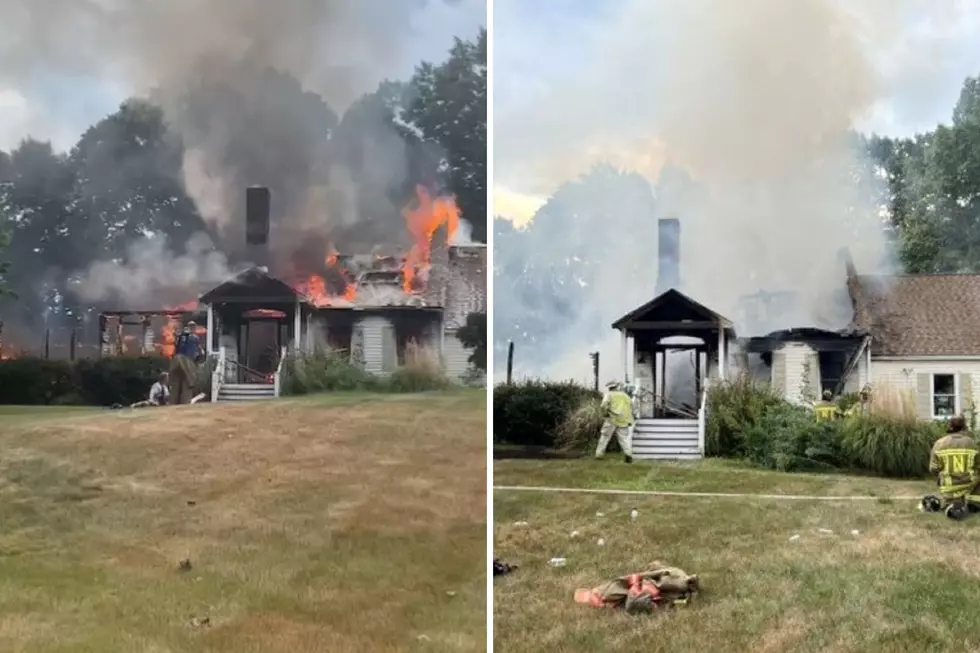 Three-Alarm Fire Heavily Damages Merrimac, Massachusetts, Home
Fire at a house on Skunk Lane in Merrimac 8/7/22 (Mass Fire Buff )(Merrimac Fire Department)
A single family home was heavily damaged by fire in Merrimac on Sunday afternoon.
Heavy flames and smoke were reported at the home on Skunk Road around 2:15 p.m. in the 90+ heat and humidity. A second alarm brought firefighters from several surrounding towns as significant water pressure and supply issues hampered firefighting efforts, according to Merrimac Fire Chief Larry S. Fisher.
The fire eventually went to three alarms.
Firefighters were able to beat back a threat to the nearby brush and woods that posed a serious threat. It could have caused a widespread blackout to the area and additional property damage.
One firefighter was hospitalized for a heat-related emergency. Two firefighters were taken to a hospital for injuries.
The home is expected to be a total loss.
Crews are expected to remain at the house into the night for overhauling.
Merrimac firefighters were assisted by the Amesbury, Newburyport, Groveland, West Newbury, East Kingston, Georgetown, Salisbury, Haverhill, Rowley, Methuen, Newton (New Hampshire), and Plaistow Fire Departments.
Merrimac Police and DPW, the Massachusetts Department of Fire Services, and the Massachusetts DCR Forest Fire Control and Forestry Division also assisted.
The Merrimac Fire Department and Massachusetts State Fire Marshal's Office will investigate the cause of the fire.
Contact reporter Dan Alexander at Dan.Alexander@townsquaremedia.com or via Twitter @DanAlexanderNH
What Business Should Go Next to Hannaford's on Central Ave in Dover, New Hampshire?
The space next to Hannaford's on Central Ave in Dover has been vacant for years. Here are 20 businesses that locals would like to see set up shop there.
More From Seacoast Current