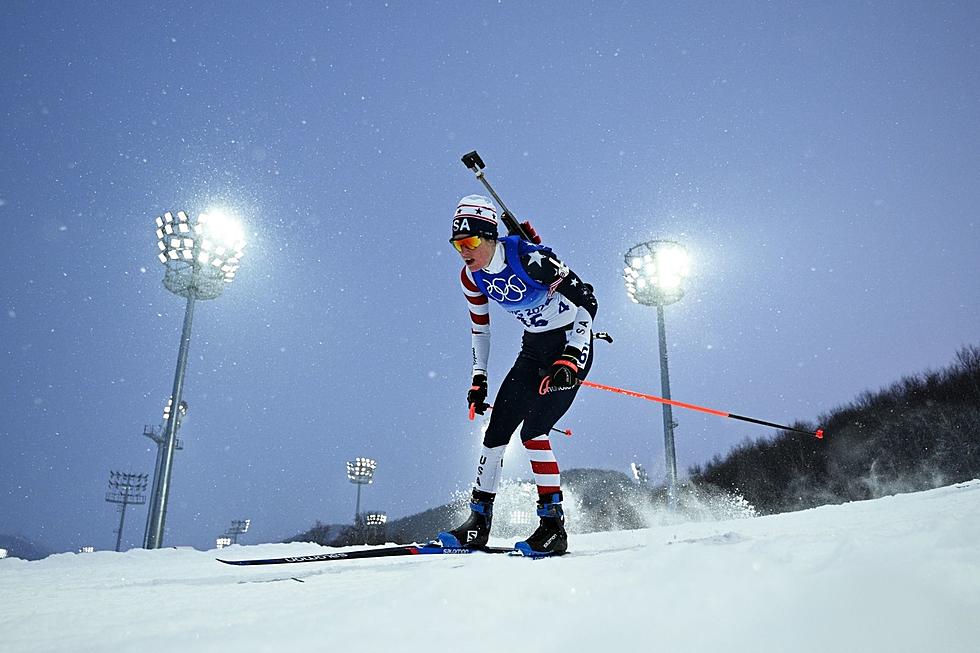 UNH Grad Clare Egan Competes in 4th Olympic Biathlon Event
Clare Egan skis during the Biathlon Women's 10km Pursuit at the 2022 Winter Games (Matthias Hangst/Getty Images)
UNH graduate Clare Egan was back on the biathlon course Sunday in her fourth event of the Winter Olympics.
Heavy snow was falling with bitter cold temperatures in the thin air as the 34-year-old Maine native competed in the Women's 10km pursuit. During the event, athletes ski a challenging course between four ranges, firing two times each at targets while in both standing up and in the prone (laying down) position.
Egan finished 38th in the Women's 10km pursuit. She made all five shots in each of the prone positions, but missed two each while standing. Each missed shot results in a penalty loop of skiing before continuing on to the next range.
Marte Roeiseland of Norway finished first for the gold, Elvira Oeberg of Sweeden placed second, and Tiril Eckhoff from Norway in third.
Egan finished 7th in the 4×6-kilometer mixed relay, helping Team USA tie its best ever finish in the event. She placed 39th on Monday in the Women's 15km individual. Egan shot in the women's 7.5km sprint on Friday morning and finished in 46th place.
Her goal is to compete in all six biathlon events.
"Extremely disappointed that I couldn't perform well in two of my most important races. Tried but failed," Egan wrote on her Instagram before Sunday's race. "Thanks to everyone who supports me, near or far, no matter the outcome."
"While I'm personally let down, I'm still proud to be part of a significant team accomplishment which is qualifying all four women into the Olympics pursuit."
"I repeat: please, gentlemen, can you not"
Egan has been active on her Twitter account during the Games, and retweeted a Wall Street Journal story about the possible Russian invasion of Ukraine.
"I repeat: please, gentlemen, can you not," Egan tweeted on Saturday.
An "olympic truce" is in place at the request of International Olympic Committee president Thomas Bach that could stop any military action, even as troops from both the U.S. and Russia prepare.
The intention is to allow athletes to be able to travel without harm to and from the Games. It begins seven days before the start of each Olympic Games and ends seven days after the conclusion of the Paralympics.
Egan also offered support to fellow Team USA member skier and defending gold medalist Mikaela Shiffrin, who was eliminated in the slalom when she missed a gate just seconds into the race. She took it very hard and told reporters that she was second guessing her ski career.
"We all need to talk to ourselves the same way we talk to @MikaelaShiffrin through the TV: It's ok. Trust yourself. You are a champion. Take your time... I'm starting now who's with me," Egan tweeted.
Egan earned her masters in linguistics at UNH in 2010.
Contact reporter Dan Alexander at Dan.Alexander@townsquaremedia.com or via Twitter @DanAlexanderNH
These 20 New Hampshire Diners Are Sure to Satisfy Your Appetite
Whether you enjoy 50's retro vibes or more modern spots, these diners are optimal spots to enjoy your breakfast.
More From Seacoast Current